Colonel Liam makes his bid for Gulfstream Park history from Post 6 as the slim 3/1 morning-line favorite for Saturday's $1 million Grade 1 Pegasus World Cup Turf. Whether he can make it a successful bid depends on how the defending champion handles a 239-day layoff.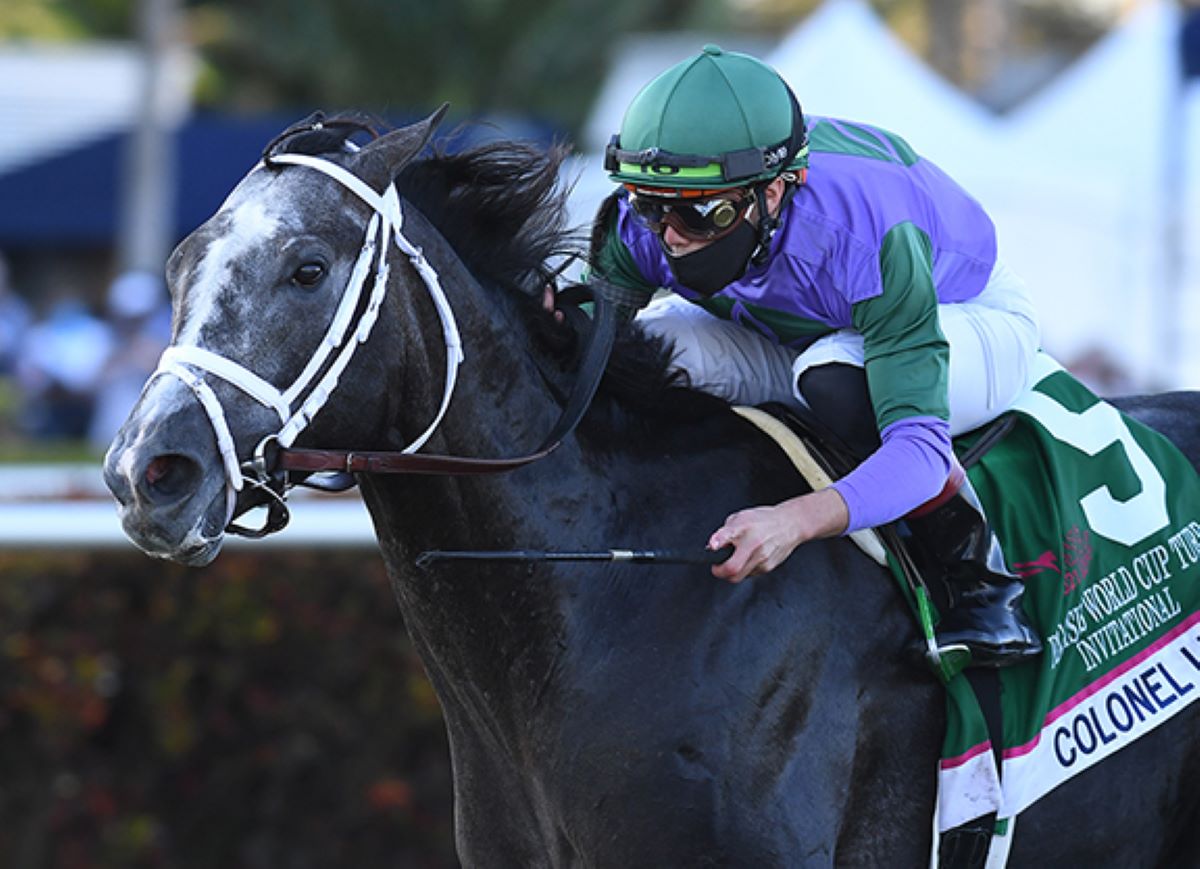 The fourth edition of the Pegasus World Cup Turf co-headlines Gulfstream Park's 12-race Saturday card. That card offers seven graded stakes and $5.2 million in purses.
It also offers Colonel Liam the opportunity to do what neither of his predecessors as Pegasus World Cup Turf champions did: defend. Neither inaugural 2019 winner Bricks and Mortar nor 2020 winner Zulu Alpha returned for a title defense.
To do so, however, requires navigating a 12-horse field featuring 11 stakes winners, nine of those graded. Unlike the Pegasus World Cup, which figures to be a two-horse race between Knicks Go and Life Is Good, the Pegasus World Cup Turf is a free-for-all, at least according to the odds.
Four single-digit odds entries
Stablemate Never Surprised (Post 12) checks in as the second favorite at 7/2. Not far behind are Sacred Life (Post 8-6/1) and Hit the Road (Post 5-8/1).
Making event history also requires Colonel Liam to find the form he opened 2021 with. The form that brought him to last year's Pegasus World Cup Turf winner's circle. Not the form that sent him reeling to an eighth-place finish in June's Grade 1 Manhattan.
"I think over the years, we've done pretty well in layoff situations," trainer Todd Pletcher told Gulfstream Park. "I think it was important that we got the works into him that we did and we were fortunate enough that everything went according to the way we mapped it out. So I feel good about that. You never know if they're going to be quite as sharp off a layoff, but he's certainly trained well enough and has run well fresh before. Hopefully, we can get the same type of effort. He's given us every indication that he's come up to it as good as ever."
Don't be surprised about Never Surprised
Colonel Liam's stablemate, Never Surprised, could do just that. Only it wouldn't be a surprise. The 4-year-old will attempt to follow his stablemate's path to the winner's circle, winning the Tropical Park Derby last month. Colonel Liam captured that race in 2020.
The front-running Never Surprised comes in with a two-race winning streak and never finishing outside the exacta in seven races (4-3-0).
"Never Surprised is a free-running horse and he's got good natural speed. The key is just trying to get him to settle and relax," Pletcher said. "I think he made a real step forward last time in the Tropical Derby. It was a very impressive performance. We'll let him do his thing and hopefully, he won't overachieve early on. If he's able to just relax and settle in and get away with a decent pace, then I think he could be dangerous."
Pegasus Turf rubber match for Field Pass, Sacred Life
Sacred Life could be very dangerous if he channels his winning form from last fall's Grade 3 Knickerbocker at Belmont Park. There, he nipped Pegasus rival Field Pass by a half-length. Field Pass returned the favor six weeks later in the Grade 2 Seabiscuit at Del Mar. The 7-year-old French ridgling has hit the board 15 times in 22 starts.
Speaking of Field Pass (Post 9-10/1), he comes in with more stakes wins than any other horse in the field — seven. He also comes in as one of four Mike Maker entries in the field. Maker also sends out Cross Border (Post 11-15/1), Atone (Post 2, 20/1), and Flavius (Post 3-15/1).
The most experienced horse in the field, with 39 starts, Cross Border finished third to Colonel Liam and Largent last year. The 8-year-old son of standout turf sire English Channel, Cross Border has 11 wins and 24 in-the-money finishes. But he's never managed better than a second and two thirds on Gulfstream Park's turf course.
Hit the Road does just that
Hit the Road is seeking his first victory outside California and a better outcome than his fifth in the Maker's Mark Mile last spring. He stretches out a furlong from his customary eight-furlong race routine. Eleven of his 12 career starts came at a mile.
Rounding out the field are Space Traveller (Post 1-12/1), March To The Arch (Post 4-20/1), Doswell (Post 7-10/1), and returner Channel Cat (Post 10, 12/1).