Both Willy Boi and Drain the Clock left the Gulfstream Park gate at 4/5 for Saturday's Grade 3 Smile Sprint Stakes, the first-among-equals undercard race to the Grade 2 Princess Rooney Invitational on Gulfstream's Summit of Speed program.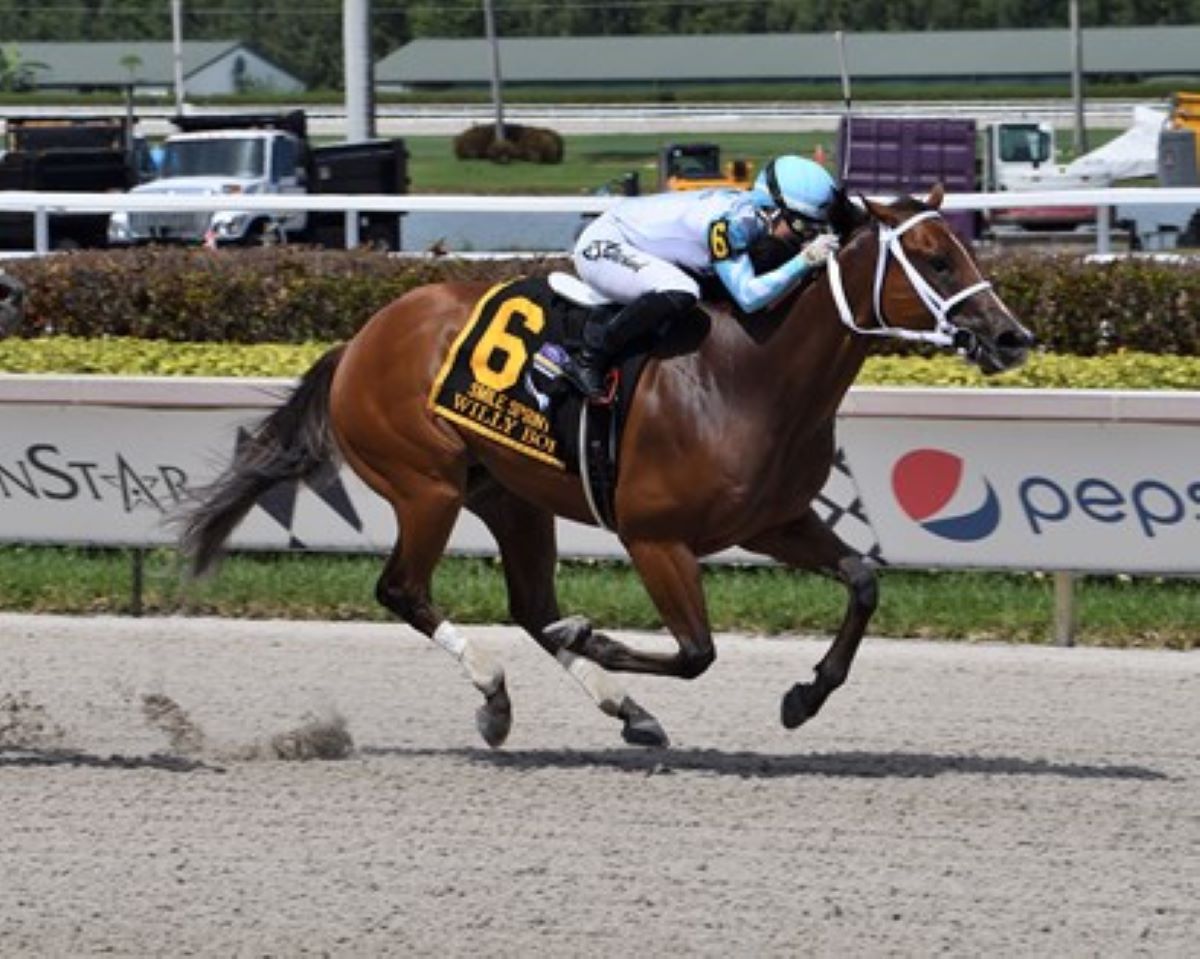 And in this battle of chalk-vs.-chalk, Drain the Clock blinked first. Actually, he turned his head when the gates opened. And yet, the lone Grade 1 winner in the field managed to make a race out of it – until Willy Boi took command at the top of the stretch. The 4-year-old gelding enjoyed a perfect stalking trip, coming home by a length to win his third consecutive start.
Along with that came a $50,000 bonus for winning the Smile Sprint as a Florida-bred. The door prizes also included a $30,000 credit toward the Breeders' Cup Sprint entry fee. That's courtesy of the Smile Sprint being one of 12 graded dirt stakes included in the Breeders' Cup Dirt Dozen. That program incentivizes participation in dirt races on the Breeders' Cup card. Trainer Jorge Delgado, who is 3-for-3 with Willy Boi since getting the horse, said that's his end goal for 2022.
In the meantime, he said he'll take Willy Boi to Saratoga for the summer.
Willy Boi enjoys his new digs
Willy Boi finished fourth in last year's Smile Sprint. After an eight-month break, he moved to Delgado's barn. In turn, that produced a 7 ½-length romp in an April Gulfstream allowance and a 5 ¼-length score in the Black-Type Big Drama Stakes May 28.
"I'm so grateful that (owner) Lea Farms gave me the chance to train these kind of horses," Delgado told Gulfstream Park after the race. "I hope I can get more of this quality of horse, because I love to win these kind of races."
Winning this race came a lot easier than the length margin of victory indicated. Under jockey Chantal Sutherland, who is enjoying a career resurgence at Gulfstream Park, Willy Boi let 31/1 long shot Yes I Am a Beast and Gatsby set a blistering 21.74-second opening quarter mile. Drain the Clock joined the pair three wide on the turn.
Sutherland piloted the perfect trip
That was Sutherland's cue. She went four wide at the top of the stretch, seized the lead and was never threatened. Pudding, the second longest shot in the field at 22.20/1, made a run that finished a length shy. Absolute Grit (15.20/1) finished 3 ¼ lengths back of Pudding in third.
Along the way, Willy Boi notched a career-best 110 Equibase Speed Figure. That bettered his previous-best 99, recorded on two occasions, by 11 points.
"I did get a little nervous in the gate because there was a little bit of noise and commotion," Sutherland said. "We broke a little slow but the track has been playing a little for closers from off the pace and not holding speed as well, so it kind of worked in our favor. I was comfortable, but I kept my eye on (Drain the Clock). I thought he ran a great race. In the lane, when I came to him, I wanted to get away from him because I know he's a put bull and he'll fight, and I didn't want to fight with him today. So, I wanted to stay away from him today."
Drain the Clock drained after blinking in the gate
As for Drain the Clock, after that rocky start, he took the lead in the turn. But all that work getting that lead left him with nothing in mid-stretch. That's where all three of his rivals passed him. He wound up fourth, 5 ¼ lengths back.
"He got beat up. It was one of those days," a perplexed trainer Saffie Joseph Jr. said after the race. "Not much to say. Don't know why he ran like that. … I don't really have an excuse."