Chael Sonnen announced his retirement from professional mixed martial arts on Friday following a loss to former UFC light heavyweight champion Lyoto Machida on Friday.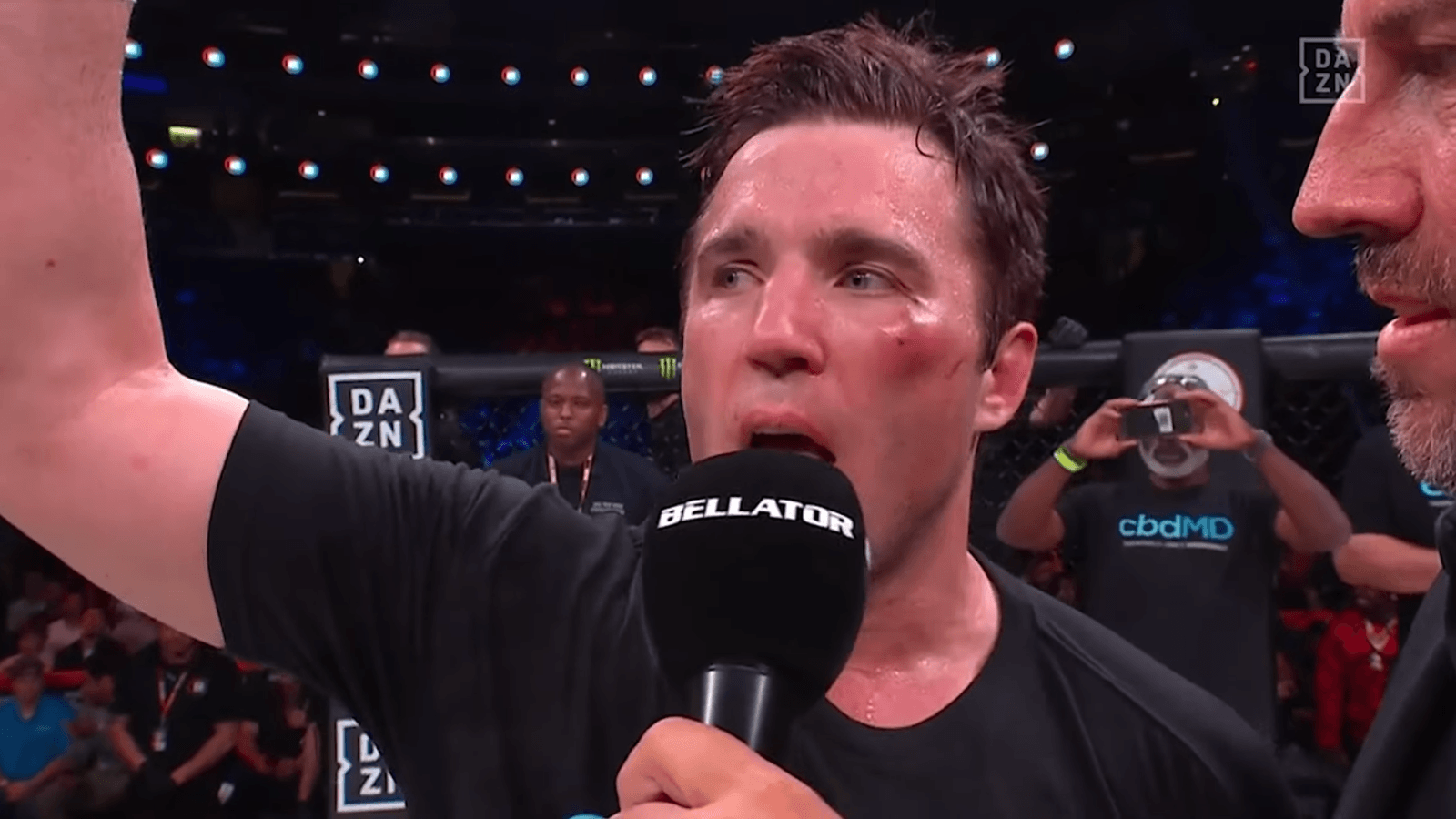 Machida stopped Sonnen in the second round of their fight, which was the co-main event of Bellator 222 at Madison Square Garden.
Machida Stops Sonnen with Flying Knee
The first round of the fight saw the 42-year-old Sonnen attempt to control Machida – known for his karate-based background, a rarity in high-level MMA – by using the strong wrestling skills that had served him so well throughout his career.
But while that tactic worked well for a few minutes, the 41-year-old Machida kept getting the fight back to his feet, and nearly ended the bout before the end of the first round with a flying knee right to the chin. Sonnen survived, but when the action started up against Machida landed a similar strike in the opening seconds, forcing the referee to wave off the contest 22 seconds into the second round.
The ride is over. @ChaelSonnen announces that he is retiring. ✊ pic.twitter.com/kNMQEIdIKq

— DAZN USA (@DAZN_USA) June 15, 2019
After the loss, Sonnen announced his retirement in his in-ring interview, leaving his gloves in the middle of the cage.
"I had a hell of a lot of fun," Sonnen said. "I had a good run. [Bellator President] Scott Coker gave me a five-fight deal, he let me honor all five fights, and ladies and gentlemen, I'm walking out."
The win will likely give Machida (26-8) a shot at the Bellator light heavyweight title.
Fearless Career Marred by Drug Suspension
Sonnen ends his 22-year career with a professional record of 30-17-1. However, that mark doesn't give an accurate picture of his place in the history of MMA.
While Sonnen was never regarded as one of the best fighters in the world, he was always willing to face the best competition possible, and was competitive against many of the top champions of his generation. He lost twice to Anderson Silva for the UFC Middleweight Championship, with the first of those bouts at UFC 117 being named Fight of the Year for 2010. He would also lose a light heavyweight title fight to Jon Jones in 2013.
Sonnen's final run with Bellator saw him fight five big names, earning him wins against Quinton Jackson and Wanderlei Silva, while he lost to Tito Ortiz, Fedor Emelianenko, and Machida.
Perhaps his most lasting legacy will come from the way he promoted his fights. His calling out of Silva before their first title fight laid the groundwork for other fighters who relied just as much on entertainment as their in-ring abilities to build hype, a prototype for modern talkers like Conor McGregor.
But Sonnen's legacy is complicated by the fact that he failed multiple drug tests during his career, including one that came after his first loss to Silva. The second positive test – which came before he was set to fight Vitor Belfort—led to a two-year suspension from the Nevada State Athletic Commission, leading to a temporary retirement before his return to Bellator. He was also known to make thinly-veiled racist comments towards black and Hispanic opponents, including both Jones and Silva.