In 2020, Magnus Carlsen and Hikaru Nakamura turned the emerging elite online chess scene into something of a personal rivalry between the two grandmasters. Now, the two will meet for the first time in a Champions Chess Tour final, as both advanced out of the semifinals of the New in Chess Classic.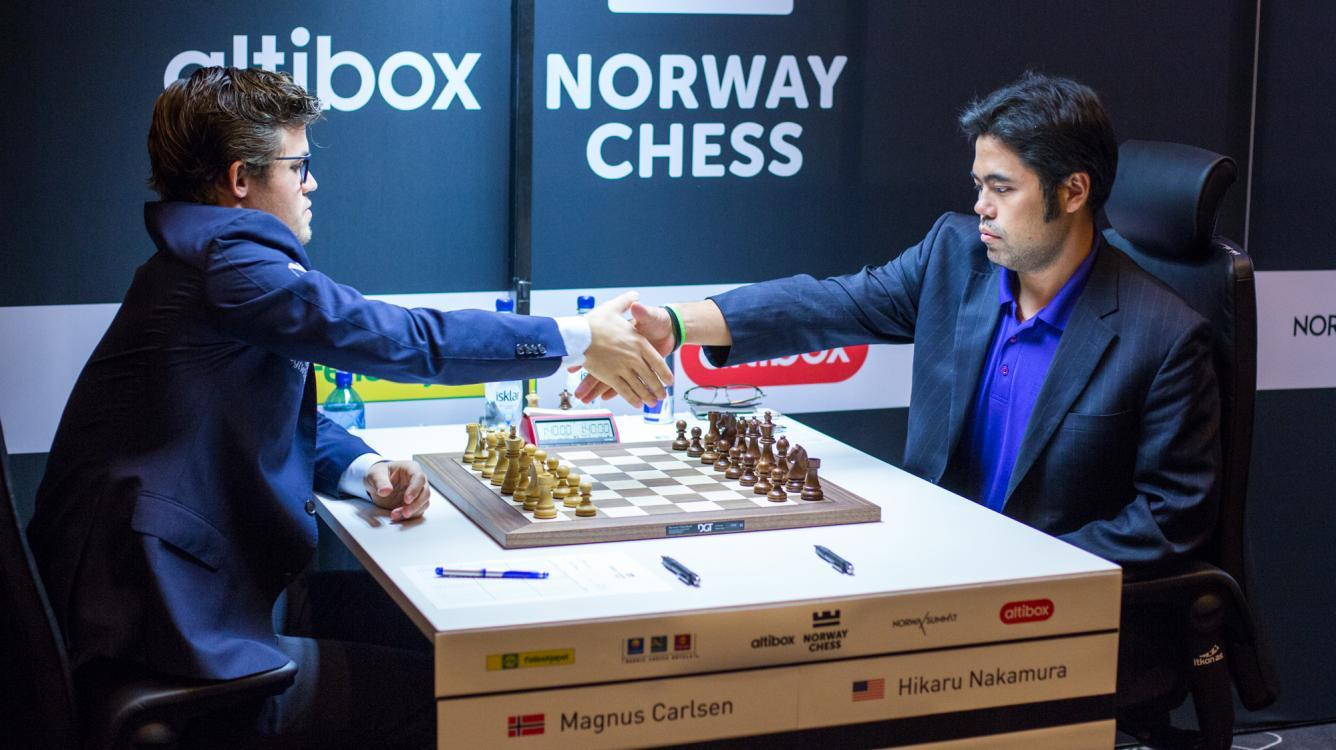 Carlsen found two late wins to get past a tough Levon Aronian, while Nakamura came back to win in tiebreakers after Shakhiyar Mamedyarov pitched a shutout in the second set.
Carlsen Not Taking Finals Appearance for Granted
The World Champion nearly took a lead in the first set on Thursday. After two early draws, Carlsen scored a win in Game 3, only to watch Aronian level the score in Game 4 to draw the set, 2-2.
Friday's action started similarly, with the two grandmasters fighting to two draws to start the set. But Carlsen broke through with Black in the third game, positionally outplaying Aronian to reach a completely winning endgame. Aronian resigned after 52 moves when Carlsen was on the verge of queening a pawn.
The Norwegian world champion made a comeback with a decisive win in game 3 and 4. Here are the highlights from the #NewInChess Classic semifinal. #ChessChamps pic.twitter.com/zpNM8WZ7s6

— Champions Chess Tour (@ChampChessTour) April 30, 2021
That left Aronian needing a win in the final game to force tiebreakers. He played aggressively in a Sicilian setup, making an early g5 pawn push to attempt to create winning chances. But Carlsen calmly rebuffed the advance, building a decisive advantage that only grew over time. After 37 moves, Aronian resigned, handing Carlsen a 3-1 set victory and the overall match.
"There are a lot of things that I felt like I could have done better today. It was certainly better than I played yesterday," Carlsen said in his post-match interview. "But most of all I'll just say that I'm in the final, I'm very happy about that, and I don't take it for granted, especially after what's happened after these tournaments over the last few months."
Both Finalists Seek First Tour Victory
Nakamura entered Friday with a one-set lead after beating Mamedyarov 3-1 in Thursday's action. But the Azerbaijani grandmaster came back with a vengeance in the second set, winning three straight games to blank Nakamura 3-0 and force tiebreakers.
After seven straight decisive games in the rapid portion of their match, Nakamura and Mamedyarov surprisingly draw their two blitz games. Nakamura then took Black in the Armageddon game, needing only a draw to advance. But the American did one better, winning the game outright to move into the final.
For the first time since the epic Magnus Carlsen Chess Tour final it's going to be a Carlsen-Nakamura final after Hikaru beat Mamedyarov in Armageddon! https://t.co/VCKE0AotBu#ChessChamps #NewInChess #c24live pic.twitter.com/tXlA0VyNqI

— chess24.com (@chess24com) April 30, 2021
After the match, Nakamura reflected on the fact that neither he nor Carlsen – the two favorites in most online chess tournaments – have won an event on the Champions Chess Tour.
"We both have a team to redeem ourselves," Nakamura said.
Carlsen comes into the New in Chess Classic final as a -250 favorite over Nakamura (+180) according to online sportsbook Bwin. The winner will take home $30,000 in prize money, with the runner-up earning $15,000. Meanwhile, Mamedyarov (-115) will take on Aronian (-115) in the third-place match.