This exciting new Caesars promo code is available just in time to get in on the action during a busy night of NBA basketball on Wednesday. Caesars is offering new customers an attractive promotional offer that enables you to get up to $1250 in bet credits if your first bet of $10 or more loses. In addition, whether you win or lose on your first bet of $10 or more: you'll get 1,000 Caesars Rewards Tier credits.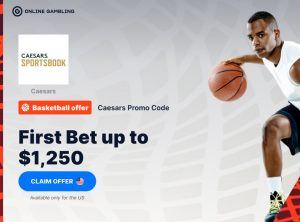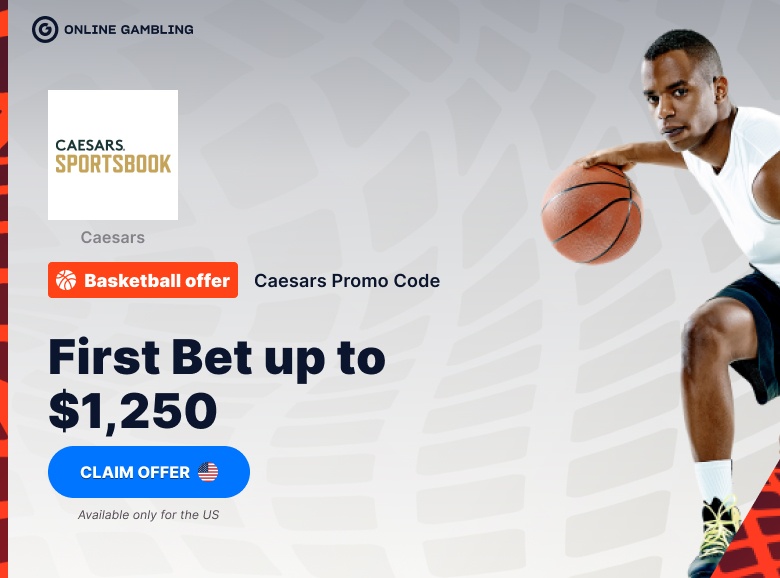 This latest promo code from Caesars makes it possible for new customers to get into NBA betting action with just a few easy steps. Just follow Caesars' straightforward sign-up process during the promotion period using the promo code CZRFULL. After funding your account, place a wager of $10 or more within 30 days of sign-up, and if your bet loses, you will receive bet credits that you can then use over the next seven days. Whether you are a casual fan or a diehard NBA fanatic, this latest Caesars promo can add to the excitement of what promises to be an action-packed Wednesday night on the court.
Caesars promo code for NBA Wednesday 
It doesn't matter if you are new to NBA betting or are experienced at wagering on one of the world's most popular sports leagues, Caesars Sportsbook has the right betting options for you. One of the most popular names in Vegas sports betting, Caesars has quickly established itself as a leader in the rapidly expanding US sports betting market, offering wagering in a growing number of states, as well as countries around the world. Not only is Caesars one of the oldest and most trusted names in sports betting, it is also recognized for offering some of the most lucrative promos and bonuses in the industry.
In addition to the possibility of receiving up to $1250 in bet credits, this attractive Caesars promo code also provides a great opportunity for new customers to familiarize themselves with the best-in-industry Caesars Rewards. Whether your initial eligible bet of $10 or more wins, with this special Caesars promo you will receive up to 1000 Caesars Rewards Tier credits that you can use to stay, dine, relax, shop, and play at over 50 destinations.
How to claim Caesars NBA promo code
To qualify for simply follow a few simple steps to get started, and don't forget to use the promo code CZRFULL.
Sign up with Caesars by entering your username, email and password.
Verify and secure your account before confirming your location.
Make your initial deposit and place an eligible bet with a minimum stake of $10, and if that bet loses, you will receive up to $1250 in bet credits.
Now you are ready to get in on all the excitement of NBA betting with America's leading sportsbook
How to use the Caesars promo code
After you have followed the simple steps to open your account using the promo code, just make a $10 bet on one of the hundreds of eligible sports betting markets at Caesars. If your eligible bet does not win, you will receive up to $1250 in bet credits, which you will have 14 days to use. When you use your Bet Credit for a wager, and your wager wins, the value of the Bet Credit is not included in the winnings.
Betting on NBA Wednesday
The action is heating up as the NBA season reaches the 50-game mark, and the battle for playoff spots begins in earnest. The NBA schedule features 10 games on Wednesday, highlighted by a potential NBA Finals preview, as the Milwaukee Bucks play host to the Denver Nuggets. Just one season removed from their most recent NBA championship victory, the Bucks enter Wednesday's action closely trailing the Eastern Conference-leading Boston Celtics, and have run up the scores during a two-game home win streak. Reigning NBA MVP, Nikola Jokić and the Nuggets enter Wednesday's action perched atop the Western Conference standings and have topped the Bucks in five of their past six visits to Milwaukee.
With 10 games on the Wednesday NBA schedule, there is no better time to take advantage of this lucrative Caesars Sportsbook promo code.
Who is eligible for the Caesars Sportsbook promo code?
The Caesars Sportsbook promo code is available to new customers in the following states:
Coming soon: