Byron Buxton put up MVP numbers throughout the month of April. Now, oddsmakers are giving the Twins superstar a real chance of winning that honor when the season ends.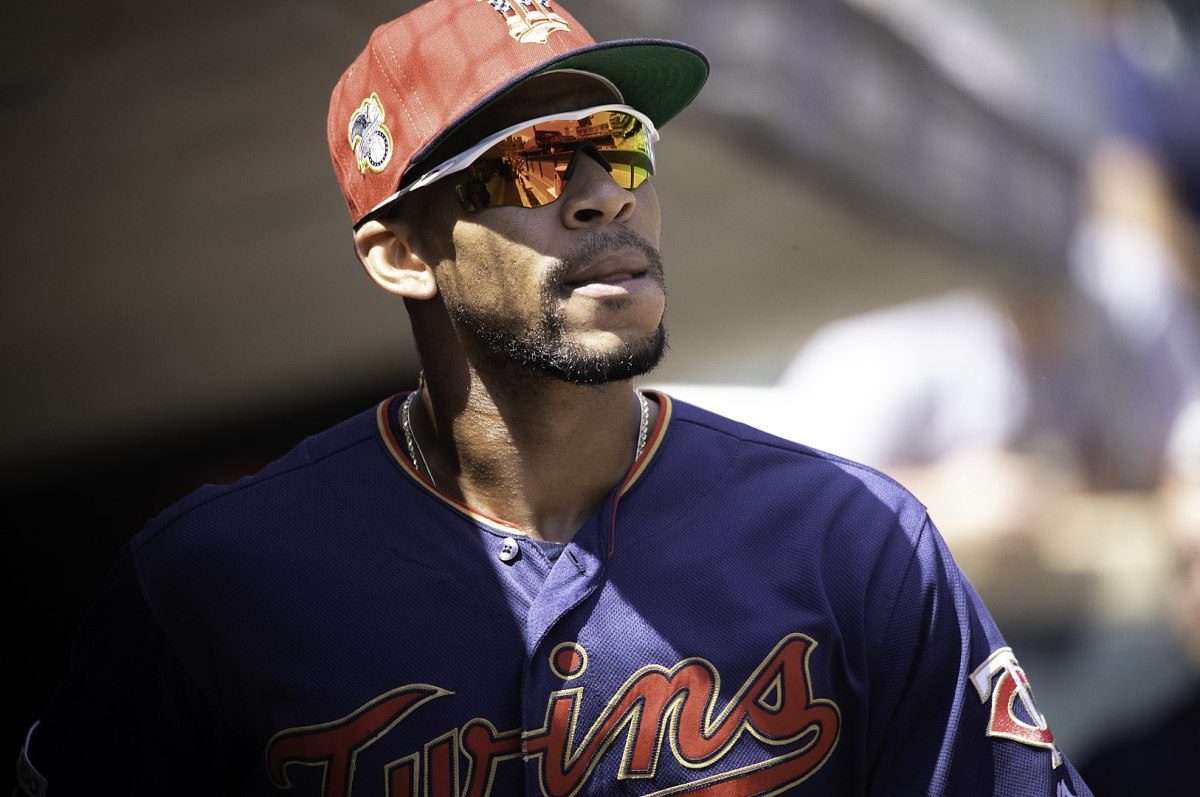 Buxton has started the season on an absolute tear, hitting .408 with eight homers and 15 RBIs through his first 20 games.
Buxton 'electric' for Twins
The 27-year-old leads the American League with a .842 slugging percentage. And while Buxton may not be able to sustain those numbers, they've made him one of the leading AL MVP candidates coming out of the season's first month.
"He's gotta be the most electric baseball player in the league right now," Twins catcher Mitch Garver said, via The Athletic. "He's extremely, extremely dynamic. I think everybody that watches him play is pretty amazed that he does some of the things that he does, and he does it every day."
Buxton had one of the best offensive games of the season so far on Wednesday when he went 5-for-5 with a home run and two doubles in a 10-2 Twins win over Cleveland.
3 extra-base hits, a stolen base, a homer to start the game.

A fine 5-for-5 effort, @OfficialBuck103!#TwinsWin | #MNTwins pic.twitter.com/yqxCTju2Bf

— Minnesota Twins (@Twins) April 29, 2021
"Just showing a little bit more aggressiveness, cockiness to get things started," Buxton said after that performance. "Obviously, we started the game off really good and it's just one of those things where you want to keep that momentum and stick with it."
Buxton also excels in the field. He won the 2017 AL Gold Glove for centerfielders and continues to make highlight-reel plays in 2021.
Byron Buxton continues to amaze…

Add another remote (1-10%) catch to his resume.#MNTwins pic.twitter.com/Kv1Ns1fxev

— Inside Edge (@IE_MLB) May 1, 2021
"When he's in center field, we feel great pitching because we know whatever line drives, we're always thinking that he has the opportunity to catch the ball," Twins starting pitcher Michael Pineda said, via MLB.com. "Byron is unbelievable in center field."
Buxton came up to the majors in 2015 as one of the most exciting prospects in baseball, but it hasn't been until this season that he's put up the numbers to match the hype.
Trout, Ohtani among AL MVP contenders
Sportsbooks have reacted to Buxton's start by shortening his odds of winning the AL MVP award. FanDuel Sportsbook now lists Buxton as the +850 second choice – the same odds as Angels two-way player Shohei Ohtani – trailing only Mike Trout (+200). Vladimir Guerrero Jr. (+1000) is the only other player fetching odds under +2000.
---
AL MVP Odds (via FanDuel Sportsbook)
Mike Trout: +200
Byron Buxton: +850
Shohei Ohtani: +850
Vladimir Guerrero Jr.: +1000
Aaron Judge: +2000
J.D. Martinez: +2000
Jose Ramirez: +2000
Alex Bregman: +2500
Jose Abreu: +2500
---
Trout has put up huge numbers of his own, hitting .413 with seven homers and 16 RBI while compiling a 1.290 OPS in his first 23 games. Meanwhile, Ohtani is hitting .263 with eight homers, while also having a 1-0 record with a 3.29 ERA as a starting pitcher.
The 22-year-old Guerrero is also having the best season of his career so far. The Blue Jay is hitting .337 with seven homers in the early going.
Buxton's biggest challenge could be staying healthy. He played just 28 games in 2017 due to a broken toe, while a torn labrum limited him to 87 games in 2019.