When looking at speed figures for the Breeders' Cup Juvenile Turf, understand that European horses traditionally dominate this event. They certainly dominate this year's Juvenile Turf field, comprising half of the 14 horses drawn into the main field.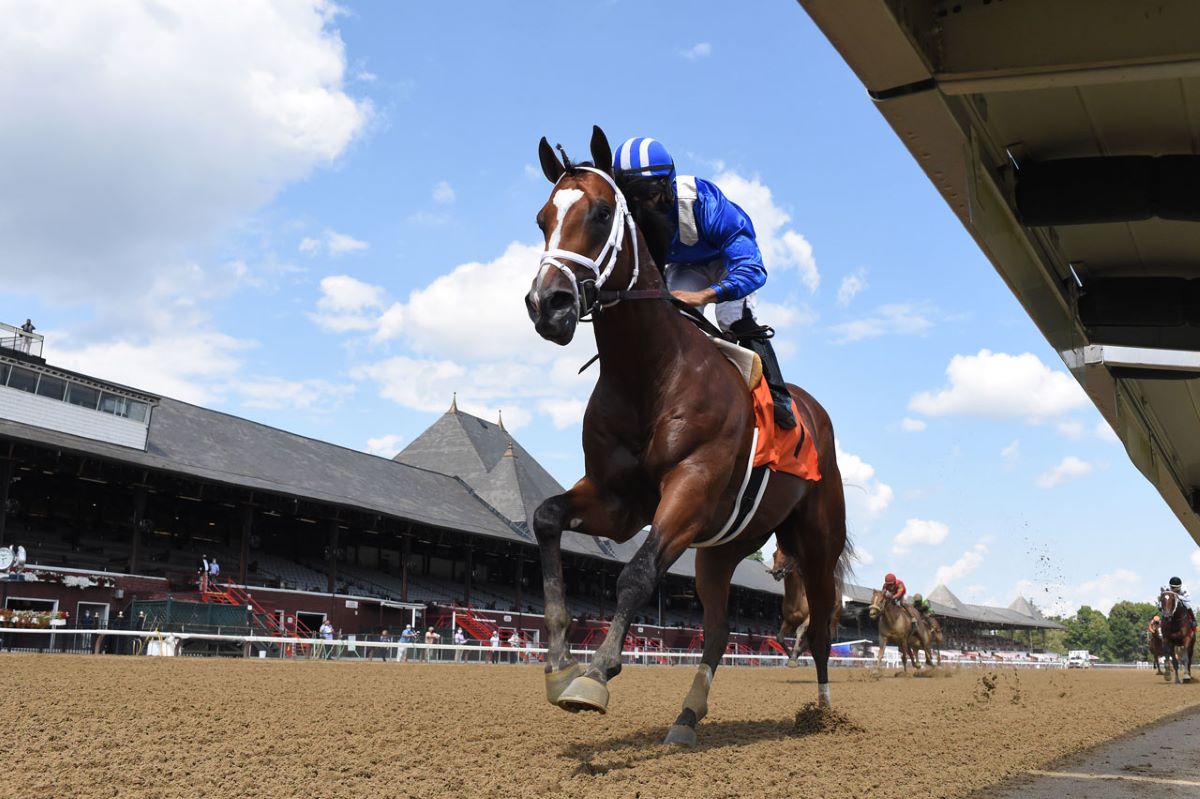 That means speed figures for European horses are not as available. So as OG News examines the speed figures of several Breeders' Cup races, we'll take a closer look at the North American contenders in the field. Again, the idea is to find value in overlays and avoid the underlays of horses with sub-standard speed figures and depressed odds.
The Juvenile Turf is the second of 14 Breeders' Cup races set for Friday, Nov. 6 at 12:10 p.m. PT. It opens the $1 million All-Breeders' Cup Pick 4, and is the second race in the $1 million Breeders' Cup Late Pick 5.
European standout Battleground, a product of Aidan O'Brien's Goldolphin armada, is the 9/2 favorite according to Oddschecker. Behind him, however, is the top North American product – Mutasaabeq (11/2). He's fresh off a strong victory in the Grade 2 Bourbon Stakes earlier this month at Keeneland.
Take Mutasaabeq's Top Beyer With a Grain of Dirt
The Todd Pletcher trainee owns the best Beyer Speed Figure in the field, courtesy of his maiden-breaking 84. That, however, came on dirt at Saratoga in his August debut. Mutasaabeq chalked up only a 75 in his Bourbon Stakes win, although that came with a 92 Equibase Speed Figure. His 88 Brisnet puts him near the top of this class.
The best turf numbers from a North American horse come from north of the border – Canada's Gretzky the Great. His career-best 83 Beyer came in his solid Summer Stakes victory at Woodbine in September. That also produced a career-best 92 Brisnet, which tops the field, and a 94 Equibase, which also leads the list.
---
Breeders' Cup Juvenile Turf Speed Figures
Below is a list of the best, and most recent, speed figures posted by North American horses running in the Breeders' Cup Juvenile Turf.
| | | | |
| --- | --- | --- | --- |
| | Best/Last Beyer | Best/Last Brisnet | Best/Last Equibase |
| Mutasaabeq | 84/75 | 88/88 | 92/92 |
| Gretzky the Great | 83/83 | 92/89 | 96/94 |
| Outadore | 82/82 | 82/78 | 92/92 |
| Fire At Will | 80/80 | 84/83 | 93/93 |
| Public Sector | 76/76 | 81/81 | 89/89 |
| Abarta | 71/71 | 85/85 | 88/88 |
| Ebeko | 67/67 | 78/78 | 93/93 |
---
One start earlier, in the listed Soaring Free Stakes at Woodbine, Gretzky the Great notched his career-best 96 Equibase. His grass numbers are the most consistently solid of any North American horse in this field.
Outadore Brings Light Body of Work
Not far behind is Outadore, who has only two races under his saddle. The last one from this Wesley Ward charge took him to the winner's circle in the Kentucky Downs Juvenile Turf Stakes. That victory came with a 92 Equibase and 82 Beyer that puts him near the head of the North American class here.
From there, we come to Fire At Will. He won the Grade 2 Pilgrim Stakes at Belmont Park, but set a glacial pace in the process. This explains his ordinary 80 Beyer and 83 Brisnet, although his 93 Equibase puts him in the mix here among his North American counterparts.
The same goes for the horse Fire At Will beat in that Pilgrim Stakes, Public Sector. Even with the slow pace, Public Sector needed a stretch drive to finish second and clock his career-best 89 Equibase. His other career-best numbers are equally as modest: a 76 Beyer and 81 Brisnet.
Speed Figures Plunge Dramatically
Abarta, who finished second in the Bourbon with an 88 Equibase, and California shipper Ebeko, don't have the figures to keep up. Abarta's best Beyer is a 71; Ebeko's a 67. These aren't Grade 1 figures, let alone contending figures in a Breeders' Cup race.
The North American contingent in the Juvenile Turf comes with a remarkable balance on the speed front. It doesn't, however, come with that one eye-catching number or contender. That points speed-hungry horseplayers to the other side of the Atlantic for a probable winner.