The Breeders' Cup unveiled its 2021 wagering menu on Wednesday, adding a new All-Turf Pick 4 and a third Pick 5 to Saturday's betting smorgasbord.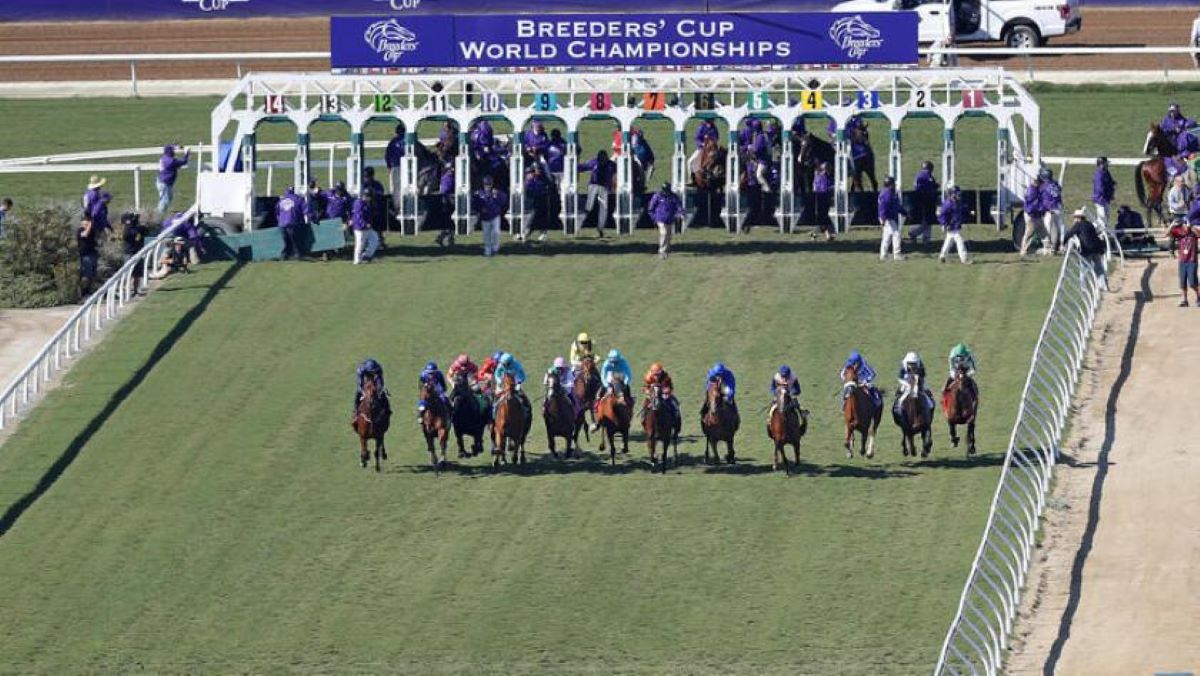 Along with the wagering menu, officials for the Nov. 5-6 racing festival at Del Mar announced the official race order. Friday's first day features 10 races, five of those Breeders' Cup events. Saturday's Del Mar card offers 12 races, with the final nine being Breeders' Cup races.
As is recent custom, Friday's Breeders' Cup card caters to the kids. All five Breeders' Cup races that day are for the 2-year-olds, starting with the Juvenile Turf Sprint at 2:50 p.m. PT. The Juvenile Fillies follows at 3:30 p.m., with the Juvenile Fillies Turf at 4:10 p.m. Normally the final race of the day, the Juvenile runs as the fourth Breeders' Cup race this year, with a 4:50 p.m. post. The Juvenile Turf wraps up the card at 5:30 p.m.
---
Breeders' cup key races
Friday
Juvenile Turf Sprint
2:50 p.m PT
Juvenile Fillies
3:30 pm. PT
Juvenile Fillies Turf
4:10 p.m. PT
Juvenile
4:50 p.m. PT
Juvenile Turf
5:30 p.m. PT
Saturday
Filly and Mare Sprint
12:05 p.m. PT
Turf Sprint
12:40 p.m. PT
Dirt Mile
1:19 p.m. PT
Filly and Turf
1:59 p.m. PT
Sprint
2:38 p.m. PT
Mile
3:20 p.m. PT
Distaff
4 p.m. PT
Turf
4:40 p.m. PT
Classic
5:40 p.m. PT
---
After Saturday's three undercard races, Breeders' Cup action begins with the Filly and Mare Sprint at 12:05 p.m. PT. The Turf Sprint follows at 12:40 p.m. and the Dirt Mile at 1:19 p.m. That segues into the Filly & Mare Turf at 1:59 p.m., followed by the Sprint at 2:38 p.m. and the Mile at 3:20 p.m.
The three biggest races of the meet follow with the Distaff at 4 p.m., the Turf at 4:40 p.m., and the flagship Classic at 5:40 p.m. NBCSN will televise the entire Breeders' Cup meet, save for the Classic, which airs on NBC with coverage beginning at 5 p.m. PT
Breeders' Cup should eclipse 2017's Del Mar betting mark
This is the Breeders' Cup's second visit to Del Mar. The last time it visited was in 2017 when bettors put down $166 million in wagers. With the rise of ADWs, expect horseplayers to blow past that figure this year, especially with 19 countries offering pari-mutuel, commingled pool wagering on Breeders' Cup races. Eight other countries will offer separate pool wagering.
"This provides strong liquidity for our pools and maximizes value for our worldwide customers," Breeders' Cup President and CEO Drew Fleming said in a statement. "We are also appreciative and honored to have Hong Kong and Japan included in wagering this year, which demonstrates the opportunities available to every jurisdiction when we work together to globalize our sport."
Waiting for those bettors are new wagers such as the All-Turf Pick 4. That wager requires bettors to hit Saturday's Turf Sprint, Filly & Mare Turf, Mile and Turf, races No. 5, 7, 9, and 11, respectively.
Pick your Saturday Pick 5
Also new to the menu is a third, middle Pick 5 that opens with Saturday's third race, the final undercard race. The early Pick 5 begins with the 10:15 a.m. opening race and the late Pick 5 begins with the eighth race, the Sprint. Last year's late Pick 5 at Keeneland created a $5.1 million pool. The late Pick 4 generated a $4.3 million pool.
Friday's menu offers a Pick 6 that begins with the last of five undercard races and includes all five Breeders' Cup races. A Friday late Pick 5 encompasses all five Breeders' Cup events. Those may carry over into Saturday if nobody hits them.
Saturday's Ultra Pick 6 begins with the seventh race, the Filly & Mare Turf. It, and the late Pick 5, come with mandatory payouts.
Can you pick the first five finishers?
This year, the Breeders' Cup offers a Super High 5 bet on every race, including the undercards. Bettors must pick the top five finishers in order to cash a ticket. But this vertical wager comes with a horizontal twist. The pool rolls over to the next race if it's unclaimed. If nobody hits it going into Saturday's finale, the Classic, that race brings a mandatory payout.
The other unique wagers are the special Daily Doubles, which pair a Friday juvenile race with its Saturday older contemporary. There are three of these wagers available, including the Juvenile Turf/Turf, the Juvenile Fillies/Distaff, and the Juvenile/Classic.
This promises to be a betting bonanza largely because of minimums that are among the friendliest in the nation. Win, Place, Show, Daily Double, Exacta, Pick 6 and Special Daily Double bets all feature a $1 minimum. There is a 50-cent minimum on Trifectas, Pick 3s, Pick 4s, Pick 5s, and the Super High 5. The Superfecta comes with a 10-cent minimum.