Washington Wizards star Bradley Beal set a career-high in scoring on consecutive nights. Beal dropped 53 points against the Chicago Bulls on Sunday and he followed up that stunning performance with 55 points against the first-place Milwaukee Bucks. Beal became the first NBA player to score 50-plus points in back-to-back nights since Kobe Bryant in 2007.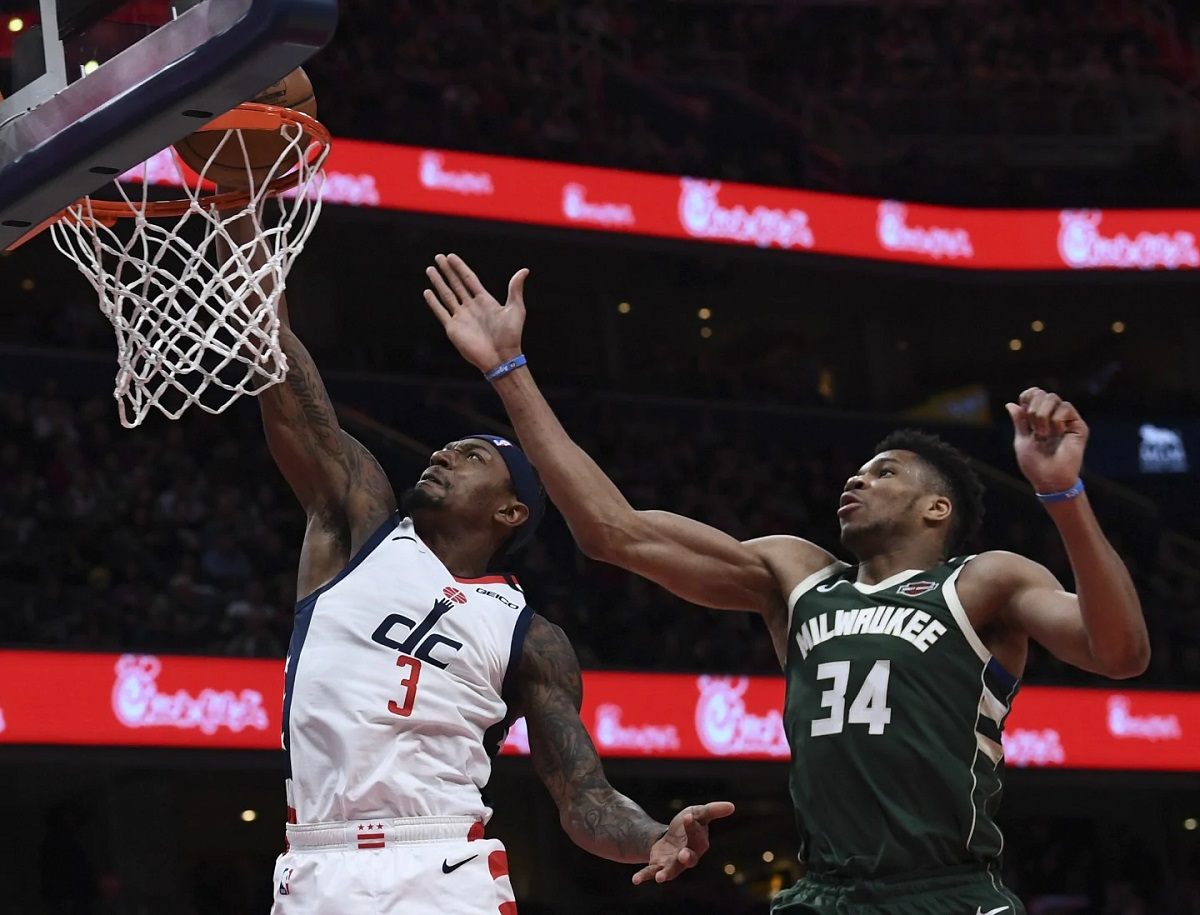 Beal was one of two players who were snubbed from the 2020 All-Star Game. Devin Booker got a chance to appear in the All-Star Game as an injury replacement to Damian Lilliard for Team LeBron.
Beal got shut out despite the fact he's having his best season in his eight-year NBA career. With 28.7 ppg, he ranked #6 in NBA scoring at the time of the snub.
WHO IS BRADLEY BEAL?
AGE: 26
POSITION: Shooting Guard
DRAFT: #3 overall (Florida) in 2012 Draft
CAREER AVG: 20.8 ppg, 3.9 assists
2019-20 AVG: 30.1 ppg, 6.0 assists
Since the slight, Beal has been en fuego, averaging 37.1 ppg. After this recent scoring eruption, Beal rocketed to second-overall in scoring. He even passed the Greek Freek and improved his average to 30.1 ppg.
Since the All-Star snub, Beal dropped 40-plus five times. In his last 15 games, Beal hasn't scored less than 26 points. In February, he's scored 30 or more points in six out of nine games.
Beal Dropping 53 vs Greek Freak
The Chicago Bulls, led by rookie Coby White, snapped an eight-game losing streak with a big 126-117 win over the Washington Wizards. White led the Bulls with 33 points, but the rookie's performance was overshadowed by Beal's dominance.
In Chicago, Beal went 15-for-27 from the floor, including 5-for-11 from 3-point land. He went over 50 due to his free throw shooting. Beal knocked down 18-for-20 from the charity stripe. He also ticked a lot of boxes in the stat sheet with five rebounds, four assists, two steals, and a blocked shot.
Despite the effort on offense with 53 points, Beal felt most critical about his defense in the loss.
"I can be better on the defensive end and the all-around game," said Beal. "We all can be better."
Beal set a career-high with 53 points against the Bulls. Little did he know his new record would fall the next evening.
New Career-High 55 for BB
The Milwaukee Bucks are still on pace to win 70 games, which has only been achieved two times before in the history of the NBA.
"They're the best team in the league right now," said Beal. "We're going to compete with the best of them, and we're not going to go out without a fight."
The Wizards orchestrated a fourth-quarter comeback to tie the game and send it into overtime. Giannis "Greek Freak" Antetokounmpo fouled out, but the Bucks rallied for the win despite allowing Beal to light them up for 55 points. He dropped 22 points in the fourth quarter and scored seven out of the team's 11 points in overtime.
"I was just locked in and I just was having fun," said Beal. "Probably the most fun game I've ever played in."
Beal shot 19-for-33 from the floor. He knocked down eight treys on 8-for-13 shooting from downtown. Beal also added 9-for-10 from the free-throw line to finish with 55 points in 41 minutes of action, including overtime.
Beal became the first player in Washington franchise history to score consecutive 50-point games. He also joined an exclusive list by scoring 53 points in consecutive games. Only Wilt Chamberlin and James Harden (last season) achieved the rare feat in NBA history.
"Pretty damn cool," said Beal. "I wanted the win, but that's a cool attribute. Those are two greats. Two Hall of Famers for sure. And I'm happy to be in good company."
"He's unbelievable, even though I see it every day," said head coach Scott Brooks. "(Beal) is a remarkable player. Makes it look easy to score 50 on back-to-backs."
Wiz Bubbles
As bad as the Wizards played in the first half of the season, they're still in the hunt for a playoff spot. As outrageous as it sounds, the Wizards (20-36) are 16 games under .500, yet they're on the Eastern Conference bubble in the 9-hole. The Wiz trail the Orlando Magic by 4.5 games.
The bottom end of the east is sparse and barren. The #7 and #8 seeds, Brooklyn and Orlando, are both sub-.500 teams. The Wizards shouldn't be in the thick of a playoff chase, yet that's the reality due to lopsidedness of the east power structure with six playoff-caliber teams and nine awful teams.
EASTERN CONFERENCE PLAYOFF BUBBLE
#7. Brooklyn Nets 26-30
#8. Orlando Magic 25-32
* * * * * * * * * * * * * * *
Washington Wizards 20-36
Chicago Bulls 20-38
Bradley Beal doesn't care about how bad the east is right now. All he cares about is the simple fact that the Wizards are on the bubble, and they're chasing the Orlando Magic.
The Wiz have 26 more games remaining, but they need help from the rest of the team. The Wiz are only 1-8 in games in which Beal scores 40 or more points. Unfortunately, the Wiz lost both games in which Beal scored a career-high and went off for 50-plus.