One of the fundamental criticisms of sports NFTs has been the belief that digital cards or moments simply won't have the long-term collectability of physical products. A new offering, Blokpax, is trying to overcome that issue by combining the two types of collectibles into one unique system.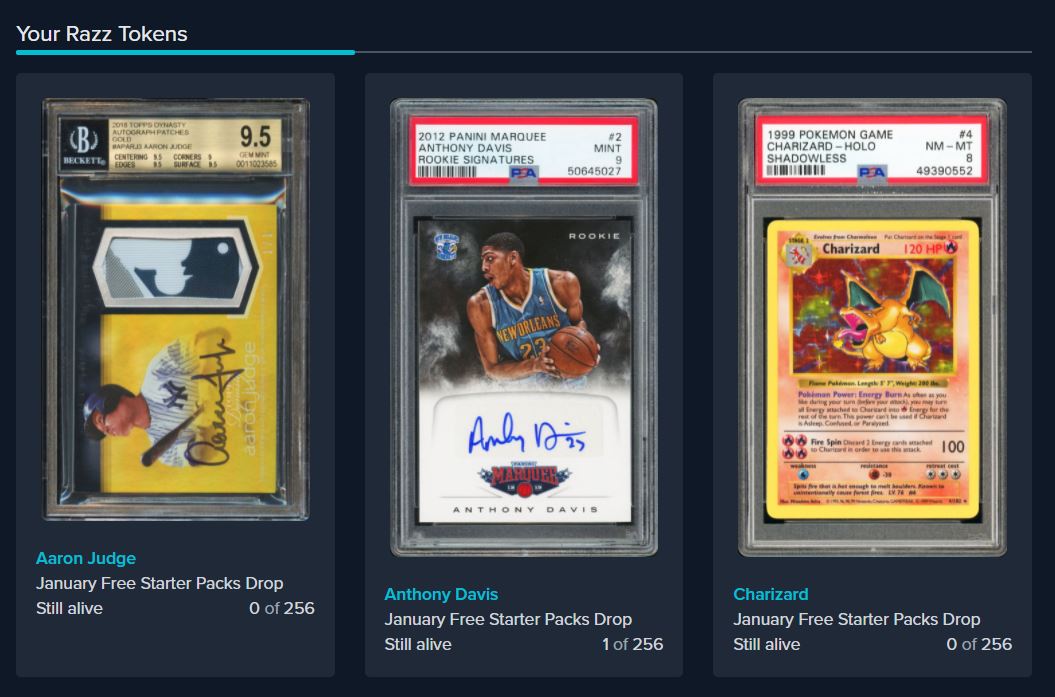 Blokpax offers users NFTs known as Razz Tokens which, in turn, tie directly to real-world assets.
Eliminations raise value of remaining tokens
Every time a user opens a Blokpax offering, they earn one or more Razz Tokens. Each of these tokens is a unique NFT on the Polygon blockchain, which individuals can then buy, sell, and trade on the OpenSea platform.
Each Razz Token is connected to a specific real-world asset, such as valuable, graded sports or collectible game card. There are 2,048 tokens for each physical card.
That's where things get interesting. A few days after each drop, Blokpax randomly burns half of the Razz Tokens attached to each card. Now, only 1,024 tokens remain for each collectible. This process continues at announced intervals, going through a total of 11 rounds of eliminations to get down to one single Razz Token for each card. At that point, the owner of the winning token can redeem it for the physical card or sell that token directly on OpenSea.
Since users can sell and trade tokens between rounds, each collector can choose how much of a risk they want to take. You can try to hold on in the hopes that you will win a particular card, trade to get a larger stake in a given collectible, or sell at any point to earn a smaller, guaranteed payout.
Here's how it works in practice. I signed up for a free January starter drop and opened a total of 23 Razz Tokens. The tokens represented chances to win various cards, from a 1999 Shadowless Holo Charizard from the Pokemon collectible card game (graded PSA 8) to a PSA 9 Justin Herbert rookie card.
Blokpax offers alternative to sports NFTs
After two rounds of eliminations, I sold a token for a 9.5-rated, 2018 Aaron Judge card for 0.0034 Ethereum (about $11 at the time of this writing). After a third round, I'm down to three live Razz Tokens in my collection, giving me a 1-in-256 chance to claim cards featuring Anthony Davis, Ernie Banks, or Kawhi Leonard.
Typically, Blokpax drops do command a price: $5, according to information on the Blokpax Discord channel. That means that while collectors can guarantee themselves a profit in the free starter drops, they will be taking on a risk on every token they wish to purchase going forward.
That will only increase the gambling-like aspect of Blokpax, though that's something it combines with just about every other sports NFT platform. The main difference is that when a user buys a pack on NBA Top Shot, they may not get the LeBron James moment they wanted, though they'll come away with something. But, for those who feel that all NFTs are essentially nothing to begin with, the attachment to physical collectibles may make Blokpax a more appetizing purchase.