Los Angeles Chargers quarterback Justin Herbert has the inside track to win the NFL Offensive Rookie of the Year after a sensational season. Herbert set new rookie records with 31 touchdown passes and 36 total touchdowns.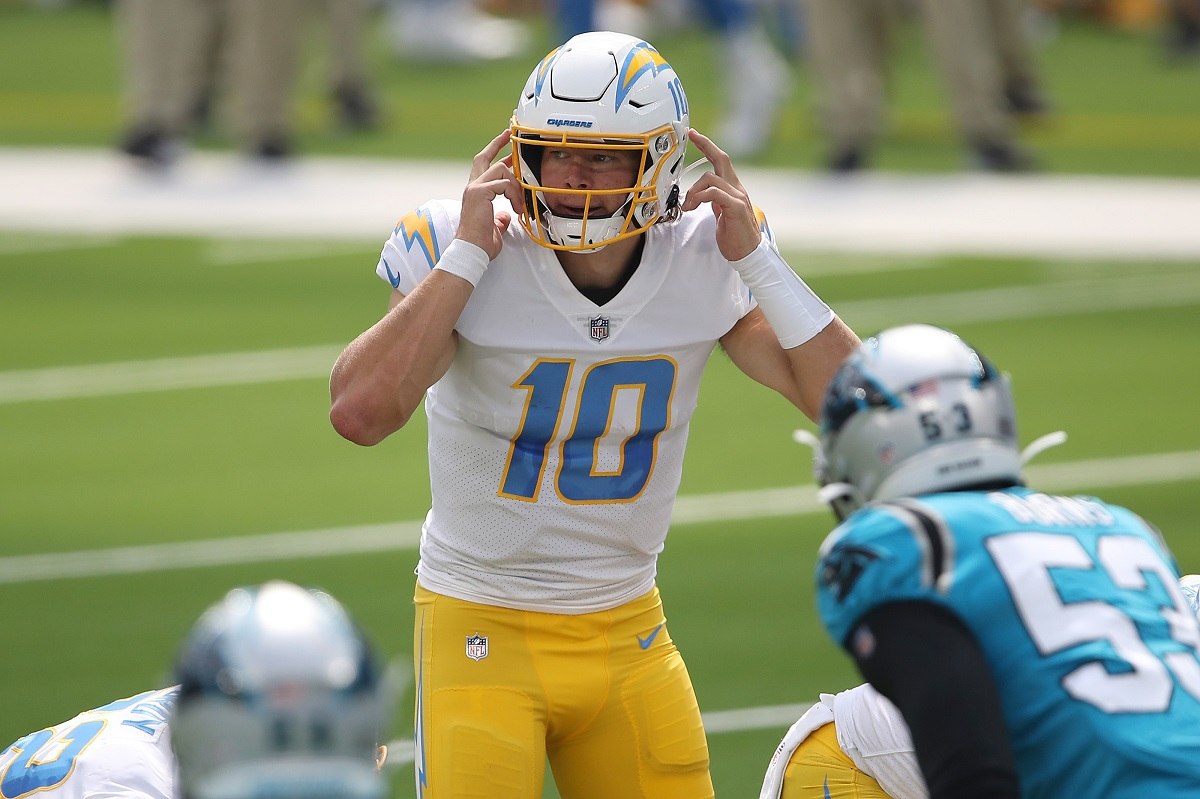 Herbert finished the season as the league's sixth-best passer with 4,336 yards. He ranked #10 with 31 touchdowns, yet set the rookie record previously held by Baker Mayfield. Herbert completed 66.6% of his passes, but tossed 10 interceptions. He also rushed for five touchdowns.
Kyler Murray from the Arizona Cardinals won the 2019 NFL Offensive Rookie of the Year. Herbert could become the sixth QB to earn Rookie of the Year honors in the last decade.
Since Big Ben Roethlisberger won the 2004 Rookie of the Year, eight quarterbacks have won the award as the league shifted toward giving younger QBs more responsibilities.
Prior to 2004, only Buffalo Bills QB Dennis Shaw was named the league's Rookie of the Year (1970). Historically speaking, head coaches didn't throw rookie quarterbacks into the fire like they did with running backs.
Herbert: #6 Pick to Rookie of Year?
Herbert played in only 15 games this season. He began the season as the backup quarterback behind Tyrod Taylor. Herbert found out he was starting in Week 2, only minutes before the kickoff. Taylor had cracked ribs and took a painkiller injection during warmups. The team doctor punctured Taylor's lung, which caused him too much pain to play. Head coach Anthony Lynn tapped Herbert on short notice and never looked back. Herbert remained the starter for the rest of the season.
The Chargers drafted Herbert to replace Philip Rivers, who spent 14 years as the starting QB in San Diego and Los Angeles. Rivers signed a free-agent deal with the Indianapolis Colts in the offseason. The Chargers hoped they could find the future franchise quarterback in Herbert, who exceeded initial projections.
Herbert played his collegiate ball at Oregon. He was one of the top three quarterbacks projected in the 2019 NFL draft, but he opted to return to school and play at Oregon for his senior season. His numbers were slightly off from his junior season, but scouts still thought he could thrive at the pro level.
The Chargers selected Herbert with the sixth overall pick in the 2020 NFL Draft. Heisman winner Joe Burrow went #1 to the Cincinnati Bengals. The Miami Dolphins selected Tua Tagovailoa with the #5 pick.
Herbert or Justin Jefferson for ROY?
By Week 8, Burrow and Herbert were co-favorites to win Rookie of the Year. Burrow injured his knee a couple of weeks later, and Herbert became the main favorite.
When Tagovailoa finally earned the starting QB job in Miami by edging out Ryan Fitzpatrick, his odds saw a bump. However, Tua (1,814 yards, 11 touchdowns, 5 INTs) didn't put up anything close to Herbert's numbers (4,336 yards and 31 touchdowns).  Miami bubbled the playoffs and many fans were wondering what could have been if they selected Herbert instead.
---
LIST NFL OFFENSIVE ROOKIE OF YEAR (Since 2000)
2000 Mike Anderson, RB, Denver Broncos
2001 Anthony Thomas, RB, Chicago Bears
2002 Clinton Portis, RB, Denver Broncos
2003 Anquan Boldin, WR, Arizona Cardinals
2004 Ben Roethlisberger, QB, Pittsburgh Steelers
2005 Cadillac Williams, RB, Tampa Bay Bucs
2006 Vince Young, QB, Tennessee Titans
2007 Adrian Peterson, RB, Minnesota Vikings
2008 Matt Ryan, QB, Atlanta Falcons
2009 Percy Harvin, WR, Minnesota Vikings
2010 Sam Bradford, QB, St. Louis Rams
2011 Cam Newton, QB, Carolina Panthers
2012 Robert Griffin III, QB, Washington Redskins
2013 Eddie Lacy, RB, Green Bay Packers
2014 Odell Beckham Jr., WR, NY Giants
2015 Todd Gurley, RB, St. Louis Rams
2016 Dak Prescott, QB, Dallas Cowboys
2017 Alvin Kamara, RB, New Orleans Saints
2018 Saquon Barkley, RB, NY Giants
2019 Kyler Murray, QB, Arizona Cardinals
2020 ??? TBA ????
---
Jefferson, who replaced Stefon Diggs in Minnesota, also posted a magnificent season with 88 receptions for 1,400 yards and seven touchdowns. Jefferson finished the season tied for fourth in receiving yards. He's trying to become only the third wide receiver to win ROY honors since Percy Harvin's breakout rookie season in 2009. Odell Beckham is the last wideout to win the prestigious award.