The Portland Trailblazers, led by CJ McCollum's 41-point outburst, defeated the Denver Nuggets 140-137 in a marathon thriller that required four overtime sessions to determine a winner in Game 3 of the Western Conference Semifinals.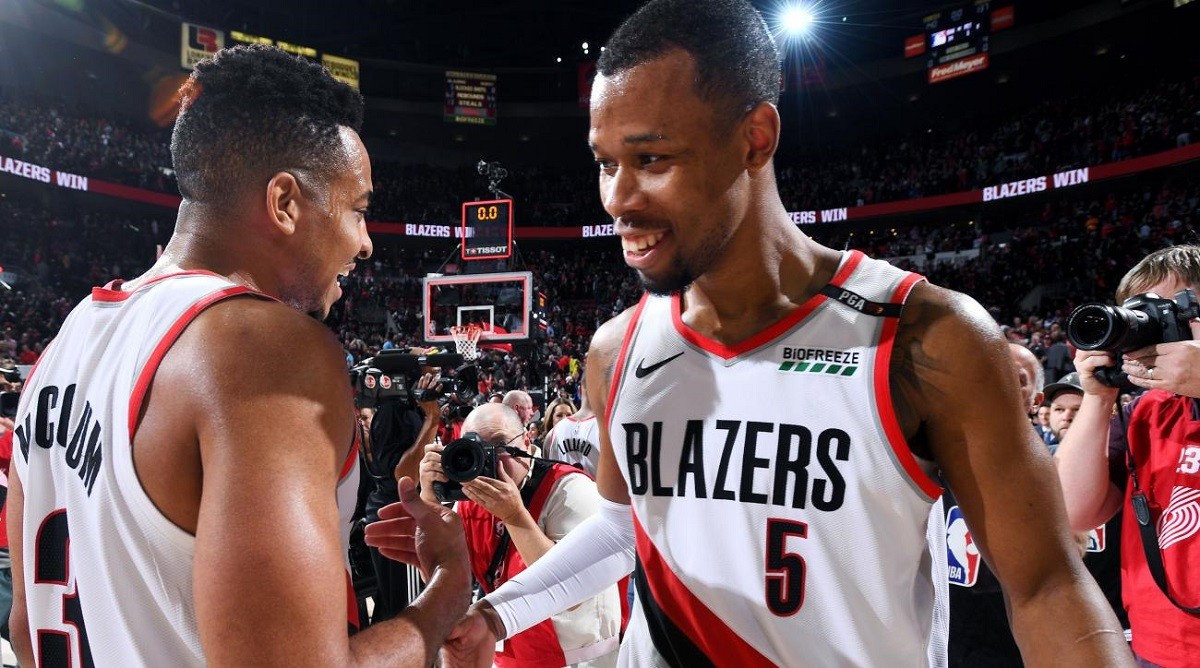 The 4OT nailbiter tied a record for longest playoff game in NBA history. Back in 1953, the Boston Celtics and the Syracuse Nationals played a quadruple overtime affair. The NBA has never seen a 5OT game in the playoffs, but last night came close.
Portland's CJ McCollum lead all scorers with 41 points, while logging 60 minutes for the Blazers.
"It's just like a heavyweight bout," said Blazers head coach Terry Stotts. "Battle of attrition."
Denver's Jamal Murray dropped 34 points in a losing cause. Teammate Nikola Jokic contributed a triple double with 33 points, 18 rebounds, and 14 points in 65 minutes of action. That marked Jokic's third triple double since the playoffs began.
"I mean, Nikola Jokic played 65 minutes tonight," said Denver Nuggets head coach Michael Malone. "That's unheard of. That's ridiculous. I can't do that to him, that's too many minutes."
4 OT
Anytime you have an overtime game in the playoffs, you know you got to watch a great game. The Blazers and Nuggets decided to up the ante with a quadruple overtime game. It felt like an old timey heavyweight prize fight back when they boxed for 15 rounds and yet were still throwing haymakers up until the final bell.
The Blazers had won 11 games in a row heading into their first home game of this series against the Nuggets. They had the benefit of winning the first game to take a 1-0 series lead. The Nugs regained their composure in Game 2 to even the series at 1-1. In true zig-zag fashion, the Blazers won Game 3 on their home turf for 12 consecutive wins in Portland.
"We fought, we fought, we fought," said Michael Malone. "That's all you can ask for. Too many second-chance points too many turnovers, that was the difference in the game. But that was a hell of a basketball game by two very good basketball teams."
Hood Time
Rodney Hood stepped up in the fourth overtime segment to push the Blazers over the edge. Hood has plenty of playoff experience alongside LeBron James in Cleveland, but he had played himself out of Terry Stotts' rotation in Portland.
By the start of the fourth OT, the Blazers needed fresh legs. Stotts sent Hood into the game, which ended up being exactly what the Blazers needed. Hood scored seven points including a clutch three pointer to put the Blazers ahead by two points. Hood ended up with 19 total points in 24 minutes of action.
"Rodney Hood came in and played great," said Blazers coach Terry Stotts. "It was a helluva game. I've never been involved in a game like that, regular season or playoff. But it was an amazing effort by both teams."
The Blazers dynamic backcourt combined for 68 points, 14 rebounds, 12 assists, and 6 steals. Damian Lillard scored 28 points on 10-for-24 shooting. McCollum dropped 40 points, but it took him 39 shots including 11 three-point attempts, to get to 40.
The Blazers are a team on a mission this year. Team owner and former Microsoft co-founder Paul Allen passed away before the start of the season.
Heading into Game 4 with a 2-1 lead, the Blazers are a consensus 3-point favorite at home against the Nuggets.
According to the South Point Casino and Sports Book in Las Vegas, the Denver Nuggets are the big dog on the board at 60/1 odds to win the NBA championship. With only eight teams remaining in the NBA playoffs, the Blazers are 20/1 odds to win the title.