Bob Baffert and Doug O'Neill built a rivalry among the Santa Anita Park training colony, fueled by the fact that they've trained a combined four Kentucky Derby winners since 2012. But the two training mainstays put aside their rivalry on Tuesday to lead a demonstration outside the Los Angeles County Board of Supervisors building pushing for resuming live racing at Santa Anita and statewide.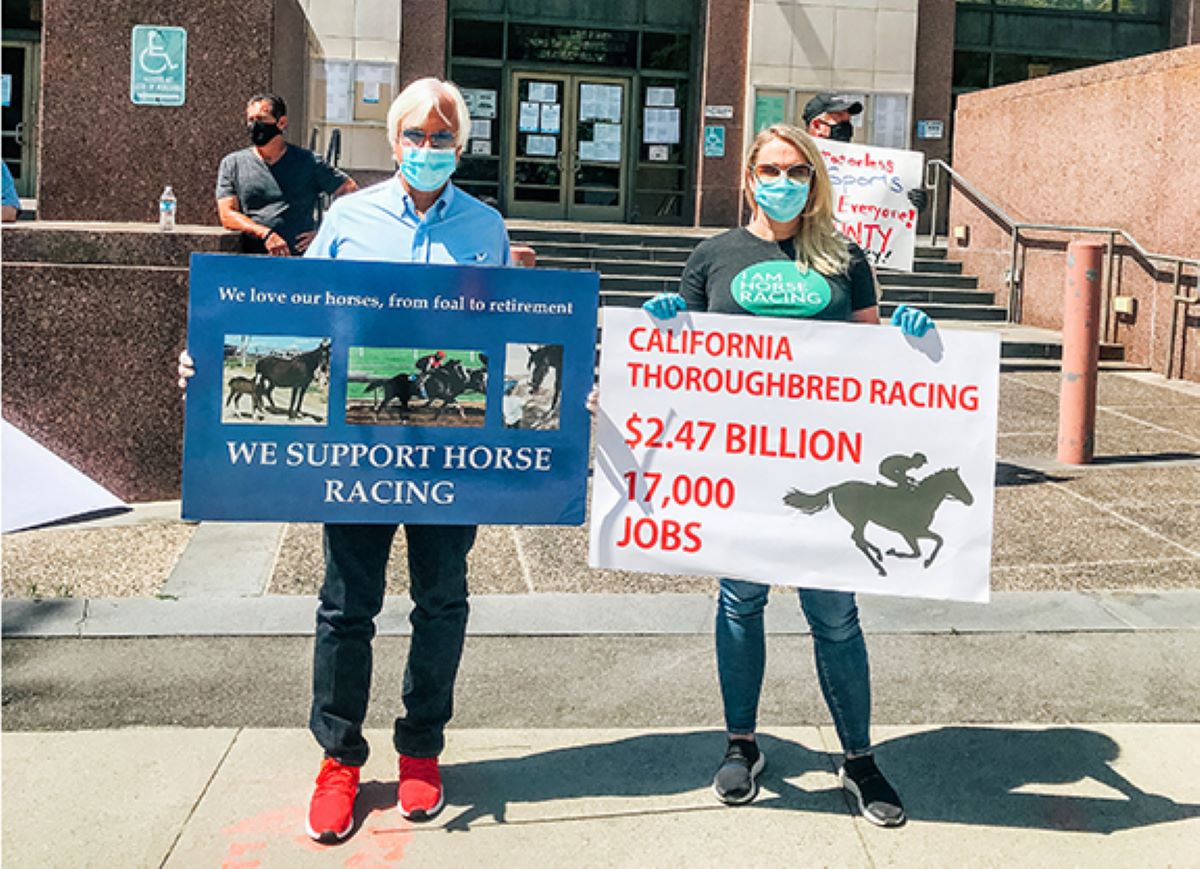 The demonstration drew approximately 60 people, including Baffert, his wife, Jill, O'Neill, and Oscar de la Torre, an outspoken advocate for Santa Anita's more than 750 backstretch workers. Baffert and his wife were captured on video in masks and gloves by Derek Lawson, jockey Flavien Prat's agent.
Baffert carried a sign that read "We love our horses from foal to retirement. We support Horse Racing." His wife displayed one reading "California Thoroughbred Racing. $22.47 Billion, 17,000 jobs."
Getting Their Message Out
While the Bafferts, O'Neill, de la Torre, horse owners, union officials, and Santa Anita officials and backstretch workers demonstrated outside, the board of supervisors met inside via teleconference. On their agenda: several items concerning reopening the county's economy.
One of those items, the "Roadmap to Economic Recovery," passed unanimously. That multi-faceted plan to restart the county's economy doesn't directly impact racing, but it does provide cautious optimism that live racing could resume soon. De la Torre told Thoroughbred Daily News that Santa Anita is on the board's radar for the first phase of economic recovery.
County health officials halted racing at the Arcadia track, 15 miles north of downtown Los Angeles, on March 27 after labeling it a non-essential business. That followed two weeks of spectator-free, incident-free racing at the facility. The following week, Alameda County officials in Northern California shut down Golden Gate Fields, Santa Anita's sister track. The Stronach Group owns both tracks.
Racing Essential to Economic Stability
Since the shutdowns, TSG officials have campaigned for reopening. They point out the purses from racing fund the backstretch workers (low-paid grooms, hot-walkers, stable attendants, watchmen, and exercise riders), charged with the care, feeding, and exercising of the 1,700 horses living in the barns. Those backstretch workers essentially live on a quarantined island in the backstretch which nobody other than essential workers and trainers may enter.
Without live racing, the horses, the backstretch workers, and the financial foundation of the sport are imperiled argue racing supporters. Horse owners won't be able to pay for upkeep and will stop maintaining their stables. The backstretch workers will lose their jobs and the horses themselves will have nowhere to go since many of the horse rescue facilities are already beyond capacity.
Racing's Return in County's Hands
Key elements of Santa Anita's April plan to resume racing were submitted to county officials earlier this month. The 12-page letter, written by Aidan Butler, executive director for California racing operations for TSG, stressed the economic impact of no racing on humans and horses alike, and illustrated the steps Santa Anita has already taken, or plans to take, regarding spectator-less racing.
Those steps included the creation of a quarantine zone for all essential personnel outside the backstretch gate, barring non-essential personnel (owners, media, fans, public-service employees) from entering that zone, and handing horses off to grooms before they enter the quarantine zone. In addition, all essential personnel must wear masks, protective eyewear, and gloves. Temperature monitoring stations will greet personnel at every entrance.
Only jockeys scheduled to ride may enter the Jockeys' Room, and every jockey will have their temperatures taken before entering. Proper social distancing measures will be employed, and gloves will be required at all times, including during races. Finally, any jockey leaving California to ride elsewhere may not ride at Santa Anita.
Butler went further, employing an infectious disease doctor-on-call to advise the track's health personnel and relocating all essential racing-day personnel, including jockeys, starters, and grooms already not on property, to onsite housing.
County officials were expected to decide on that plan this week, but haven't acted as of yet.
"We are asking the Los Angeles County Board of Supervisors and the Los Angeles County Department of Health to allow us to resume "spectator-less" live racing at Santa Anita. Hundreds of workers risk losing income, housing, and health benefits without the financial support that live racing provides. We are making a responsible request to protect public health and the well-being of horses and workers," de la Torre said in a release.
Meanwhile, 40 miles away, Los Alamitos remains the only California track operating. It runs primarily quarter horses, mixing in a limited thoroughbred card. And right across Baldwin Avenue – within sight of the western edge of Santa Anita's backstretch – the LA County Arboretum continues unabated, with sellout crowds flocking there during weekends.
How is the Arboretum not only open but SOLD OUT yet Santa Anita Racetrack across the street is shutdown?!?! @Kathrynbarger this makes no sense. You're better than this! Get out of the office and actually see for yourself. You're jeopardizing the livelihoods of thousands of us. pic.twitter.com/2yKb6mNB4K

— Andrew Lerner (@Andrew__Lerner) April 25, 2020
"I feel safer at the racetrack than I would standing at the Arboretum," Baffert told Bloodhorse.
Afterward the demonstration, Baffert addressed the crowd pointing out training is continuing at Santa Anita without anybody testing positive for COVID-19.
"We are making a responsible and reasonable request to protect public health and the well-being of horses and workers," Baffert said. "California horse racing can help power our economic recovery. Resuming live racing, with the strict protocols proposed by Santa Anita and approved by the Los Angeles County Health Department, will be a positive step in leading the responsible economic recovery of the County of Los Angeles."