Just a Command was just moments away from being shipped to Arizona's Turf Paradise. Instead, he ran into the Santa Anita Park record books as the key to the biggest trifecta payout in track history.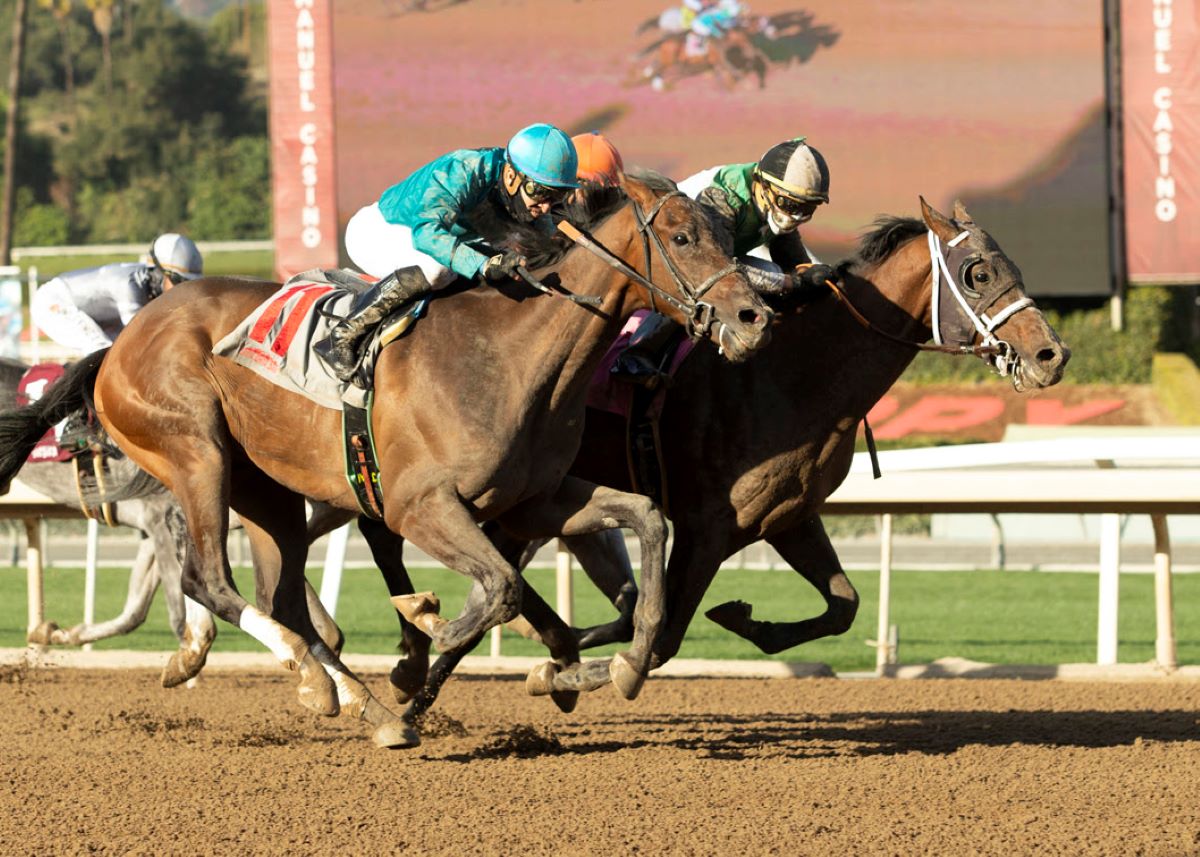 Going off at 99/1 in Santa Anita's sixth race Saturday, Just a Command scored a neck victory in the 6 ½-furlong maiden claiming sprint. That neck victory over 17/1 Funkenstein and 2 ¼ length win over third-place Ben's a Goalie (7/2) keyed a 50 cent trifecta payment of $31,184.10.
That technically broke the nearly 20-year-old track record of $52,892.50 set Sept. 26, 2001. That payout came on a $1 ticket.
The monster payouts didn't stop there. Just a Command paid $201, $93.80 and $28.80 on a $2 bet. Pairing him with 17/1 Funkenstein on a $2 exacta brought you $3,266.80. And the 10 cent superfecta, with 48/1 Robin's Legacy placing fourth, paid $29,496.24.
From Ninth Place Also-Ran to Santa Anita Race Winner
Having Just a Command on the back end of a $2 daily double with fifth-race winner Star of Africa (a modest 3/1) cashed you a $1,134.20 ticket.
All from a horse who lost his debut race by 20 ¼ lengths. That came Dec. 17 at Los Alamitos, when Just a Command finished a miserable ninth out of 10 horses. He came home eight lengths behind eighth-place Fleet Roy with a glacial 28 Equibase Speed Factor. The comments on the race chart were as succinct as they were brutal.
"Just a Command entered the stretch three wide and was never a factor."
Saturday, however, Just a Command was a factor in the stretch. He opened slow again, slogging away in 11th at the quarter-mile call. Entering the stretch, he was fifth, 6 ½ lengths behind Ben's a Goalie. But he steadily picked off horses one-by-one until catching Ben's a Goalie at the wire.
Just a Command Had One Hoof On a Van to the Minors
Not only did Just a Command increase his Equibase by 40 points, but he apparently earned more permanent digs at Santa Anita. Trainer Eric Kruljac, a native Arizonan, figured the horse couldn't stick in the Santa Anita big leagues. He contemplated sending Just a Command to a less-competitive circuit in his home state. Think about it as a demotion to the minors.
"I was ready to send this horse to Turf Paradise," Kruljac told Santa Anita's Mike Willman. "It just goes to show, you never really know."
Just nine days into 2021, Just a Command takes the early lead in US racing's biggest upset this year.
Ridden by Tiago Pereira, Just a Command is a California-bred, 3-year-old colt out of Forest Command and the Lemon Drop Kid mare Justanewkidintown. He earned $21,000 for the win, carrying a $50,000 claiming tag.