Callum Smith holds the WBA super middleweight title and stands as the biggest name in the 168-pound division. But, he'll come in as a significant underdog on Saturday night when he takes on the legendary Canelo Alvarez for both the WBA and the vacant WBC titles at the Alamodome in San Antonio, Texas.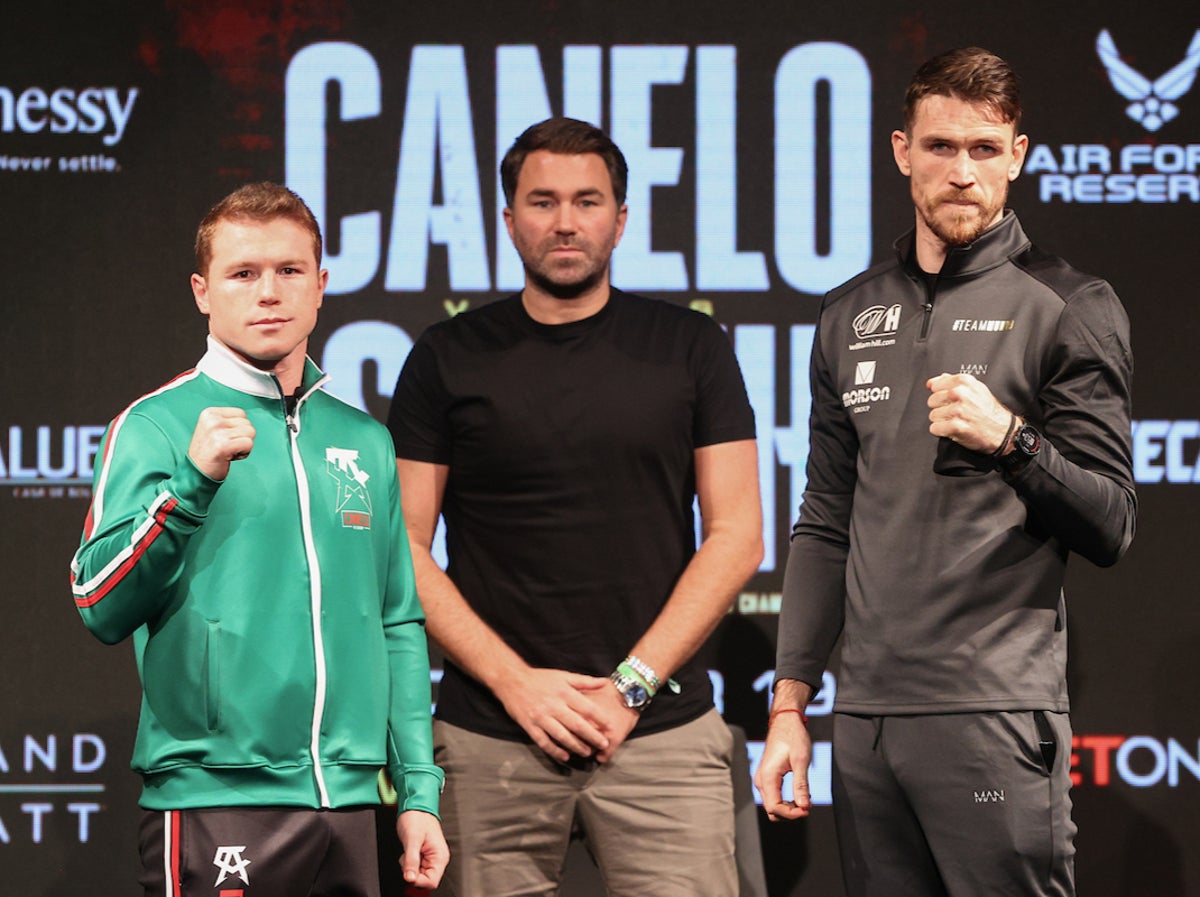 FanDuel Sportsbook lists Alvarez as a -600 favorite over the undefeated Smith (+380).
Alvarez: 'I Like Taking Risks'
The 30-year-old Smith (27-0, 19 KOs) ranks as the top boxer in the super middleweight division, according to both The Ring and BoxRec. Granted, it's not one of boxing's glamour divisions, and there are multiple undefeated fighters vying for the top spot there. But at the very least, Smith has proven he's not just a pushover or a paper champion.
Still, his resume pales in comparison to the challenger's. Alvarez (53-1-2, 36 KOs) holds multiple middleweight titles, still claims the WBA "regular" super middleweight title – a lesser belt than Smith's, in the often bizarre world of boxing championships – and has won belts all the way up through light heavyweight.
---
Canelo Alvarez vs. Callum Smith Odds (via FanDuel Sportsbook)
Canelo Alvarez: -600
Callum Smith: +380
Method of Victory
Alvarez by Decision: +175
Smith by Decision: +900
Alvarez by KO/TKO: +100
Smith by KO/TKO: +650
Draw: +2000
Total Rounds
Over 9.5: -156
Under 9.5: +122
---
Regarded as perhaps the best boxer of his generation, Alvarez is accustomed to entering the ring as a heavy favorite. But he faces danger on Saturday as Smith is a bigger fighter with the skills to potentially cause him trouble in the ring.
"I like taking risks. Taking this fight is a risk," Alvarez told reporters at the pre-fight press conference. "I'm fighting the No. 1 at 168 pounds, so these are challenges for me, and I continue to bring challenges forward, and I like the risk of it. I like challenges to continue making history."
Oddsmakers Favor Knockout Finish
Smith towers over Alvarez. His strength and size will bring a knockout threat into the equation, even if Alvarez takes the lead in the early rounds. FanDuel gives Smith +650 odds of winning the fight by knockout or TKO, a more likely outcome than the champion holding onto his belt by decision (+900).
The same holds true for Alvarez. He sits at +100 to finish Smith, and +175 to win by decision.
"This will be a very good fight and an explosive fight," Alvarez said. "If an opportunity arises to win by knockout, I will take it."
Smith readily admits that he's in for a challenge on Saturday, but says he's been waiting for this opportunity.
"Ever since I was a kid I wanted the biggest fights possible and there is no bigger fight than this one," Smith told reporters. "I understand I'm the underdog. On social media, people haven't given me a chance. But that was the same when I won the world title. I wouldn't agree to this fight if I felt I was going to lose."
Alvarez will fight one night after his greatest rival, Gennady Golovkin, steps into the ring as a massive favorite. While the two best middleweights in the world aren't fighting each other, many still see these two fights as a prelude to a third bout between Alvarez and GGG. Their first fight ended in a split-decision draw, with Alvarez winning the second by majority decision.