Caleb Plant has gone undefeated throughout his boxing career, building a resume that ranks him among the best super middleweight fighters in the world. But he'll face his greatest challenge yet on Saturday when he takes on the legendary Saul Alvarez at the MGM Grand Garden Arena in Las Vegas.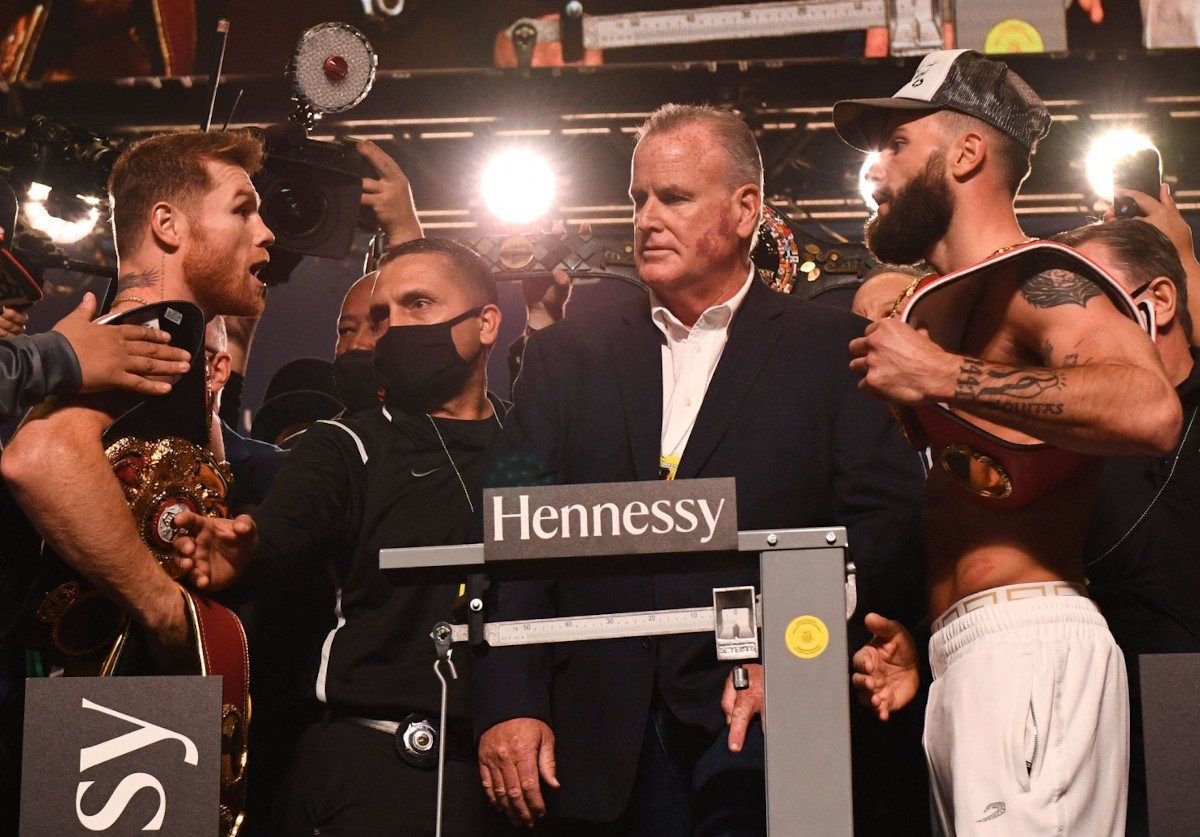 Alvarez holds the WBC, WBA, and WBO super middleweight titles, while Plant owns the IBF belt.
Plant sees potential for upset over Alvarez
Plant (21-0, 12 KOs) has built himself into one of the top fighters in the division with wins over the likes of Jose Uzcategui, Vincent Feigenbutz, and Caleb Truax. While those are all legitimate opponents, none of them are at the level of Alvarez, and Plant has never been part of such a high-profile bout.
Plant will enter the ring as a decisive underdog. FanDuel Sportsbook lists Alvarez as the -1000 favorite over Plant (+640). But the Plant team says their fighter has every chance of walking out of the ring as the undisputed champion.
"I know that people are overlooking Caleb and that's perfect for us," trainer Justin Gamber told Yahoo Sports. "Caleb is just like me, because for our whole lives, when someone told us that we couldn't do something, we love to prove them wrong. It just drives us even more."
Alvarez (56-1-2, 38 KOs) respects Plant as a fighter, but says he will win the bout.
"He's a good boxer, he's got a good jab, but I have the skills and the experience to beat him," Alvarez told ESPN. "He moves a lot. Everybody thinks that he's complicated for me, a fighter that moves a lot in the ring, but I have a lot of experience. I fight with every style. I'm ready."
Canelo hints at knockout finish
Plant knows he's coming in as an underdog, but says that he feels he has advantages over Alvarez. He also says that he has experienced enough in the ring to prepare him for this fight.
"I've only had 21 fights as a professional, but a lot of those fights have been on the big stage. I've been fighting at a high level for a long time and I've got a lot of experience under my best," Plant told reporters. "I know that this is the biggest fight I've had so far in my career, and that's the goal, to keep moving forward. I want each fight to be bigger than the last fight."
Alvarez has tried to stay above a back and forth for this fight, instead promising to do what he does best: hit hard, and hit often. FanDuel sees Alvarez as a -185 pick to finish the fight via a knockout or TKO.
"I hope he has a good chin," Alvarez told reporters. "He's going to need it on fight night."