Clemson comes into the 2021 college football season as the defending ACC champions. In fact, the Tigers have won every ACC Championship since 2015, and haven't found themselves in a one-score title game since 2016. That may be why it's so hard to imagine anyone other than Clemson winning the conference again this year.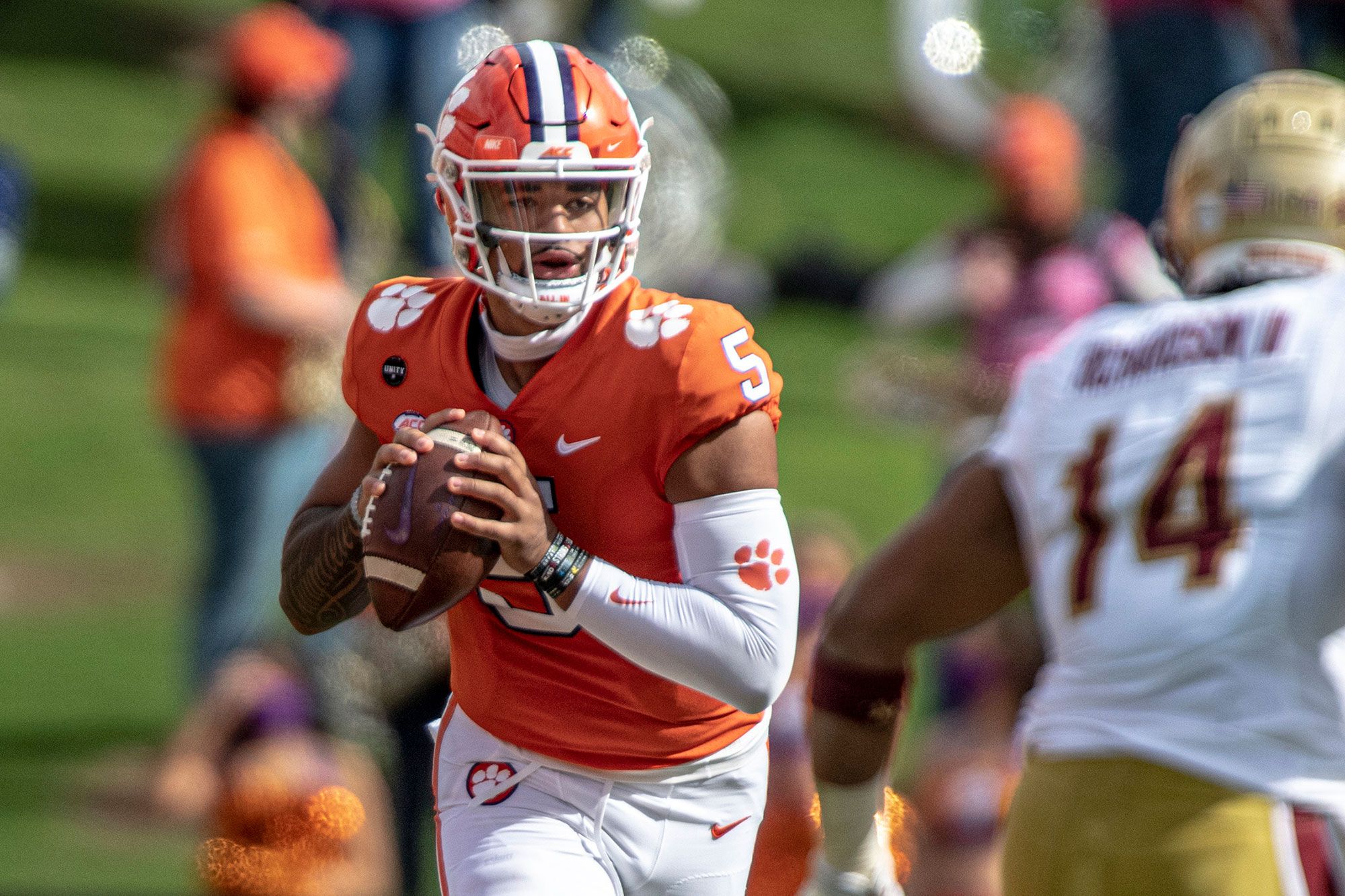 FanDuel Sportsbook rates Clemson as the -900 favorite to win the ACC Championship this season, the shortest odds of any team in any conference.
Uiagalelei confident in Clemson offense
Clemson has dominated the ACC in such a thorough fashion that even a single loss in the regular season makes headlines. The Tigers dropped a 47-40 decision to Notre Dame in double-overtime last year, though that loss came without quarterback Trevor Lawrence, who tested positive for COVID-19 earlier that week. Clemson easily defeated Notre Dame 34-10 in their ACC Championship Game rematch.
Clemson has also reached the College Football Playoff in each of the past six years, making four title games and winning two national championships.
The only apparent reason to doubt the Tigers is Lawrence's departure for the NFL. But former backup quarterback DJ Uiagalelei says he's more than ready to take the reigns as a sophomore this year.
"I am very confident in this offense and I think everyone on the offense is too," Uigalelei said, via TigerNet.com. "[Offensive coordinator Tony] Elliott says that every day that our goal is that we want to be able to be the best offense in the country and I feel like every day we're at practice that we're working towards that goal."
Clemson comes into the year as the +410 second choice to win a national championship as well, behind only Alabama (+200). The Tigers will face one of their biggest competitors right out of the gate when they host fellow title contender Georgia on Saturday. Clemson heads into the home game as just a 2.5-point favorite.
"This is a big boy football game right out of the gate and it's fun," Clemson head coach Dabo Swinney told reporters. "I'm proud of what they've done in camp, I like what we can turn out to be, but we've got to go play."
North Carolina, Miami likeliest ACC Championship opponents
A loss to Georgia wouldn't impact Clemson's ACC Championship hopes, and might not even sink their chances of winning a national title. But it might give hope to some other ACC squads who hope to knock off the Tigers this year.
---
ACC Championship Odds (via FanDuel Sportsbook)
Clemson: -900
North Carolina: +1200
Miami: +1200
Louisville: +4000
Pittsburgh: +5000
NC State: +5000
Virginia Tech: +5000
Boston College: +5000
Florida State: +6000
Virginia: +8000
Wake Forest: +10000
Georgia Tech: +10000
Syracuse: +100000
Duke: +100000
---
Both North Carolina (+1200) and Miami (+1200) loom as potential spoilers. North Carolina comes into the year as the No. 10 team in the AP poll, while Miami ranks 14th. The two will play in Chapel Hill on Oct. 16 in a game that could determine the Coastal Division winner that will go on to face Clemson for the ACC Championship.
North Carolina head coach Mack Brown says that only dethroning Clemson would mark a sea change in the ACC.
"Nobody can talk about winning the ACC Championship until somebody beats Clemson," Brown told reporters. "Because they're the king, they've got that spot."