Aaron Judge from the New York Yankees feasted off the Detroit Tigers during the current homestand at Yankee Stadium after he smacked a solo home run in consecutive games. Judge leads the MLB with 21 home runs and his AL MVP odds are now +300.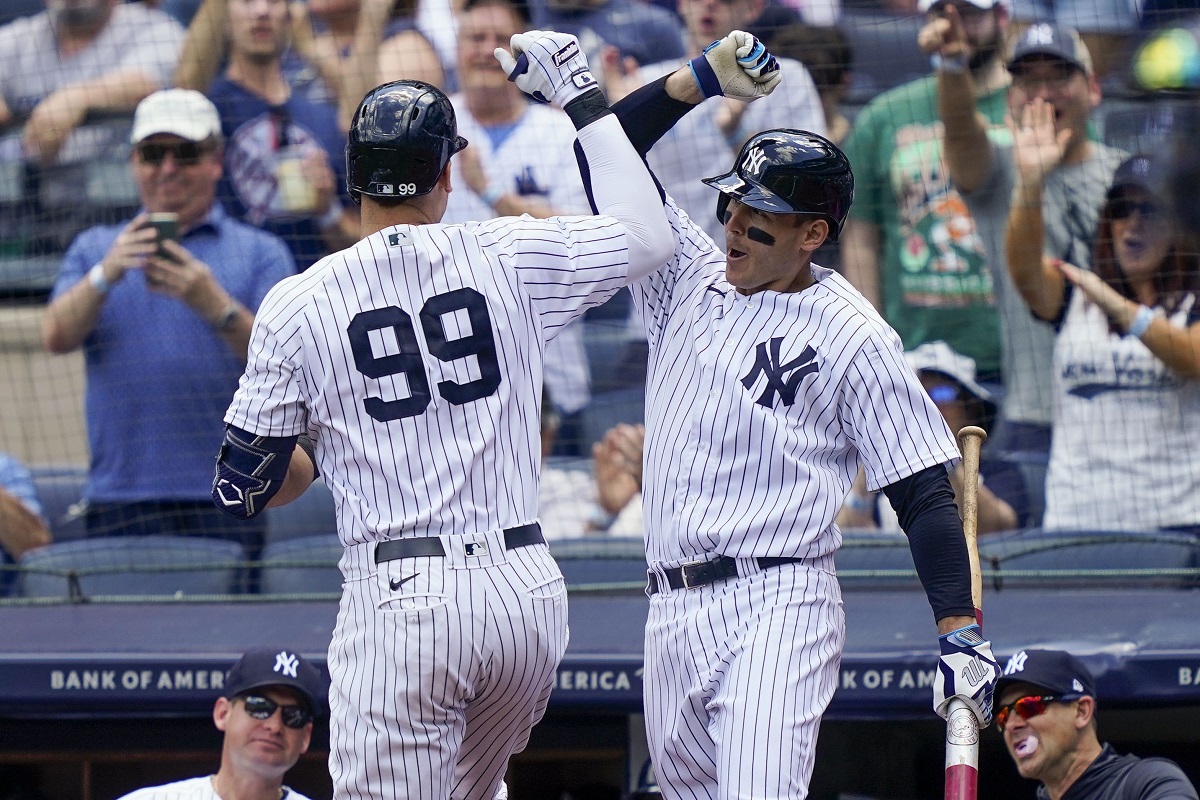 Only Shohei Ohtani — the two-way pitching and batting superstar from the Los Angeles Angels of Anaheim — has better odds than Judge to win the MVP at +225, according to BetMGM.
Shohei Ohtani +225
Aaron Judge +300
Mike Trout +450
Jose Ramirez +1200
Vlad Guerrero, Jr +1800
Byron Buxton +2000
Yordan Alvarez +2000
Rafael Devers +2000
Wander Franco +4000
Luis Robert +4000
Kyle Tucker +6600
Giancarlo Stanton +6600
Taylor Ward +6600
---
Ohtani entered this season as the consensus favorite to win the AL MVP in back-to-back seasons. He won the MVP during the 2021 season after slugging 46 home runs and driving in 100 RBI in 155 games. He slashed at .257/.372/.592. In 23 starts as a pitcher, Ohtani went 9-2 with a 3.18 ERA and 1.09 WHIP.
This season, Ohtani hit 11 home runs and drove in 32 RBI through 52 games. He's slashing at only .240/.318/.450. As a pitcher in 2022, Ohtani is 3-4 in nine starts with a 3.99 ERA and a 1.16 WHIP.
Judge: Monster Pace
The Yankees played 53 games and lead the majors with a 28-15 record. In 51 games, Judge smacked 21 home runs and drove in 42 RBI. He's slashing at .316/.386/.689 and leads the Yankees in batting average.
Judge has been on fire this season because he's healthy and playing for a massive raise and new contract. The oddsmakers are well aware of Judge this season. They recently bumped his AL MPV odds to +300, and Judge is second on the board behind the reigning MVP and Ohtani.
"What else can I saw about Aaron?" said manager Aaron Boone. "He's getting the job done day in and day out. I'd like to give him some more time off, but he's been so hot that I'd hate to disrupt his groove."
Judge is hitting a home run in roughly ever 11 at-bats. If he can remain healthy and play at least 150 games, he's on pace to smack 62 home runs, which would pass Roger Maris. Maris set the record in 1961 with 61 home runs, which earned an infamous asterisk because he achieved the epic feat in 162 games versus 154 games for Babe Ruth, who held the MLB and team record with 60 long balls.
"It's way too early to get into any serious discussion," said a humble Judge. "Of course, any time you get mentioned in the same breath as any of the Yankee legends, it's quite the honor. But we still have a long way's to go."
On Saturday, Boone penciled Judge into the lineup as the leadoff hitter. If you arrived at Yankee Stadium late, then you missed Judge going yard on the first pitch in the bottom of the first inning.
All Rise for a Leadoff Dinger 👨‍⚖️ pic.twitter.com/QMvbdVYWO4

— New York Yankees (@Yankees) June 4, 2022