We compiled a list of every #1 pick in the NFL Draft since 1980, and quarterbacks have been a popular pick this decade as the NFL evolved into a pass-first league in the 21st Century. Joe Burrow, the Heisman Trophy winner out of LSU, became the 15th quarterback to get selected as the #1 overall pick in the NFL Draft since 2001. He became the 22nd QB picked with the top pick since 1980.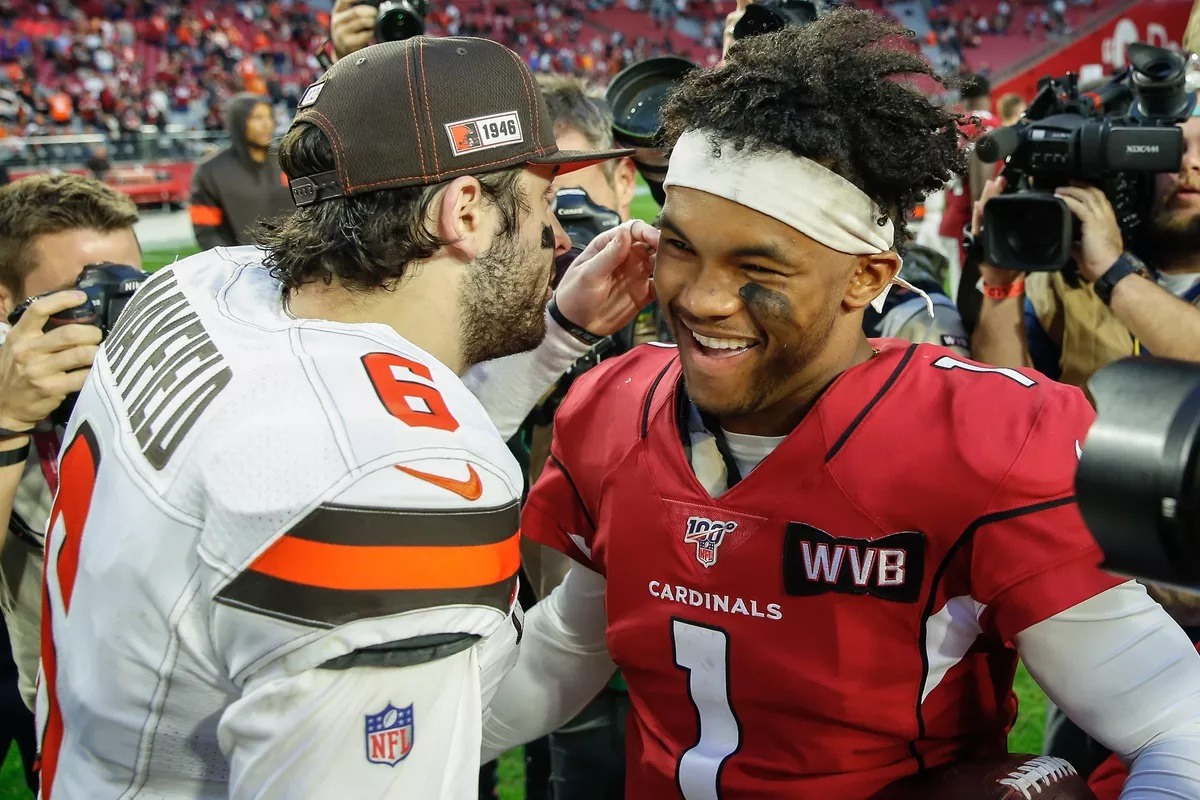 At the start of the 1980s, running backs were in high demand in the NFL Draft. Teams used the number one pick to select a RB three times between 1980 and 1986, including Billy Sims (Oklahoma), George Rogers (South Carolina), and Bo Jackson (Auburn).
NFL Draft #1 Pick (List 1980-89)
1980 Billy Sims (RB, Oklahoma)
1981 George Rogers (RB, South Carolina)
1982 Kenneth Sims (DE, Texas)
1983 John Elway (QB, Stanford)
1984 Irving Fryar (WR, Nebraska)
1985 Bruce Smith (DE, Virginia Tech)
1986 Bo Jackson (RB, Auburn)
1987 Vinny Testaverde (QB, Miami)
1988 Aundray Bruce (LB, Auburn)
1989 Troy Aikman (QB, UCLA)
By the tail end of the 1980s, a trio of quarterbacks were selected with the top pick, as many general managers sought to rejuvenate their teams with the best arm from the college ranks. Between 1983 and 1989, three QBs were taken at #1 in the NFL Draft, including John Elway (Stanford), Vinny Testaverde (Miami), and Troy Aikman (UCLA). Those top-picked quarterbacks produced five Super Bowl victories.
1990s Boom and Bust at #1
The 1990s started off with the Indianapolis Colts gambling on Illinois' Jeff George with the #1 pick in the 1990 NFL Draft. George only threw 41 touchdowns in his first four seasons with the Colts. He ended up a journeyman QB who played 131 games over 12 seasons for five different teams.
The Cleveland Browns took a flier on Kentucky's Tim Couch as the #1 pick in the 1999 NFL Draft. Couch tossed 64 touchdowns in 62 games with the Browns, but didn't produce any playoff victories.
NFL Draft #1 Pick (List 1990-99)
1990 Jeff George (QB, Illinois)
1991 Russell Maryland (DT, Miami)
1992 Steve Emtman (DE, Washington)
1993 Drew Bledsode (QB, Washington State)
1994 Dan Wilkinson (DT, Ohio State)
1995 Ki-Jana Carter (RB, Penn State)
1996 Keyshawn Johnson (WR, USC)
1997 Orlando Pace (T, Ohio State)
1998 Peyton Manning (QB, Tennessee)
1999 Tim Couch (QB, Kentucky)
The Colts finally struck it rich in the draft when they selected Peyton Manning with the top pick in 1998. He'd win two Super Bowls, including one with Indianapolis.
The Cincinnati Bengals whiffed on the only running back selected #1 in the 1990s. Ki-Jana Carter played like a stud at Penn State, but never got his groove going in the pros. He played mostly as a back-up, and scored only 20 touchdowns and 1,144 rushing yards in 59 games.
2000s: QB Tsunami
So, who didn't take a quarterback with the top pick in the draft between 2000 and 2009? Seven QBs went #1 overall at the start of the century. Not a single running back was selected, as the NFL took a more conservative approach toward running backs.
A couple of defensive-minded teams opted for edge rushers with the top pick. The Houston Texans landed an All-Pro DE when they took Mario Williams with the first pick in 2006. The Cleveland Browns gambled (and lost) on Courtney Brown, who destroyed everyone in his path at Penn State, but was out of the league in six seasons. The Miami Dolphins drafted tackle Jake Long, who made four Pro Bowls.
NFL Draft #1 Pick (List 2000-09)
2000 Courtney Brown (DE, Penn State)
2001 Michael Vick (QB, Virginia Tech)
2002 David Carr (QB, Fresno State)
2003 Carson Palmer (QB, USC)
2004 Eli Manning (QB, Ole Miss)
2005 Alex Smith (QB, Utah)
2006 Mario Williams (DE, NC State)
2007 JaMarcus Russell (QB, LSU)
2008 Jake Long (T, Michigan)
2009 Matthew Stafford (QB, Georgia)
The QBs selected in the 2000s could end up as a great ESPN 30 for 30 documentary one day. Eli Manning refused to play for the San Diego Chargers, who drafted him, so they traded him to the New York Giants where he won two Super Bowls.
Michael Vick's NFL life started with a bang before a dog-fighting scandal put him in prison during what should have been the best years of his career.
Derek Carr started his first five season with the Houston Texans and then played the role of backup QB for his last six as he bounced around the league. He won a Super Bowl ring as Eli Manning's backup with the Giants.
Alex Smith drew heat his entire career. As soon as the Kansas City Chiefs traded the 2005 #1 pick to the Washington Redskins, they won a Super Bowl with his understudy, Patrick Mahomes.
JaMarcus Russell, the top pick in 2007, has become a cautionary tale for all future NFL players. He went 7-18 as a starter and threw 18 TDs and 38 interceptions, but only lasted three seasons before he washed out of the league.
2010s: More QBs, Yes More QBs
For the second complete decade in a row, NFL teams avoided selecting a running back with the top pick. Dating back to the late 1980s, the NFL no longer placed a premium on the top running back in college. Only one other running back went #1 in the draft since the LA Raiders drafted Bo Jackson with the top pick in 1986. And Ki-Jana Carter was a huge bust.
Quarterbacks continued their reign at the top with eight QBs going #1 in the last 11 seasons. Dating back to 2001, 15 QBs were selected with the top pick.
NFL Draft #1 Pick (List Since 2010)
2010 Sam Bradford (QB, Oklahoma)
2011 Cam Newton (QB, Auburn)
2012 Andrew Luck (QB, Stanford)
2013 Eric Fisher (T, Central Michigan)
2014 Jadeveon Clowney (DE, South Carolina)
2015 Jameis Winston (QB, Florida State)
2016 Jared Goff (QB, Cal)
2017 Myles Garrett (DE, Texas A&M)
2018 Baker Mayfield (QB, Oklahoma)
2019 Kyler Murray (QB, Oklahoma)
2020 Joe Burrow (QB, LSU)
Andrew Luck, the QB that the Colts hoped would replace Peyton Manning, retired before the start of last season due to too many serious injuries that he never fully recovered from.
Cam Newton guided the Carolina Panthers to a Super Bowl berth. He was the top QB in the NFL for a season before injuries caught up to him and slowed down the #1 pick from 2011.
Joe Burrow became the third QB in a row to earn the top pick. The jury is still out on Baker Mayfield and Kyler Murray, but Murray had the better season in 2019.
Sam Bradford never fully lived up to the hype when he came out of Oklahoma in 2010, but he also played on some bad teams with Jeff Fisher and the St. Louis Rams.