In a 24-hour span, jockey Irad Ortiz Jr. epitomized the topsy-turvy, runaway rollercoaster nature of his chosen sport, claiming his 3,000th victory one day after receiving a five-day suspension for reckless riding.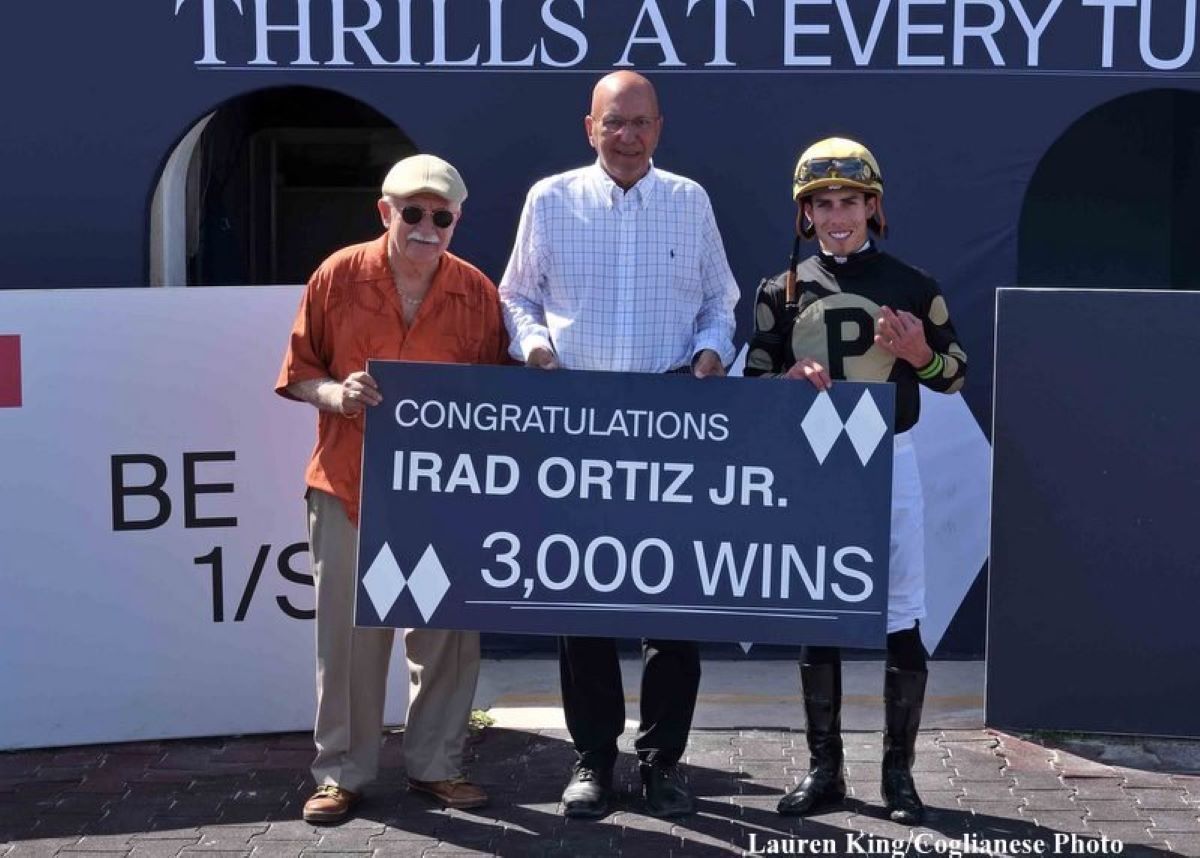 Ortiz captured his 3,000th victory Thursday at Gulfstream Park, piloting Order and Law to the winner's circle in the fourth race. His 3,000 victories exclude 95 victories in his native Puerto Rico.
"It's been a long way and a lot of hard work," Ortiz told Gulfstream Park. "I have to thank all the owners and trainers for supporting me. Without them, it wouldn't be possible. I've had help from all of them. My agent, Steve Rushing, has been great. He's out there every day for me."
Order and Law, with @iradortiz, storms in the final stretch to take race 4 for @trainerMMaker. #GulfstreamPark #ChampionshipMeet

Congratulations to Irad Ortiz Jr on his 3,000th North American win! pic.twitter.com/1F8hihPwqx

— Gulfstream Park (@GulfstreamPark) February 24, 2022
Ortiz's milestone victory came on the back end of an Ortiz daily double. He won the third race aboard Private Life.
Ortiz's suspension starts March 2
Starting March 2, Ortiz's win counter pauses. That's when he starts his five-day suspension for a riding violation committed in Wednesday's sixth race. Ortiz took Princess Cupid out of his lane, interfering with Muguruza, who finished third.
Princess Cupid crossed the finish line first, but was relegated to third. Arrow Shape moved to first and Muguruza second.
Despite leading North American riders in wins the last five years and winning three Eclipse Awards (2018-2020), Ortiz's aggressive riding escapades have gotten him in trouble lately. New York stewards slapped a 30-day suspension on him in December after Ortiz engaged in reckless rides on consecutive days.
During suspension, he can enjoy stakes
In the first incident, he dislodged fellow jockey Omar Hernandez Moreno during a race. The second came in the Grade 2 Remsen at Aqueduct, when Ortiz piloted Mo Donegal to a controversial win over Zandon. Despite Zandon's connections protesting Ortiz's reckless ride, the victory stood.
This suspension runs from March 2 to March 9. Ortiz, however, will be able to ride stakes races on Gulfstream's March 5 card.