In what may be one of the most shocking final scores of the year, Wisconsin was painfully upset by unranked Illinois on Saturday. The Badgers were a 30.5-point favorite on the road against a Fighting Illini squad that was 0-3 in the Big Ten conference play this season.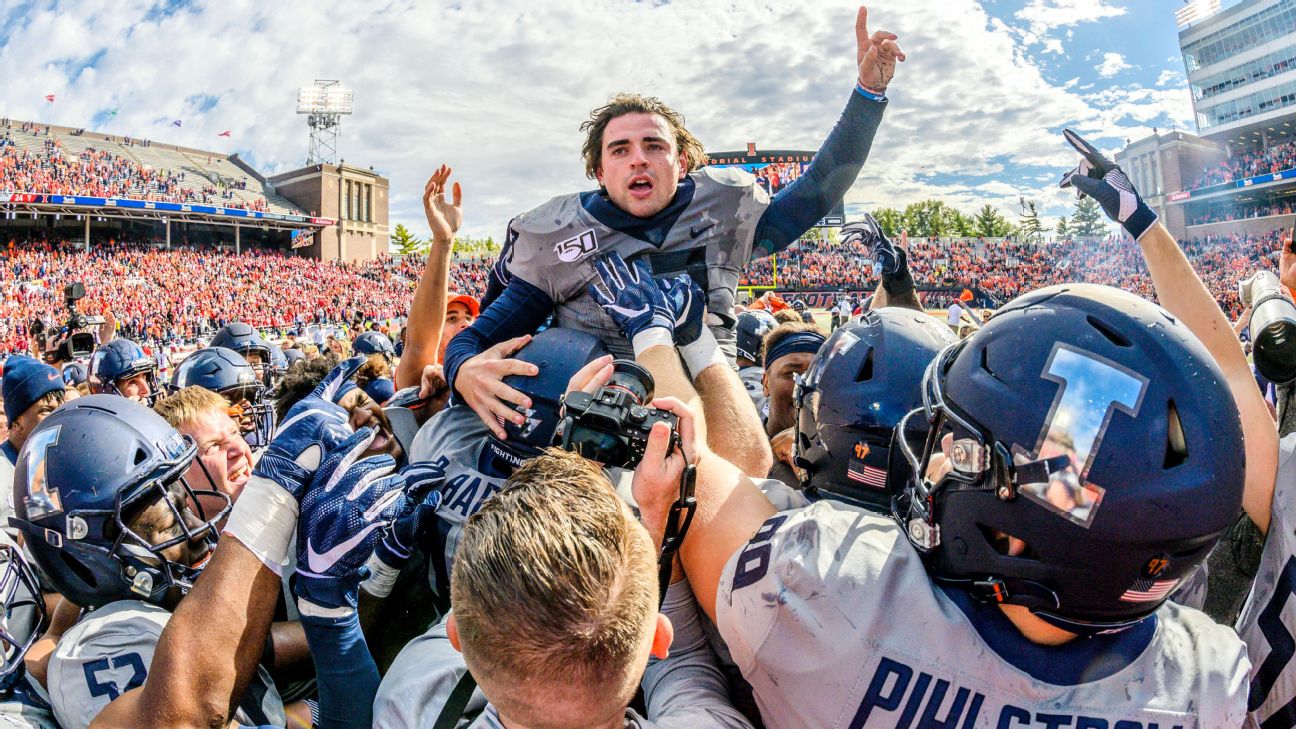 Past performance didn't matter, however, as Wisconsin became an upset victim, losing 24-23 . Illinois became the first team since Iowa State in 2017 to win outright as a more than 30-point underdog. In that game, the Cyclones stunned the No. 3 Sooners, 38-31.
Illinois coach Lovie Smith had been looking for a signature win for his program and got it with the earth-shaking victory. He told reporters after the game that his team was confident they could pull off the Wisconsin upset.
"We saw so much fight, and we learned a lot about our guys," Smith said. "One of the best wins you could possibly have. We have been going to work, and there was a sense of, 'Hey we are going to win this.' Those guys in that locker room aren't shocked."
Bettors Clean Up on Wisconsin Upset
Two bettors came out way ahead after putting their faith, and their money, on Illinois.
Circa Sports and the Westgate Las Vegas SuperBook didn't offer a moneyline because the odds would have been too high. Cameron Coombs of the Westgate told Covers.com that a majority of the money was on Wisconsin, so their casino made out on that game.
Two books that did offer moneyline odds were Caesars and CG Technology. Caesars had a 20/1 line on Illinois, and one bettor put $200 down, winning $4,000 on the Wisconsin upset. Another bettor at a CG Technology sportsbook got 25/1 odds, and put down $50. He took home $1,250.
Not a bad return on both.
Heavy Action on Florida International, Florida
William Hill reported two college games pulled in a lot of wagers on Saturday. The first was Florida, who was a 4.5-point pick over South Carolina. Gamblers didn't believe the Gamecocks could score two upsets in as many weeks, and put 81 percent of the money on the Gators. They also had 88 percent of the tickets. Florida covered easily, 38-27.
The second team that got a lot of attention was Florida International. The Golden Panthers were playing the University of Texas El-Paso, and were favored by 24. William Hill saw 99 percent of the money on Florida International, and 91 percent of the tickets. They won, but failed to cover by nine points.
Dumbest Bet of the Day
Jeff Davis, director of trading at Caesars, reported a gambler placed a $100 moneyline wager on Alabama in its game against Tennessee. It came in and he walked away with a profit of 60 cents.
Stat of the Week
Minnesota is 7-0 for the first time since 1960, and has won three consecutive Big Ten games by 20 points for the first time since 1935, according to ESPN Stats & Info.
The Golden Gophers beat Rutgers on Saturday, 42-7. They were favored by 28.5 points. They host Maryland next Saturday, and are favored by 16. The game opened at 17 points.
Elsewhere in the high-scoring wing of the Big Ten, No. 4 ¢Ohio State showed no trouble covering a point spread that fluctuated between 28 and 30 points, beating Northwestern by a whopping 49 points on Friday night, 52-3. That also was good enough to exceed the over, which was set at 50, even though NU has shown themselves to have one of the worst offenses in college football this season.