The fantasy football grind continues with Russell Wilson, Saquon Barkley, and Clyde Edwards-Helaire all going down due to injuries this past week. For your Week 6 waiver wire pickups, consider adding running backs Devontae Booker, Darrel Williams and Rhamondre Stevenson, wide receiver Kadarius Toney, and quarterback Geno Smith.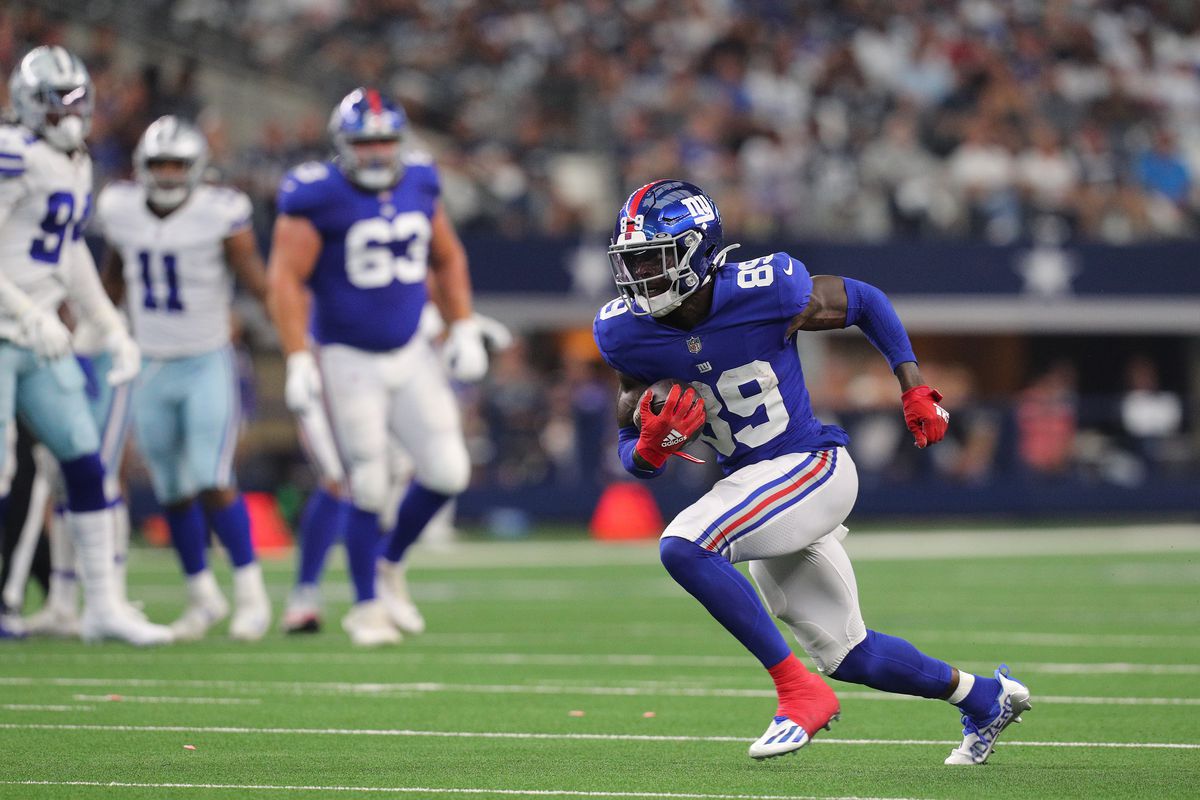 The first bye week begins in Week 6, which makes waiver wire pickups even more crucial. If you have anyone on the New Orleans Saints, San Francisco 49ers, New York Jets, or Atlanta Falcons, then you might be scrambling for a single-week replacement player.
---
NFL Week 6 Waiver Wire Pickups
Devontae Booker (RB, NY Giants)
Rhamondre Stevenson (RB, New England Patriots)
Kadarius Toney (WR, NY Giants)
Darrel Williams (RB, Kansas City Chiefs)
Geno Smith (QB, Seattle Seahawks)
---
Don't forget that the NFL season is 17 games long spread out over 18 weeks. Most fantasy football leagues were extended from 13 to 14 weeks before your fantasy postseason begins in Week 15.
Darrel Williams
Kansas City lost their starting running back, Clyde Edwards-Helaire, when he went down with a knee injury. They dodged a huge bullet when an MRI revealed only an MCL sprain and nothing more serious. He's expected to miss a couple of weeks. In the meantime, backup Darrel Williams will be among the most popular waiver wire pickups in Week 6. He'll take over RB1 duties for Andy Reid and the struggling Chiefs.
Rhamondre Stevenson
Rookie running back Rhamondre Stevenson showed flashes of promise, but he had to earn Bill Belichick's trust before he saw serious action in games. The New England Patriots traded Sony Michel because they were stacked with RBs in the preseason, but they probably wish they still had him after James White suffered a season-ending hip injury and Damien Harris had a chest injury and a fumble in Week 6. Stevenson rushed nine times for 23 yards replacing Harris, which isn't anything too impressive. He broke several tackles and scored a touchdown that was called back due to holding, which looked great on film, but didn't count in the record books.
Devontae Booker
The New York Giants are thinking, "Oy vey! Not again!" Saquon Barkley needed assistance off the field and everyone couldn't help but wonder if their running back is jinxed. Barkley had two season-ending injuries in the last three years, but he caught a break with just a low-ankle sprain. He's expected to miss at least a week, possibly two. If you're desperate for a replacement, then snag Barkley's backup, Devontae Booker, as one of the essential waiver wire pickups in Week 6.
Kadarius Toney
The New York Giants had a rare situation in which they lost their starting quarterback, starting running back, and their top wide receiver to injuries in the first half against the Dallas Cowboys on Sunday. Kenny Golladay was the primary wideout on a team that was already missing Sterling Shepard. Golladay has a minor knee injury that doesn't require surgery, but he'll be out for a couple of weeks. Rookie Kadarius Toney is the next man up for the G-Men. Toney lit up Dallas with 10 catches for 189 yards in a blowout. In the last two weeks, he's recorded 16 receptions and 267 total yards, but zero touchdowns.
Geno Smith
The Seattle Seahawks lost starting quarterback Russell Wilson for anywhere from four to eight weeks after he had finger surgery on his throwing hand. If you drafted Wilson, or need a backup QB due to bye weeks, then consider Smith as a waiver wire pickup. Smith had been relegated to backup QB duties for the past few seasons, but he looked good in relief of Wilson on Thursday Night Football. In the fourth quarter, he completed 10-of-17 passes for 131 yards and a touchdown strike to DK Metcalf. He also scampered for 23 rushing yards.