This is the time of year college football coaches lose their positions, but this year the surprise has been what coaches didn't get fired, as opposed to the ones that did. Speculation and rumors were rampant that USC's Clay Helton was on his way out after a 5-8 season that included losses to rivals UCLA and Notre Dame.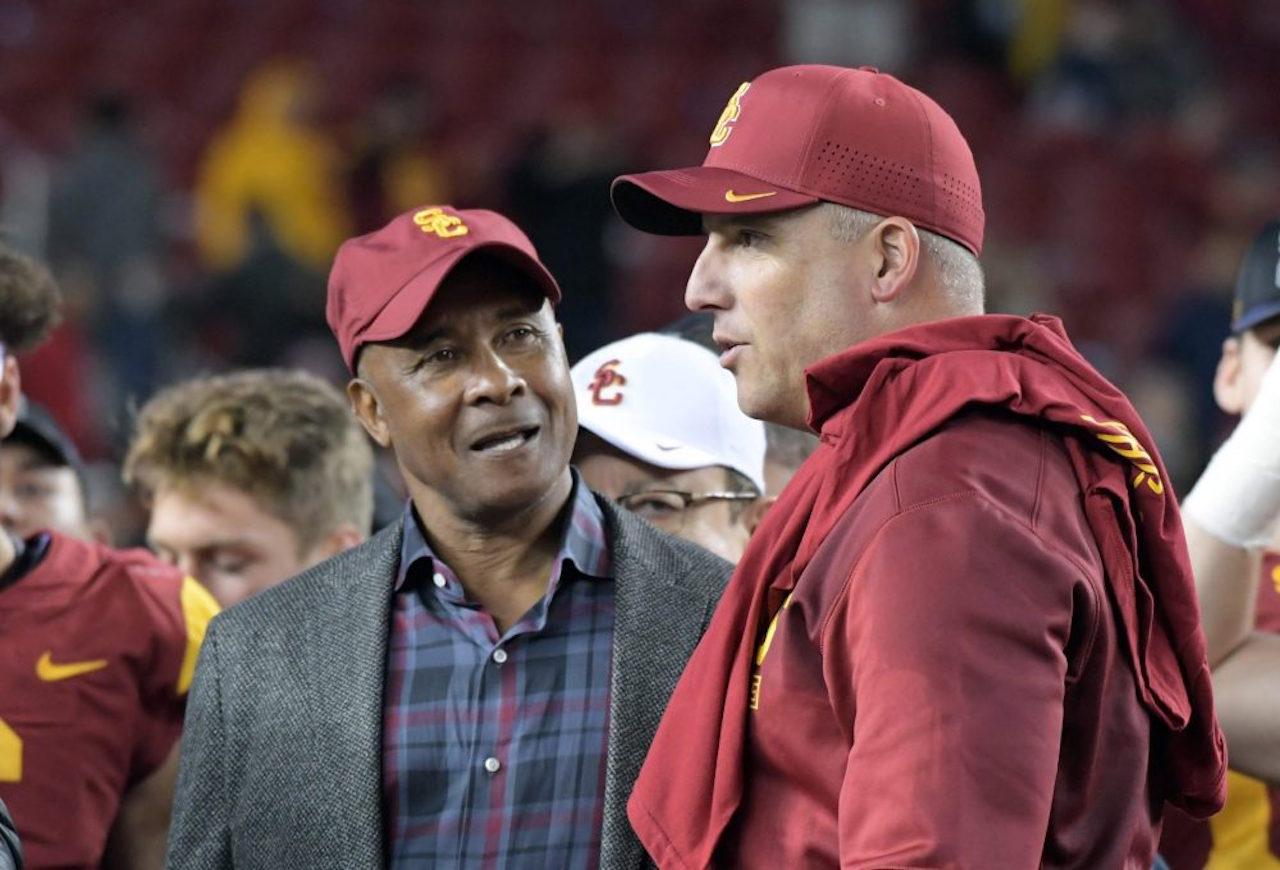 Trojans athletic director Lynn Swann ended the controversy by declaring in a letter to USC boosters and alumni that Helton would be back for next season.
"Let me be clear to everyone, our players, our recruits and our fans," USC athletic director Lynn Swann said in the letter. "Clay Helton is our head coach and will continue to be our head coach."
USC fans lobbied Swann at Saturday's game against Notre Dame. They hired a plane to fly a banner over the Coliseum that read: "Lynn Swann, Please Fire Clay Helton."
Part of the reason Swann didn't make a move as Helton's salary. If he had been fired, USC would have had to pay him around $12 million. It made better financial sense to keep him.
Retread Specials
Two schools that fired their head coaches have already hired their replacements, and decided the retro look was what they wanted. Kansas canned David Beaty in early November, and named former LSU head man Les Miles. The 65-year-old hasn't been around a college football program since 2016.
North Carolina took little time between firing Larry Fedora on Sunday and hiring Mack Brown on Monday. Brown, who is 67, has been a studio analyst for ESPN and last prowled the sidelines five years ago for Texas.
Brown returns to the Tar Heels where he coached from 1988-1997. It appears he was lined up and ready to go, and that Fedora never had a chance of saving his job.
"I wanted the opportunity to fix this," Fedora said. "I wanted to make the changes necessary to win again. I also understand this business. I understand that you don't always get the time you want to turn things around. I respect the administration's position and understand their actions."
UConn Reaches Dubious Mark
One coach that probably should have been fired but wasn't was UConn's Randy Edsall. It is the second time around for Edsall, who coached the Huskies from 1999-2010.
In his second season, he has to try and rebuild the program into relevancy, something that he did in his first stint. This year, though, didn't go well. The team finished 1-11, and set marks for most yards (7,409) allowed, most yards allowed per game (617.4), most points (605) allowed, and average points per game (50.41).
One bright spot was the team was a solid performer in not covering the spread. They failed ATS in nine of 12 games. Two of the three games they did cover, they were given more than 30 points in each.
Two Impact Players Leaving
The Big 10 is losing two players that should be top 10 picks in the NFL Draft. Offensive lineman Rashan Gary is a junior, but decided to skip his senior year and declare himself eligible for the pros.
Ohio State defensive lineman Nick Bosa, made the same decision a month ago. The junior injured a core muscle in September, and decided to leave the program to rehabilitate the injury, and prepare himself for the draft.
Bosa, whose brother Joey, plays for the LA Chargers, has been projected by some as the No. 1 pick in April's NFL Draft.