Three different narratives emerged from the three championship fights that punctuated Saturday's UFC 259 card, including a title change due to disqualification, and the first loss for Israel Adesanya.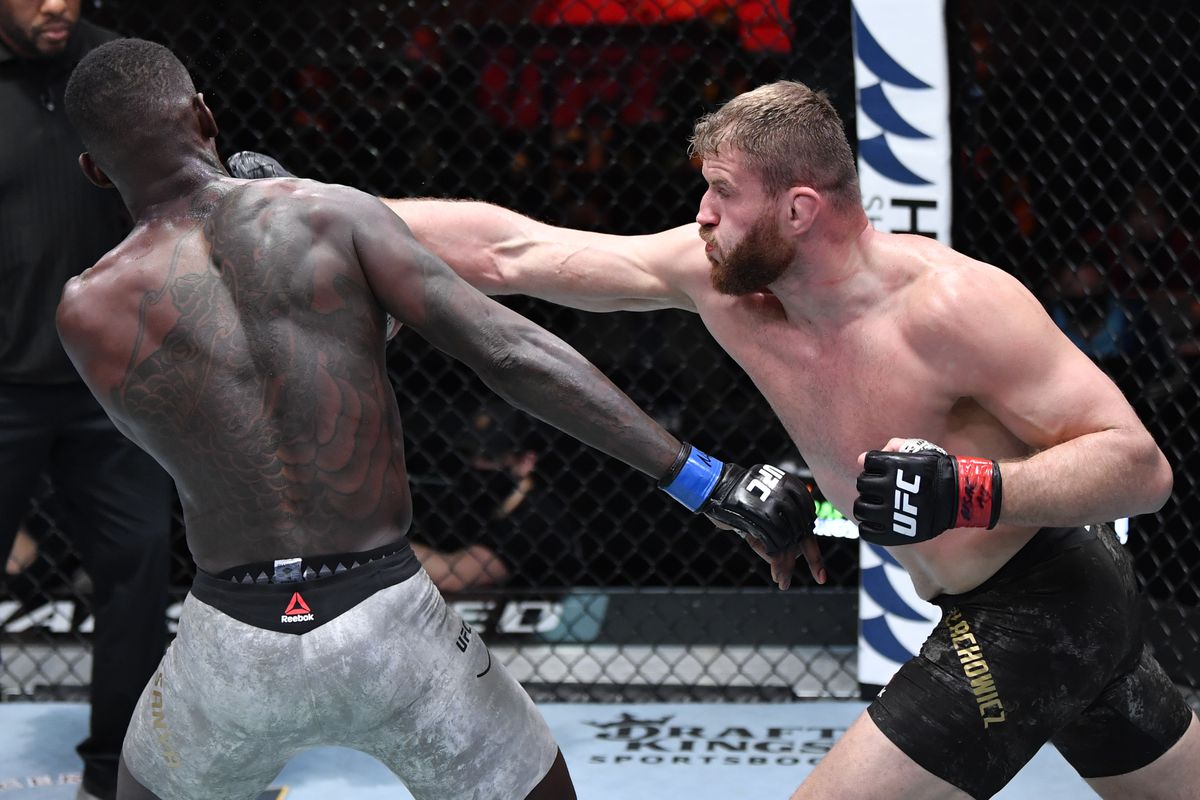 Light heavyweight champion Jan Blachowicz successfully defended his title against Adesanya, ending the Nigerian's effort to become a two-division titleholder.
Size proves decisive in UFC 259 main event
Blachowicz dominated on the judges' scorecards, winning by unanimous decision (49-46, 49-45, 49-45). Adesanya entered the fight as a -240 favorite over Blachowicz (+185), according to PointsBet.
Size proved to be the difference in the fight. Adesanya only weighed in at 200.5 pounds – well below the 205-pound limit – and didn't appear to gain much, if any, weight by the time he stepped into the Octagon.
"Size is always a factor when you move up a weight class in this sport," UFC president Dana White told reporters. "When you move up a weight class like that, strength is a factor. How hard these guys hit is a factor. And Jan is the real deal."
"Dare to be great."

🏆 @Stylebender understood the risk when moving up. #UFC259 pic.twitter.com/Y05sLcNKo2

— UFC (@ufc) March 7, 2021
Adesanya gave Blachowicz all the credit for winning the fight, though he disputed the 10-8 scoring of two judges in the fifth round.
"It wasn't that big of a difference. I don't know about those 10-8 rounds, and I don't know about some of those scorecards," Adesanya told reporters. "But I lost the fight to the better fighter tonight."
Nunes dominates Anderson in latest title defense
In the UFC 259 co-main event, Amanda Nunes easily defended her women's featherweight title against Megan Anderson. Nunes submitted Anderson via armbar at just over two minutes into the opening round after dominating every moment of the fight.
GOAT STATUS.

🏆🏆 @Amanda_Leoa didn't need long! #UFC259 pic.twitter.com/LADS0snV0b

— UFC (@ufc) March 7, 2021
The UFC employs few women at 145 pounds and doesn't even list rankings for the division. But White says he'll keep the featherweight division around for as long as Nunes wants to defend her title.
"We'll keep that division cranking as long as the champ-champ wants to defend it," White told reporters. "She's incredible, and she goes in there and she made it look easy tonight against [a] really tough girl who hits hard, who came to win, so it couldn't happen to a better human being."
Sterling wins title after Yan DQ
Also at UFC 259, Aljamain Sterling defeated Petr Yan by disqualification at 4 minutes, 29 seconds in the fourth round. Yan landed an illegal knee to the head while Sterling was on the ground. Referee Mark Smith ruled that it was an intentional foul. When the ringside doctor stopped the fight, Smith disqualified Yan.
Sterling expressed disappointment over how he earned the victory and the title belt.
"I thought the fight was very close, I thought I was down two rounds," Sterling said afterward. "That's not the way I wanted to win. That's not the way I envisioned this."
Heartbreak. #UFC259 pic.twitter.com/lq56I2Lchg

— UFC (@ufc) March 7, 2021
Two judges had Yan winning 29-28 at the time of the disqualification, while the third had Sterling up 29-28.
Since the fight, Sterling has consistently said that he's not happy with how he won, though he also strongly denies overselling the illegal knee in order to win.
"For the fighters that said I milked it, good for you guys," Sterling said on his The Weekly Scraps Podcast. "There's no quit button whenever I'm in there. You guys might find it easy and talk about the Oscars and everything. You guys are the actors, and it might be a reflection of your own spirits."