On any other card, a bantamweight title fight between Petr Yan and Aljamain Sterling would occupy the top spot, or at least come in as the co-main event. But the two men will settle for third billing when they hook up in the Octagon on Saturday night at UFC 259.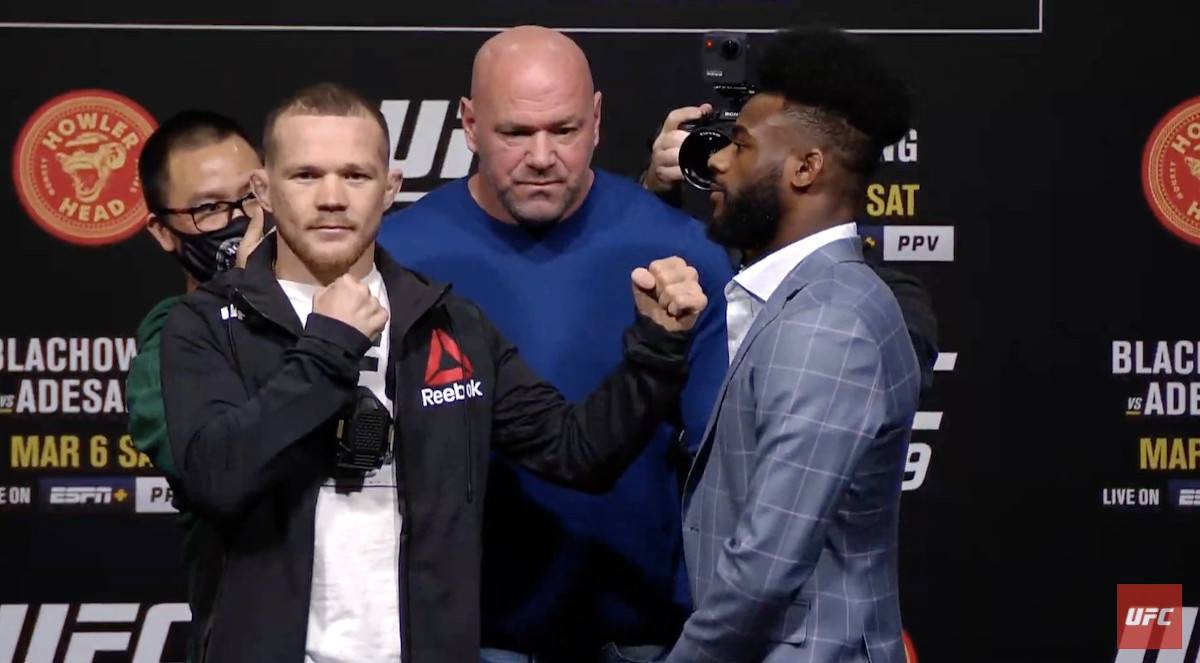 Yan and Sterling will take the stage before Amanda Nunes defends her featherweight crown against Megan Anderson, after which, Israel Adesanya will try to take the light heavyweight title from Jan Blachowicz in the main event.
Yan can earn legitimacy by beating Sterling
That shouldn't diminish what might be the best fight on the UFC 259 card. Yan (15-1) has become one of the most impressive stars in the promotion, quickly rising to the top of the bantamweight division without running into much resistance. He claimed the title last July with a fifth-round TKO win over Jose Aldo, his seventh win without a loss in the UFC.
If Yan lacks anything, it's the kind of star power that usually comes with such a meteoric rise. But the bantamweight champion says that will come if he continues to post big results.
"I just have to keep winning," Yan told The New York Post. "I have everything to make my fights entertaining, just keep winning, and this will come."
Sterling (19-3) says he's not as impressed by Yan's rise to the title. He suggested that the champion still needs to prove he's the legitimate king of the bantamweight division, saying that Yan has yet to beat the top fighters at 135 pounds.
"He has two game plans. One game plan: he gets takedown, second game plan: he will [be] running. It's [the] game plan [of a] mouse, yeah?"@PetrYanUFC believes he knows Aljamain Sterling's plans for their #UFC259 fight 🤭 (via @arielhelwani) pic.twitter.com/ryL8P9DlfL

— ESPN MMA (@espnmma) March 3, 2021
"I do think he has to legitimize himself and he has to beat me," Sterling told MMA Fighting. "He's only fought Jimmie Rivera, Jose Aldo – you could say Jose Aldo is a tough dude – but fighting a guy who has a loss in the division right for the title doesn't make a whole lot of sense. Cory Sandhagen and myself were ranked higher than him, and I would argue that we had better resumes. [Sandhagen] beat Assuncao, I had just beaten Pedro Munhoz, who knocked out the former champion."
Sportsbooks see tossup for bantamweight title
Sterling won his last five fights, including victories over Sandhagen, Munhoz, and Rivera. And while Yan is supremely talented, Sterling combines excellent wrestling and grappling skills with a solid striking game that takes advantage of his reach.
Those factors have made this fight into something of a tossup, at least according to oddsmakers. PointsBet lists Yan as a slight -120 favorite, with Sterling at just -105.
---
Yan vs. Sterling Odds (via PointsBet)
Petr Yan: -120
Aljamain Sterling: -105
Method of Victory
Yan by KO/TKO: +240
Sterling by KO/TKO: +950
Yan by Submission: +1500
Sterling by Submission: +375
Yan by Decision: +300
Sterling by Decision: +285
Draw: +6600
---
In such an evenly matched contest, the winner should earn some respect, with Sterling saying that's just what Yan needs.
"I know he's a bad dude, but at the end of the day, he's beaten up a lot of old men," Sterling said of Yan. "I think for him, he wants to prove this more than anything. I think that's his driving factor. To prove that he really is the champion."