Lineal heavyweight champion, Tyson Fury, will look to avoid a shocking loss before his expected rematch against Deontay Wilder when he takes on undefeated Swedish fighter Otto Wallin in Las Vegas on Saturday.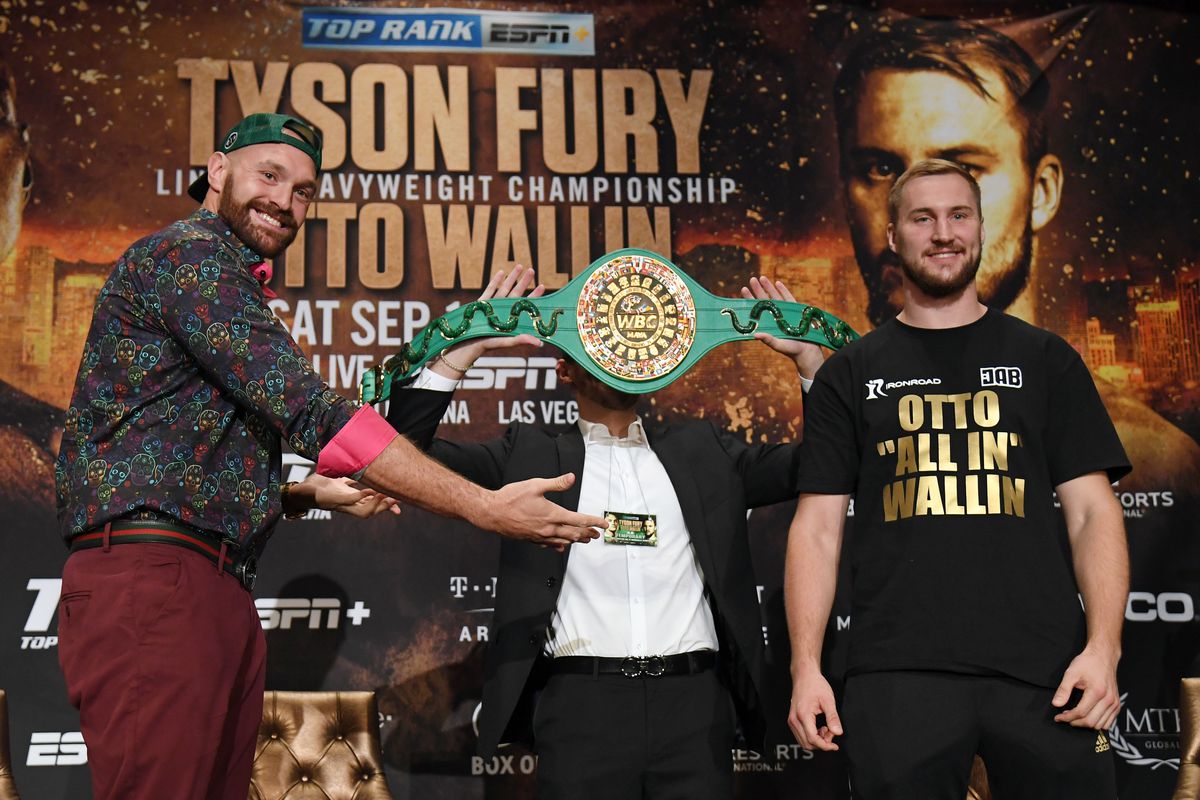 The bout, which will take place at T-Mobile Arena, is seen by most as little more than a warmup for Fury.
Wallin Looks to Johansson for Inspiration
That impression is understandable. Fury (28-0-1, 20 KOs) is a unique fighter, combining incredible size and elusiveness to make him a dangerous opponent for any heavyweight, even if he doesn't have the outstanding knockout power typically seen in the division. The British fighter fought Wilder to a thrilling draw late last year, and is coming off a win over the unheralded Tom Schwarz that felt more like an exhibition of Fury's skills than a competitive fight.
In contrast, Wallin (20-0, 13 KOs) is a virtual unknown even among those with an encyclopedic knowledge of the world's top boxers. Being undefeated does give him some cache, but he hasn't fought anyone worthy of note, with most of his bouts coming in small European venues. His first opportunity to really connect with American audiences came in April when he was featured in a Showtime bout against Nick Kisner, but that fight ended in an early no contest after a bump of heads in the first round left Kisner with a serious cut over his right eye.
That means Wallin comes in as a bit of a mystery. And while that probably means Fury will roll over him like he did Schwarz earlier this year, there's always a chance that the Swede could make history and become the first heavyweight champion since Ingemar Johansson stopped Floyd Patterson in 1959.
"Ingemar came over here and showed that it's possible to come out of Sweden and become heavyweight world champion, and I want to do the same for the kids growing up now and watching boxing," Wallin told ESPN. "Ingemar is a big inspiration for me. And I hope to be a big inspiration for the kids."
Fury Preparing for Wilder Rematch
For Fury, on the other hand, this bout is more about staying active before the big fights to come. An intriguing picture is developing at the top of the heavyweight division, involving not only Fury and Wilder, but also the recently dethroned Anthony Joshua and new champion Andy Ruiz Jr., who have their own rematch coming. So while Fury won't be overlooking Wallin, the fight is ultimately part of giving himself the best chance possible when he later faces Wilder and other world-class competition.
"I just want to keep busy because in this game, I think the best thing for any heavyweight is to be active," Fury told ESPN. "I don't want to sit on the bench for long periods of time and then have to sharpen everything back up."
To put it bluntly, nobody is giving Wallin a chance on Saturday. At FanDuel Sportsbook, Fury is a -3500 favorite, with Wallin fetching +1000 odds. That means a Wallin victory would be among the biggest upsets in recent boxing history. But the Swedish hopeful says he truly believes he has a chance, even though he knows what he's up against.
"I wouldn't take this fight if I didn't think I can win," Wallin said. "I just got to go in there and dig deep and do everything I can, and show all the sacrifices I have made all these years to get to this point. I want to leave it all in the ring."