Fixing Alabama quarterback Tua Tagovailoa's dislocated hip was easy compared to the damage his NFL draft status suffered. The options for that repair may be far more complicated.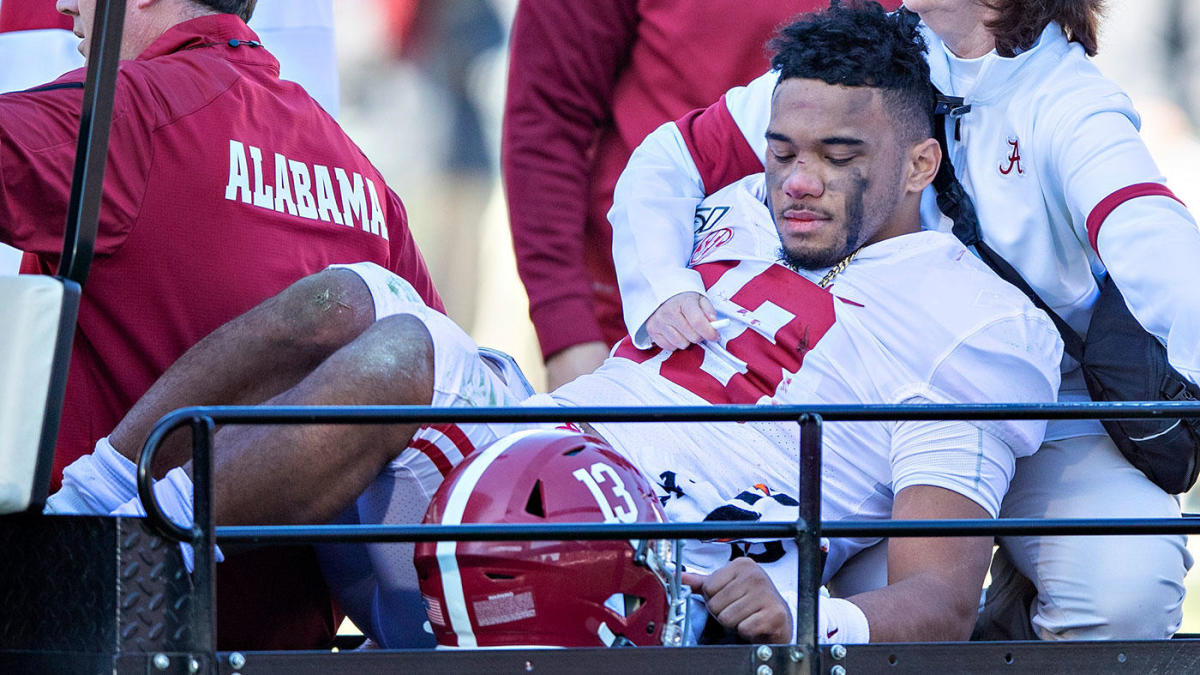 Orthopedic surgeon Dr. Lyle Cain, who is Alabama's team doctor, said Tagovailoa underwent surgery on Monday in Houston. Though he didn't perform the surgery, he called it a success.
"The procedure went as planned, and he is resting comfortably," Cain said. "Tua's prognosis is excellent, and we expect him to make a full recovery. He will return to Tuscaloosa in the next several days to begin his rehab."
Tagovailoa suffered a dislocated hip, a concussion, and a broken nose on Saturday in the Crimson Tide's home game against Mississippi State. With three minutes before halftime, and Alabama leading 35-7, Tagovailoa was tackled by two Bulldog defensive players. He was taken off the field by medical staff in a cart, and then flown by helicopter to a Birmingham hospital for treatment.
Tagovailoa Hip, Career Prognosis
Word leaked late Saturday that Tagovailoa had suffered an injury similar to the one the that ended Bo Jackson's athletic career. Speculation began about whether the projected No. 1 pick in the 2020 NFL Draft would play again.
While Cain says the quarterback will make a "full recovery," no one is quite sure what that exactly means for Tagovailoa's football career. While the initial prognosis on Saturday night was dire, it now appears to be cautiously optimistic two days later.
Before the hip injury, BetOnline listed Tagovailoa as the favorite to be the No. 1 pick in the 2020 draft at 2/3. LSU quarterback, and Heisman Trophy favorite, Joe Burrow was next at 2/1. After the injury, Tagovailoa slipped to 5/1.
The online sportsbook has now put out a line on where Tagovailoa could be picked in the draft. At the time of publication, the favorite is between picks 11-20 in the first round at 3/2. The first 10 picks have him at 2/1, and picks 21-32 are 3/1. Falling out of the first round is also 3/1.
BetOnline also have a line on how many quarterbacks may be selected before Tagovailoa. The line was set at 2.5, with the under the -130 favorite, and the over at -110.
Second Opinion Offered
Cain told ESPN that Tagovailoa will be on a partial weight-bearing recovery plan for six weeks, and will be rehabbing daily in Tuscaloosa. In three months, he should be able to begin athletic activity, and should be throwing by the spring.
That schedule might be too late for the draft, and skittish NFL general managers may not want to take a chance on Tagovailoa. This is the junior's third surgery in two years, as he's had procedures to address high-ankle sprain's on both ankles over the past two seasons.
One anonymous NFL scout told AL.com that if all looks good, and there is tangible proof of his recovery, Tagovailoa could still save his draft status.
"Before Saturday, I would have said top-five for him with a good chance at going No. 1 overall," the scout said. "Right now, I'd still say top-15 for him. So assuming that it goes great with his rehab, yes, he has a chance of going high still because he's so talented. He's a really, really, highly talented guy who teams are going to want to give every benefit of the doubt to try and get."
Returning to Alabama for his senior season doesn't seem very likely. Even if Tagovailoa doesn't declare for the 2020 draft, he might do what defensive end Nick Bosa did.
Bosa was injured early in the 2018 season, and rather than return to Ohio State, left the team to focus on the draft. He was taken second overall by San Francisco.
BetOnline certainly believes Tagovailoa's collegiate playing days are over. They have a prop be on whether he'll play for Alabama in Week 1 of the 2020 season. The "no" is an overwhelming favorite at -500, while the "yes" is at +300.