It didn't take long for Tiger Woods to jog his memory about the damage running did to his body. The 44-year-old was on GOLFTV last Friday answering questions from fans.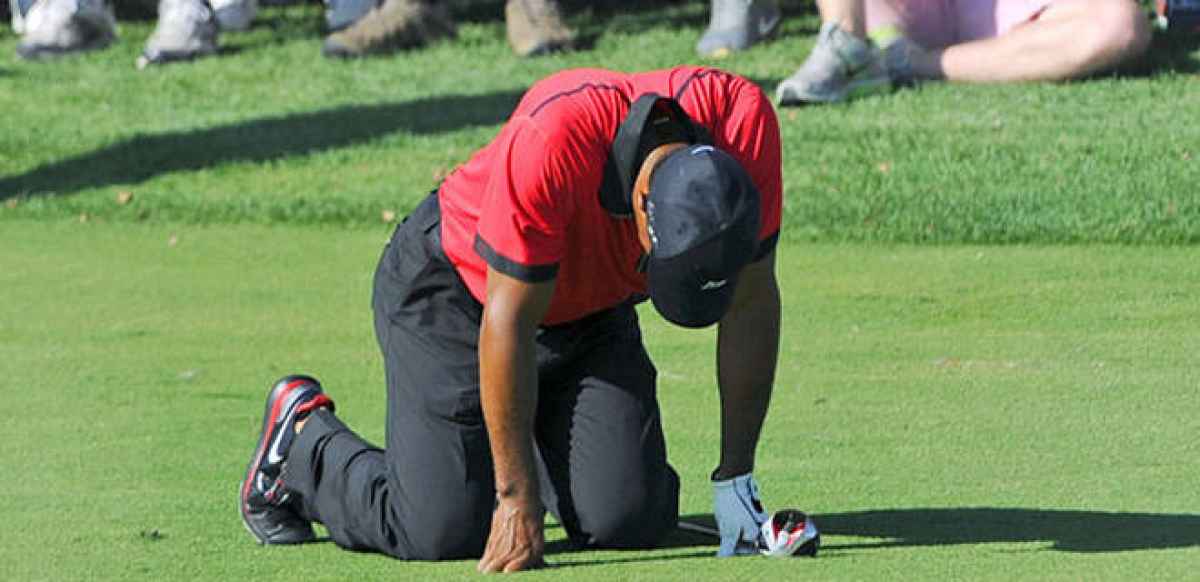 One of the questions came from someone who asked him about possible regrets.
"If you had one thing you could go back in time and tell your younger self, what would it be?" the unidentified person asked.
Woods quickly replied.
"Yeah, not to run so much," Woods said. "Running over 30 miles a week for probably my first five, six years on tour pretty much destroyed my body and my knees."
Tiger Woods answers your questions 🤳#AskTiger pic.twitter.com/ydVskFoNoT

— GOLFTV (@GOLFTV) May 1, 2020
Woods has been playing professional golf since 1996 and has had numerous injuries and surgeries in his 24-year career.
Woods Claims Running Did Major Damage
The body part that took the brunt of his running, Woods said, was his knees. He has had five surgeries on his left knee, the first coming in 1994, and the latest in August of 2019.
---
Tiger's Surgeries
Dec. 1994: Surgery on left knee to remove two benign tumors and scar tissue.
Dec. 13, 2002: Surgery on left knee to remove fluid inside and outside the ACL and remove benign cysts from his left knee. Misses the season opener in 2003.
April 15, 2008: Two days after the Masters, has arthroscopic surgery on his left knee to repair cartilage damage.
June 24, 2008: Eight days after winning the US Open, has surgery to repair the ACL in his left knee by using a tendon from his right thigh. Additional cartilage damage is repaired.
March 31, 2014: Has surgery in Utah for a pinched nerve in his back.
Sept. 18, 2015: Underwent a second micro-discectomy surgery to remove a disc fragment that was pinching his nerve.
October 2015: Woods has a procedure to "relieve discomfort" in his back and sets no timetable for his return to the PGA Tour.
April 20, 2017: Woods undergoes a fourth back surgery. The spinal fusion, labeled "a success" was to alleviate pain he had been experiencing in his back and leg.
Aug. 20, 2019: Misses the Tour Championship and announces on social media he had arthroscopic surgery to repair minor cartilage damage in his left knee.
Source: Associated Press
---
Back Problems Jeopardize Career
Woods' back has betrayed him as well. He's has had four back surgeries since 2014, the latest coming in 2017.
Those were far more serious operations than those performed on his knees. Woods frequently suffered from back spasms, and the four surgeries aimed to alleviate his issues. His last back surgery, a spinal fusion in 2017, was the riskiest and had a chance to end Woods' career.
He came back in 2018 and capped off his year by winning the Tour Championship. It was his first win since 2013. Woods said at the time that he wasn't sure he would be able to walk, much less play golf.
"Just to be able to compete and play again this year, that's a hell of a comeback," Woods told reporters after the victory. "As I said, some of the people that are very close to me, they've seen what I've gone through. I was alluding to some of the players [who] have seen what I've gone through, and they know how hard it was just to get back to playing golf again, and forget the elite level. Just be able to play golf again and enjoy being with my kids and living that life. And then lo and behold, I'm able to do this and win a golf tournament."
Woods said he still feels the effects of his injuries, but those didn't prevent him from winning the Masters in 2019 for his 15th major championship.