Despite three of the top 5 teams having bye weeks, there was more than enough excitement in rest of the AP Top 25 college football poll. A record 11 teams were upset on Saturday, and as a result seven new teams make appearances in the weekly poll.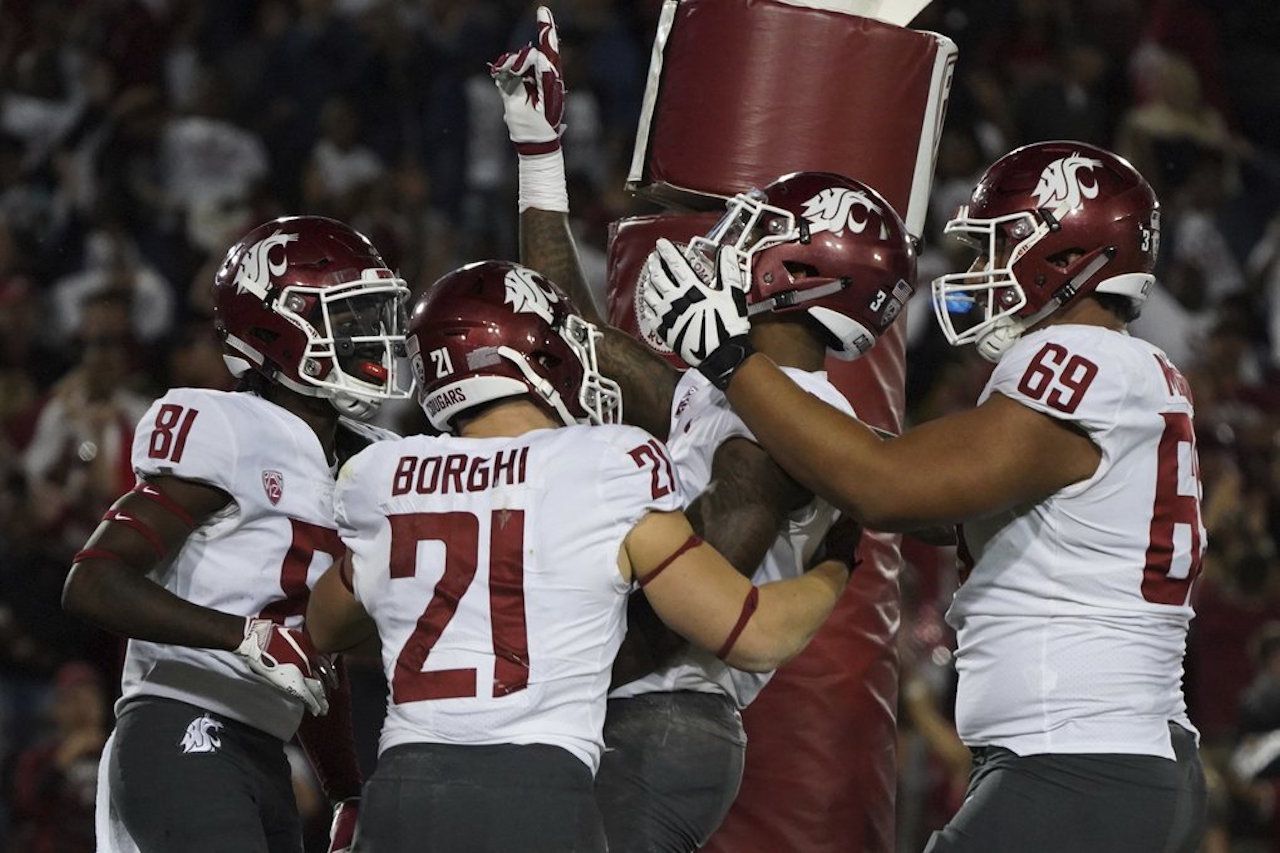 The Top 5 stayed the same from the previous week. Alabama continued its stranglehold on the top spot, despite having a bye week. Clemson stayed at No. 2 with a 59-10 pounding of Florida State. No. 3 also had an easy time, downing Navy, 44-22. No. 4 LSU, which hosts the No. 1 Crimson Tide on Saturday, had a bye, and No. 5 Michigan was also not in action.
The biggest loser of Week 9 was Texas. The Longhorns began Saturday as the No. 6 team, but losing to unranked Oklahoma State on the road, 38-35, knocked them all the way to No. 15.
It was the second defeat for Texas, and probably eliminates them from consideration for the College Football Playoffs. It gets no easier for the Longhorns, who are hosting another team that spent time in the Top 10 in West Virginia. The Mountaineers got as high as No. 6 before a 30-14 loss to Iowa State bounced them down to No. 13. They are currently at No. 12.
Washington State Making Playoff Run
The biggest winner of the week was Washington State, who defeated No. 24 Stanford, 41-38. The Cougars, who are 7-1, and the only major college team undefeated against the spread, moved from 14th to No. 10. They are the highest-ranked team from the Pac-12.
WSU coach Mike Leach said his team's success has a lot to do with their mindset.
"You tell this team something and typically you can get results that are sustained ones," Leach said Monday in his weekly gathering with reporters. "It has allowed us – even though we are young – to do subtle things schematically that we wouldn't be able to do just because we would constantly have to reinforce it."
The Cougars are hosting unranked Cal this week, and are 10.5-point favorites.
Undefeated Club Down to Four
Another team fell from the ever-shrinking list of those undefeated on Saturday. No. 21 South Florida was upset by unranked Houston, 57-36. As a result, the Bulls were knocked out of the Top 25. Houston entered the poll at No. 17. The only four teams undefeated are No. 1 Alabama, No. 2 Clemson, No. 3 Notre Dame and No. 9 Central Florida.
The teams that have one loss also shrunk over the weekend. No. 4 LSU, No. 5 Michigan, No. 6 Georgia, No. 7 Oklahoma, No. 8 Ohio State, No. 10 Washington State, No. 11 Kentucky, No. 12 West Virginia, No. 17 Houston, No. 18 Utah State, and No. 20 Fresno State are the only remaining teams with one defeat in the poll.
The other teams that lost at least their second game and were voted out of the poll were Washington, Oregon, Wisconsin, NC State, Stanford, and Appalachian State. Washington, Wisconsin, and Stanford were all in the Top 10 at one point in the season.
The teams that moved into the poll are Fresno State, Utah State, Virginia, Syracuse, Mississippi State and Boston College.