It's become something of an annual pilgrimage. For years now, in the week leading up to the Super Bowl, Las Vegas retiree Charlie Mayle treks to the Westgate Las Vegas SuperBook to pour over page after page of Super Bowl prop bets. Seated in a light-brown, leather club chair at the far end of the world's largest race and sportsbook, he's on page 13, trying to find a worthy wager.
"I like Travis Kelce to score a touchdown," Mayle said of the Kansas City Chiefs' wide receiver. That bet would pay +120 if it happens. "I also like the over."
The totals bet was at 54.5 at the time, and could still be going up.
Mayle is one of hundreds who flocked to the Westgate this past weekend to get their hands on a 33-page packet that has become the unofficial Bible of Super Bowl prop bets. These wagers are some of the most popular in drawing people to the Westgate, allowing bettors to put money on everything from who will win the MVP to who will win the coin toss. And while some might see these bets as silly, for others they are serious business.
At 33 pages, the Westgate's "SB LIV Prop Packet" is the same length it's been for the past two years. But one improvement they've made this year is adding an index on the front page, which makes it much easier to flip through the pages and find specific bets.
"It's a nice feature," Westgate SuperBook manager Cameron Coombs said. "People can go to right what they are looking for, without having to turn a lot of pages."
Another first: With the Westgate launching its mobile app in the spring, this will be the first year their book of Super Bowl prop bets will be available to gamblers outside the casino property. (They still have to be in Nevada, though.)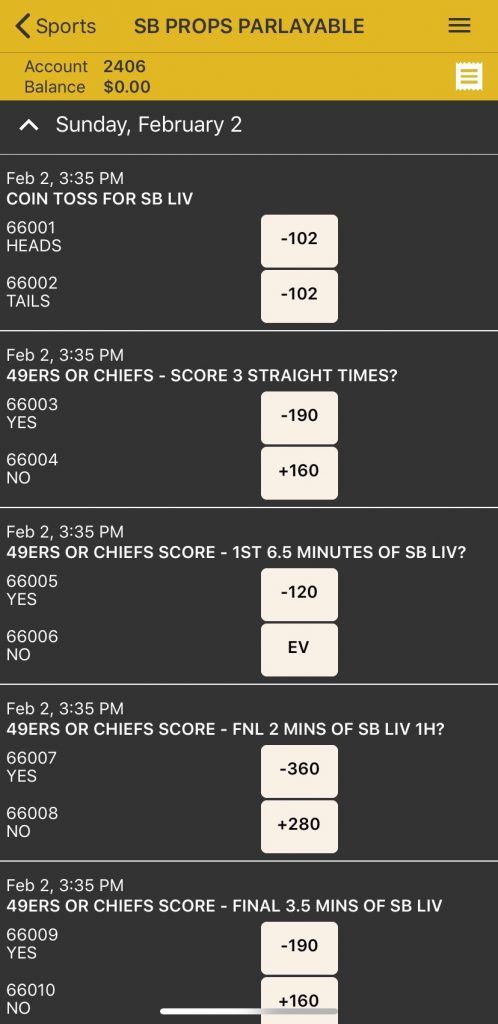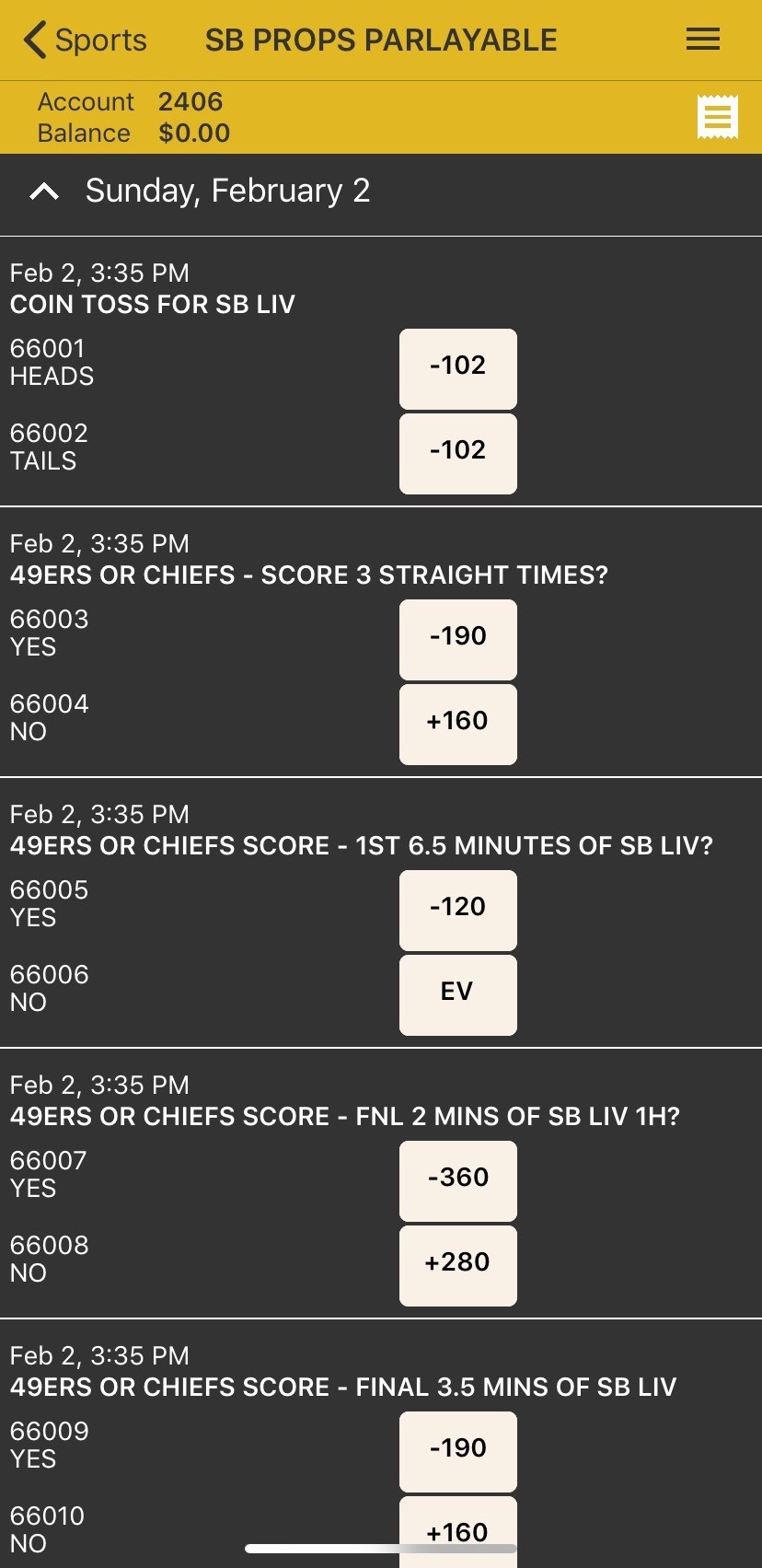 Early Bets Favor High-Scoring Game
According to Coombs, the most popular bet for Sunday's Super Bowl between San Francisco and Kansas City has been on the over.
"We opened at 51, and it's already at 54.5," Coombs said. "Ninety-nine percent of the bets have been on the over. We are going to need the under to come through on Sunday."
One bettor was responsible for a line move on Thursday. He placed a $100,000 wager on the over when it was 51, and that instantly moved it up a point.
Even though the over has shot up 3.5 points, Mayle is still going to bet the over at 54.5.
"They are two high-scoring teams," Mayle said. "I think the over is still a good bet."
Cross-Sports Wagering Rules
Cross-sports wagering is one of the most popular prop bets, according to Coombs. Cross-sport prop bets are when a team from another sport goes heads up with a Super Bowl team or player. One example:
Who will have more, points by Pittsburgh Penguins' Sidney Crosby in Sunday's game against Washington, or San Francisco quarterback Jimmy Garoppolo touchdown passes?
Coombs also said that the sportsbook added Houston Rockets' James Hardin and Milwaukee Bucks' Giannis Antetokounmpo to its cross-sports props for the first time this year.
Parlay Power
Most of the bets listed in the Westgate Super Bowl packet can't be parlayed for a massive payout. However, there are some. Want to juice up your bet on who will win the game? Pair it with a bet on the results of the coin toss, which standing alone, has odds at -102 for either heads or tails.
Bets that can be parlayed appear in a special two-page section. Some of these wagers include:
"Which teams have the most penalty yards?"
"Will an extra point be missed?"
The penalty-yards question has the Chiefs at -120, and the 49ers at even money. The PAT prop pays +300 for a Super Bowl shank (or a double-doink), and -400 if all the extra point attempts go through the uprights.
Picking specific happenings during the game offers good odds, for those who like longshots.
Betting that the game will be decided by exactly seven points is paying +700.
Think the game will be decided by 14 points? That pays +1400.
Player performance bets can be made on everyone from the quarterback to the kicker.
If Garoppolo throws a touchdown in the first quarter, bettors get a +260 payout.
If Kansas City kicker Harrison Butker makes a field goal in the third quarter, gamblers get +200 odds.