Fabiano Caruana narrowly missed a golden opportunity to take the outright lead at the Tata Steel Chess Tournament on Monday, but the American grandmaster remains tied with four other players at the top of the standings.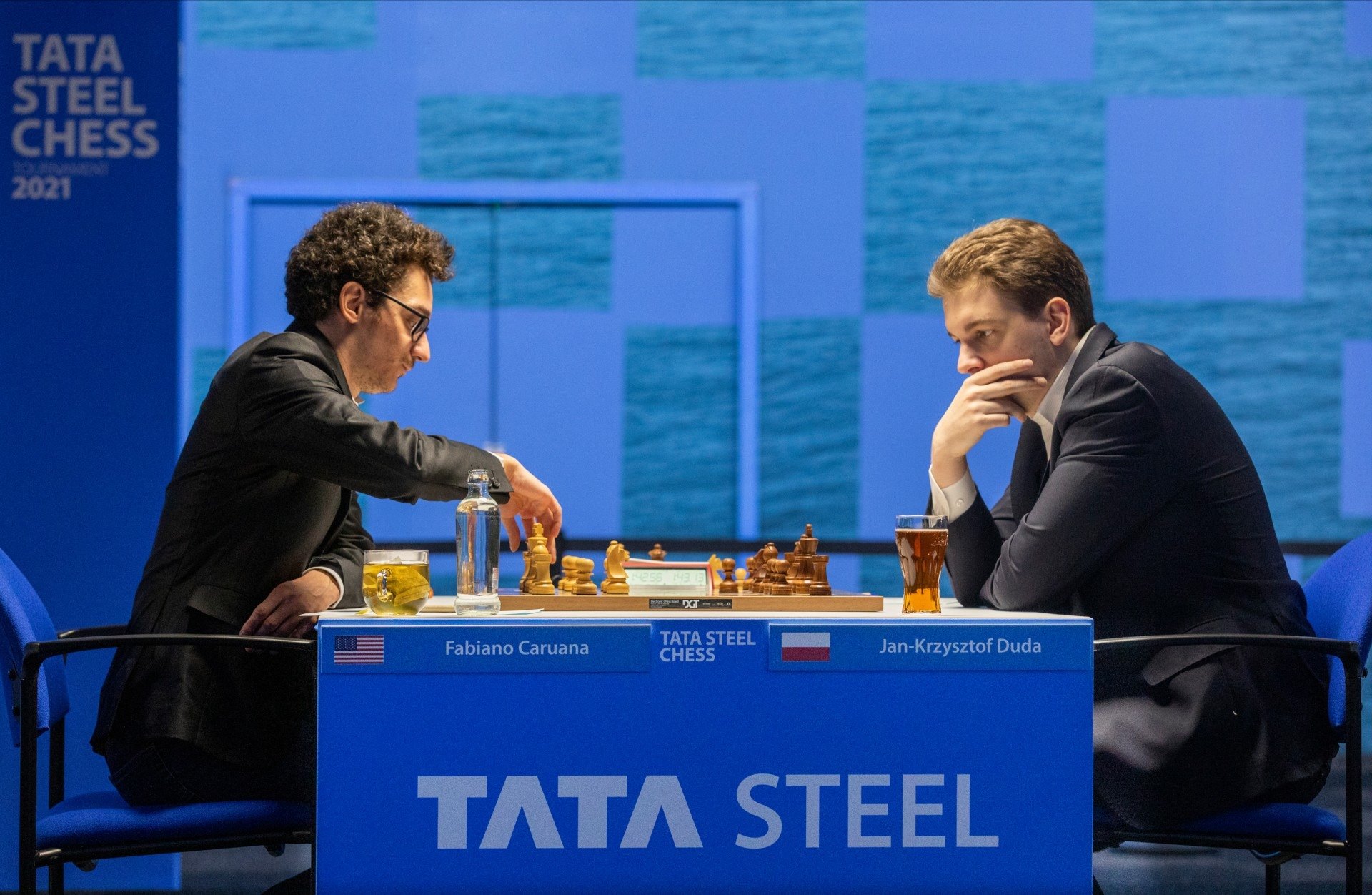 Caruana, Magnus Carlsen, Anish Giri, Pentala Harikrishna, and Nils Grandelius make up the lead group, with all five men collecting two points over the first three rounds.
Caruana Pushes Duda to the Edge
Grandelius came into Round 3 with sole possession of the lead, having scored a perfect 2/2 with wins over Alexander Donchenko and Jan-Krzysztof Duda. But, Harikrishna quickly defeated the Swedish grandmaster with the black pieces to bring him back down to reality.
It was Caruana and Duda who produced the game of the round, however. Out of the typically boring Petroff Defense, Caruana uncorked a knight sacrifice on move 16 after a 43-minute think. The American continued to follow up his idea with strong moves and appeared to reach a winning position.
Unfortunately for @FabianoCaruana he couldn't convert the endgame after such brilliant play but Jan-Krzysztof Duda's defense was impressive as well!#TataSteelChesshttps://t.co/sK5GtxMnW7 pic.twitter.com/dFKhtEH4Lw

— Chess.com (@chesscom) January 18, 2021
But Duda defended well, forcing Caruana to make critical decisions to hold on to his advantage. Caruana made the choice to go into an endgame up an exchange, and played some inaccurate moves during the time scramble before move 40. Duda found the resources he needed to hold on to a draw in a thrilling game.
"I didn't like the endgame at all," Caruana bemoaned afterward. "Probably, it was technically winning at some point."
Carlsen failed to take his opportunity to jump into the lead against fellow Norwegian Aryan Tari. The World Champion had the White pieces against an opponent he's dominated in recent events. But, Tari held firm with Black, even as Carlsen attempted to push a slight edge until the final possible moment.
"I was prepared for that he would squeeze," Tari said after the game. "I was expecting that I would have to sit and struggle for seven hours against Magnus because he never gives up. If there's a slight, slight chance, he will go for it, and often the opponent collapses."
Firouzja Grabs First Tata Steel Win
Alireza Firouzja grabbed the only other win of the day. He took White against David Anton Guijarro, and after an early queen trade, had endless pressure against his opponent. In the end, the Spaniard cracked, and Firouzja moved back to even for the tournament.
---
Tata Steel Chess Tournament Odds – Round 4 (via Bwin)
Alexander Donchenko: +450
Draw: -225
Radoslaw Wotjadzek: +375
Andrey Esipenko: +275
Draw: -225
Nils Grandelius: +700
Aryan Tari: +600
Draw: -165
Alireza Firouzja: +220
Jan-Krzysztof Duda: +425
Draw: -250
Anish Giri: +475
Jorden Van Foreest: +1200
Draw: -115
Magnus Carlsen: +115
Maxime Vachier-Lagrave: +185
Draw: -165
David Anton-Guijarro: +800
Pentala Harikrishna: +700
Draw: -185
Fabiano Caruana: +220
---
"He accepted to just defend this endgame for five hours," Firouzja said after his win. "He could have gone more active I think, castling even. Anything is possible, and the game is around equal."
The #TataSteelChess standings after round 3. pic.twitter.com/BH8S7pJVCN

— ChesscomNews (@ChesscomNews) January 18, 2021
The players will return to action for Round 4 on Tuesday, after which, they will enjoy the first rest day in the 13-round, round-robin event. Carlsen sits as the even-money favorite (+100) to win the Tata Steel Chess Tournament, according to Bwin, with Caruana (+300), Giri (+500), and Maxime Vachier-Lagrave (+800) also in contention.