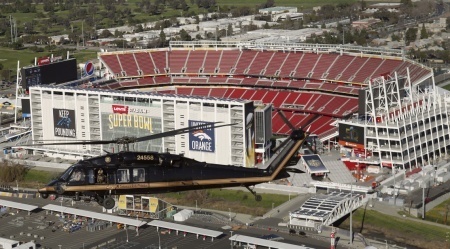 Super Bowl security is being heightened ahead of this Sunday's showdown between the Carolina Panthers and Denver Broncos at Levi's Stadium in Santa Clara, California. The stadium is located some 50 miles southeast of the San Francisco Bay area, and security officials are doing everything in their power to assure both fans and players that the most-watched athletic event in the United States is contested in a protected venue on February 7.
Along with hundreds of regional law enforcement officers, Super Bowl 50 will be assisted by the Federal Bureau of Investigation (FBI) and forces from the Special Weapons Attack Team (SWAT). A FBI Super Bowl Joint Operation Center has also been organized at an undisclosed location in Mountain View, a neighboring community some six miles from Santa Clara.
FBI Special Agent David Johnson, who heads the FBI's San Francisco field office, told Reuters this week, "This is a high-profile target. A terrorist group would receive a great deal of publicity (if they attacked it), which is what they are looking for."
Credible Threats
American authorities are informing Super Bowl patrons that as of now there are no credible threats for Sunday. However, security experts and FBI officials explain that the recent attacks in both Paris and San Bernardino make the threat of terrorism real.
Specifically, lone-wolf extremists make the job of law enforcement and anti-terrorism enormously difficult, if not impossible. California is no stranger to that reality after a husband-and-wife team killed 14 in December, the deadliest attack on US soil since 9/11.
"It's really hard for us to get ahead of an attack if the entire universe of the plot exists in one person's brain," FBI agent John Lightfoot told the San Francisco Chronicle.
To Go, or Not to Go
The old adage in America is that if we change our habits and activities based on the possibility of terror, than the terrorists win. Easier said than acted upon, should fans truly be convinced that their lives might be in danger.
According to TiqIQ, an event ticket search engine that aggregates prices across secondary market sellers, Americans aren't being intimidated from attending Super Bowl 50. The average price for a ticket to enter Levi's Stadium is $4,861.95 as of Monday morning.
That would make Super Bowl 50 the second most expensive ticket in the NFL's half-century history.
Johnson and the FBI believe the stadium itself will be immensely secure. The bureau's main concern actually rests with "softer" targets surrounding the area such as public transportation hubs and nearby buildings.
"We're confident in our hard-target preparation," Johnson said. "But soft targets are tough."
Paddy Power Recognition
$116 million was wagered legally last year on Super Bowl XLVIX in Las Vegas. That number might be topped this weekend as the sporting public gets behind the Broncos and Peyton Manning as he tries to win his second title in his storied career.
Across the pond, Paddy Power is notorious for its novelty bets. For Super Bowl 50, bettors on the Irish bookmaker site can place wagers on everything from the style of commentator Jim Nantz's necktie to whether a power outage will disrupt play as it did in 2013.
Paddy Power made headlines in 2008 when it released odds on the possibility of President Barack Obama being assassinated during his administration. The site likely considered a similarly disgusting line on terrorism for Super Bowl 50, and their omitting of such a prop bet should be commended.