The Los Angeles Rams and Cincinnati Bengals are thrilled that they have a weekend off before the Super Bowl because both starting tight ends — Tyler Higbee from the Rams and CJ Uzomah from the Bengals — exited Sunday's game with a knee injury.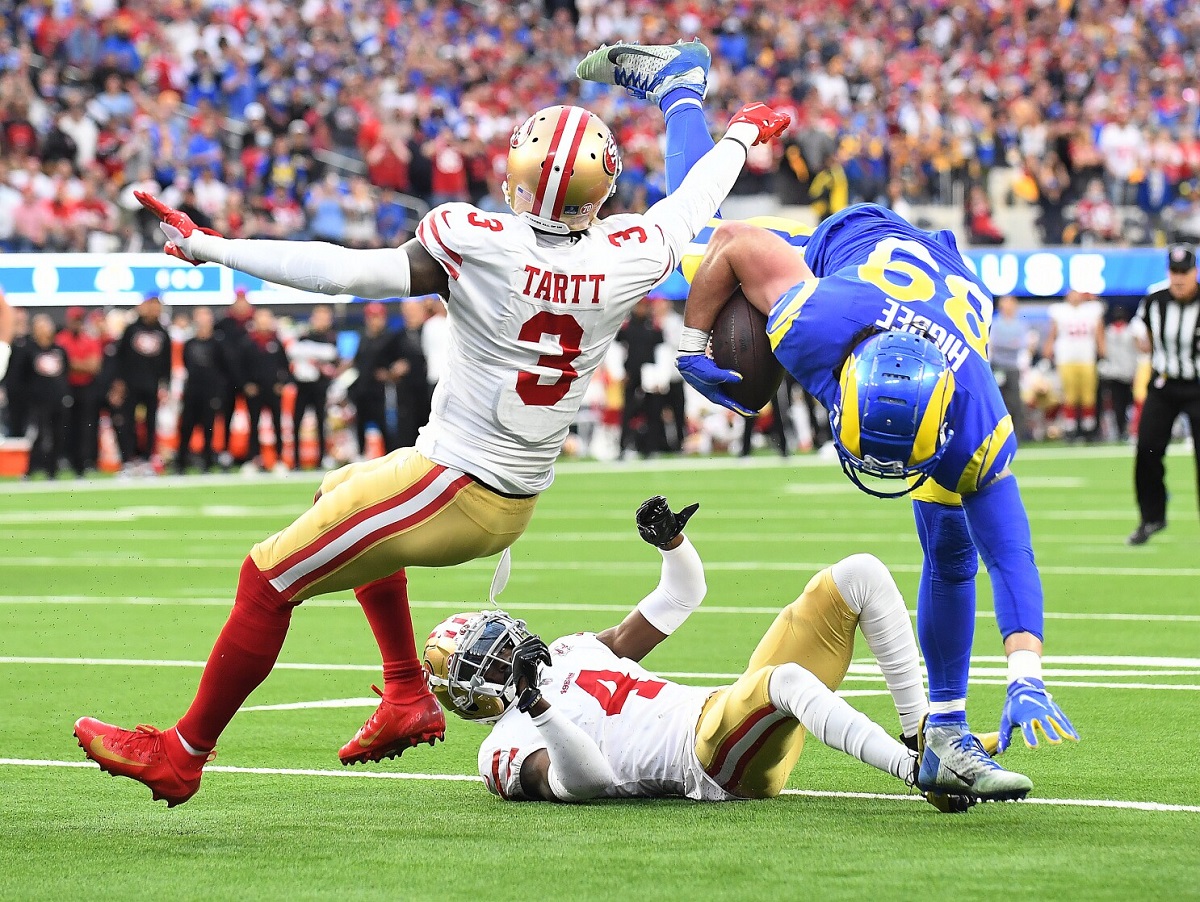 Both tight ends hope to recover in time to suit up for the Super Bowl. Higbee caught 61 passes for 560 yards and five touchdowns in 15 games with the Rams this season. He was Matthew Stafford's second favorite target behind Cooper Kupp.
Uzomah also has five touchdown receptions with the Bengals this season. He also added 49 receptions for 493 yards in 16 games.
The Bengals opened as +4 underdogs against the Rams, who don't have to worry about traveling with Super Bowl 56 played out on their home field at SoFi Stadium. The line is currently +4.5.
Higbee injury update
During the NFC Championship, the Rams lost Higbee early in the game when he went down in the first quarter with a sprained knee.
"Higs got an MCL sprain," explained head coach Sean McVay. "He's such a tough guy, we're going to do everything in our power to try and get this guy back and ready to go."
"It didn't look good when he left the field," said teammate Cooper Kupp. "Higbee's so tough, he's played through so many things, you never know if you're going to see Big-Rig Higs trotting back onto the field again."
Kendall Blanton was the next man up. The back-up tight end looked good with five catches for 57 yards. He even caught a 20-yard reception on a flea-flicker when McVay went deep into his playbook to call a trick play.
"Kendall might not have gotten as many reps as Higbee did this last week, but mentally he was dialed into the right stuff, he knew what he needed to do," added Kupp. "When his opportunity did come, he was able to go in there and execute. He did a great job for us."
Blanton made a big impact the week before in the upset over the Tampa Bay Buccaneers in the divisional round. Blanton caught his first postseason touchdown in a close game where the Rams needed every point they could get.
Uzomah injury update
The Uzomah injury looked more severe when he went down in the first quarter against the Kansas City Chiefs in the AFC Championship. He hobbled off the field before a cart carried him back to the locker room. Uzomah was ruled out for the second half, and returned to the sideline in street clothes and crutches to cheer on the Bengals in a stunning overtime victory.
During the Bengals' magic postseason run, Uzomah added 13 catches for 135 yards and a touchdown before his injury in the AFC Championship.
"Hopefully I'll be back in two weeks," Uzomah said after the Bengals victory. "I know the training staff. I've been here after the Achilles injury, I know what they're capable of, and crazier things have happened. So, I'm looking forward to trying to get after it and help my team to the Super Bowl."
An MRI revealed an MCL sprain for Uzomah, very similar to the same injury that occurred to Higbee.
Backup Drew Sample filled in for Uzomah. The little-used Sample caught 11 passes for 81 yards and zero touchdowns this season. He caught just one pass for four yards against the Chiefs.
C.J. Uzomah coming back to support his squad pic.twitter.com/8VgTclzAc0

— alex (@highlghtheaven) January 30, 2022