Earlier this week, Mike Tyson admitted on the latest episode of his podcast, "Hotboxin' with Mike Tyson", that he smokes $40,000 worth of marijuana per month. I know what you're thinking. "Mike Tyson smokes 40K weed? That's a lot of dope, man!"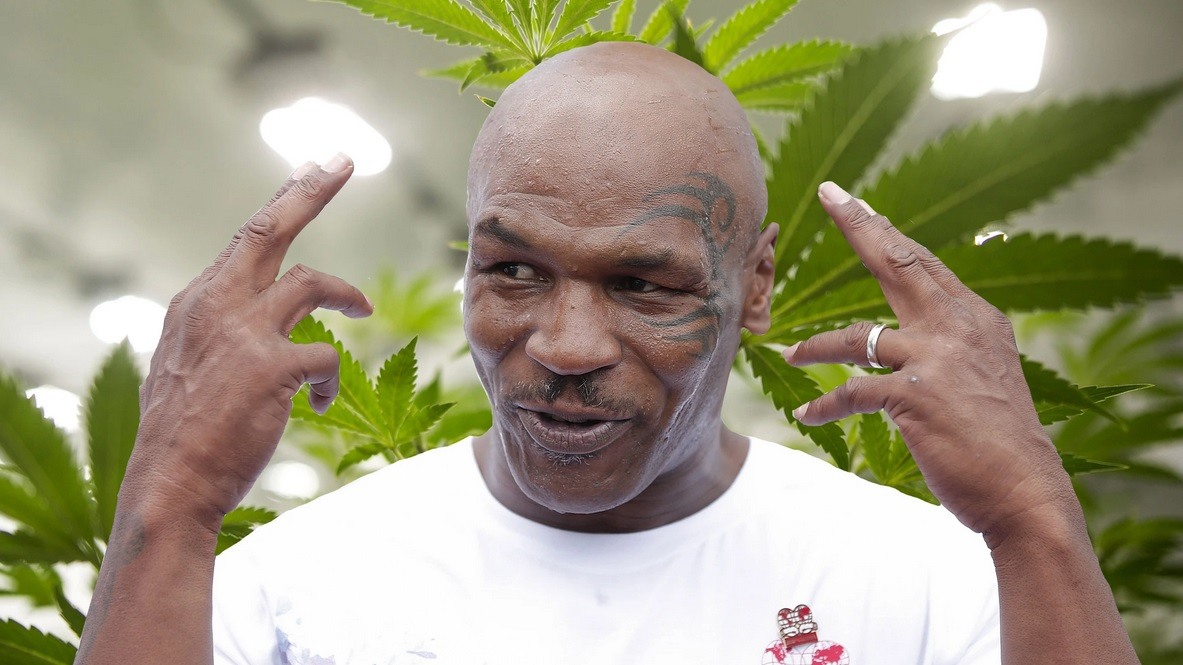 The specific intent of the Hotboxin' Podcast is that Tyson will partake in smoking marijuana while interviewing guests. In his latest episode, Tyson randomly blurted out a monetary figure about how much he thought he consumed on a monthly basis. The citation of $40,000 seems excessive, but then again, some stoners really really really love weed.
"We smoke ten tons of weed per month at the ranch," said Hotboxin' co-host Eben Britton. "Bruh, 40K? That's a lot of weed. That's nonstop smoking."
"Is that crazy?" Tyson asked.
Tyson, the former heavyweight boxing champion of the world, has become one of the many former athletes and celebrities jumping into the cannabis business. Calvin Johnson, ex-NFL star known fondly as 'Megatron', recently jumped into the cannabis business.
That's a Lot of Dope, Bruh
Okay, so the actual figure is not exactly the ex-champ's weed total. The actual quote is the collective ranch smokes $40,000 worth of weed per month. Tyson is one of several people living out on the ranch toking mary jane nonstop.
Even if numerous individuals are involved, the 40K numbers are still impressive. The daily figure comes out to $1,333 worth of daily herb.
Tyson suggested he's pulling in from anywhere between $400,000 and $500,000 per month in his cannabis-related investments and business. In that regard, Tyson toking up 40K worth weed is only 10% of the total profits is just a really super-heady cost of doing business. Former NFL players like Chris Long said they prefer marijuana to opiates when recovering from injuries.
King of the Ring, Cannabis King
Mike Tyson had no shortage of legal problems including serving three years on a six-year sentence for rape and sexual assault in Indiana.
"I can't believe I'm totally smoking on a podcast," Tyson said. "I was f—-d up before this weed stuff."
Over the last decade, Tyson tried to rehab his image in Hollywood. The ex-champ appeared in the "Hangover" franchise and had done other small films and TV shows.
After California legalized cannabis, Tyson became one of numerous celebrities who invested and cashed in on legal marijuana biz.
Tyson partnered with Jay Strommen and Robert Hickman to build a 40-acre resort that also includes a golf course. Tyson Ranch is still under construction. Guests are encouraged to participate in cannabis on the property.
"I got 420 acres," said Tyson. "We gonna make this an oasis in the desert, man. Cannabis friendly."
Tyson's property outside Palm Springs in the Mojave Desert had previously hosted a music festival. The original Kind Festival expected 4,000 attendees, but more that twice as many showed up.
Watch the latest episode of Hotboxin' with Mike Tyson featuring rapper Jim Jones…