Phil Mickelson told the media earlier this year his game was close, and at last week's Saudi Invitational he backed it up. The 49-year-old finished tied for third at the tournament held at Royal Greens Golf and Country Club in Saudi Arabia.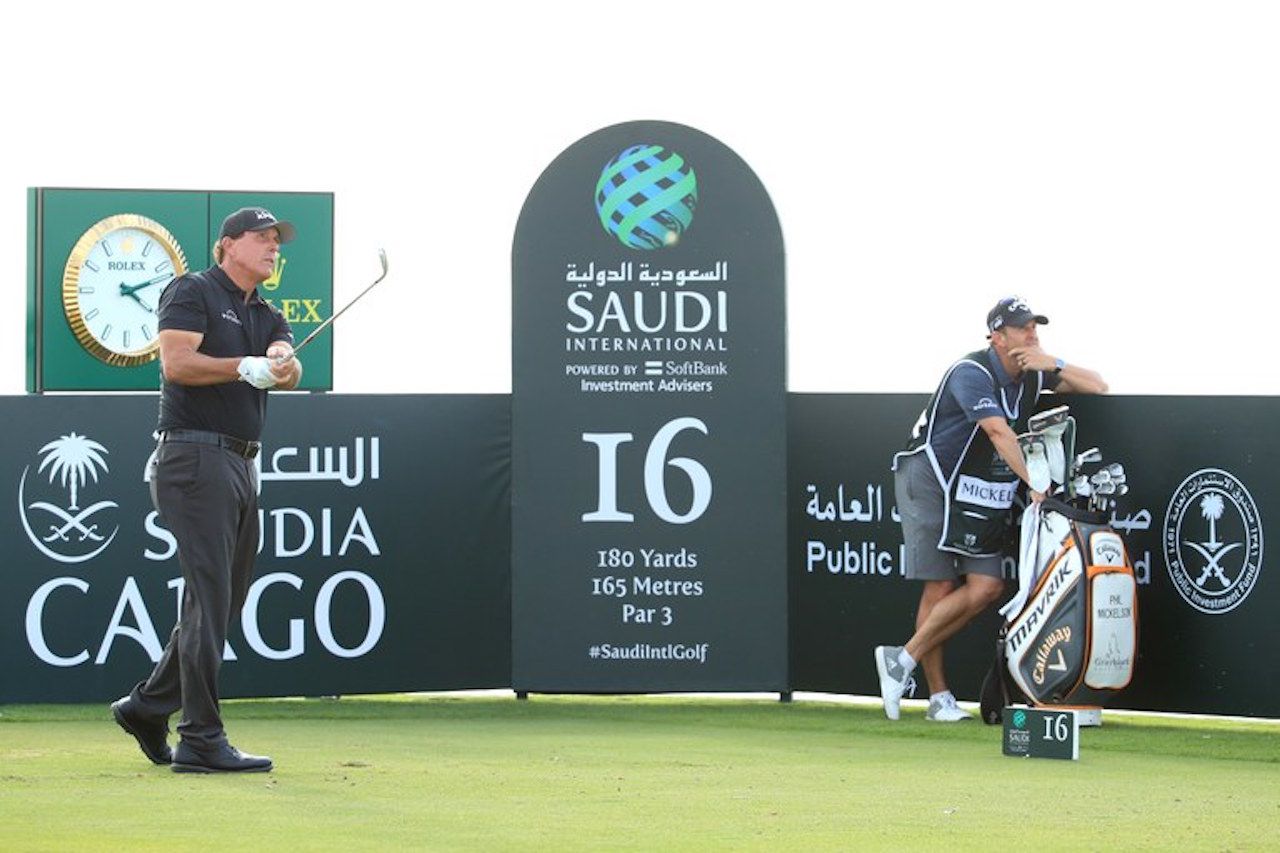 It's the first cut Mickelson has made in three events. He posted rounds of 66, 70, 68, and 67 to finish 9-under par and three strokes behind winner, Graeme McDowell. It is the highest finish for Mickelson this season, and the highest since winning the Pebble Beach Pro Am last year.
That event is in Pebble Beach, California, this week, and Mickelson told reporters after his final round at the Saudi Invitational that he is excited to defend his title. He is 30/1 to win.
"I've had a great week and this is really, again, been a great week for me to build off my game," Mickelson said. "We were treated so well, and had a wonderful experience here. The course is spectacular. I'm very pleasantly surprised at what a quality golf course this is."
Mickelson Decision to Play Saudi Invitational Pays Off
When Mickelson committed to the Saudi Invitational, he was criticized for entering an event in a country with a questionable human rights record. Several golfers said Mickelson and other professionals should skip the event.
No. 2 ranked golfer Rory McIlroy said he wouldn't play at the tournament because of the controversy. Others, like Tiger Woods, said he supported Mickelson's decision.
It turned out to be the right move golf-wise for Mickelson. He began the tournament as a 100/1 longshot. He ended up being three strokes away from one of the biggest victories in his career.
Mickelson said he was confident his play would turn around. He had missed the cut at The American Express and the Farmers Insurance Open in Southern California last month, but wasn't losing hope.
"I'm very optimistic about what this 2020 brings," Mickelson said. "I'm more surprised that the first two weeks haven't gone the way I planned, but I feel like my game is a lot better than it was last year and I just need to be patient. The scores will come."
Four Solid Rounds for Mickelson
Mickelson shot a 66 in the opening round at the Saudi Invitational. He followed it up with an even-par 70, and then posted the two under-par rounds on the weekend.
Ironically, the 67 he shot on Sunday, wasn't his best ball-striking day, Mickelson said.
"I didn't really strike it anywhere near as well as I did the last few days," Mickelson told reporters on Sunday. "I really struggled off the tee when I've been driving it well, but I was able to score."
It didn't matter. Mickelson said he relished the excitement of being near the top of the leaderboard on Sunday.
"It was so fun to be back in the mix," Mickelson said. "It's been a while since I've been in contention. It's been a while since I've been playing well and it feels really good. This has been a great week for me, a good step, and it was so fun coming down the stretch to feel the nervousness and the excitement and the opportunities."