LA QUINTA, Calif.–Phil Mickelson is embarking on his 29th year as a professional golfer, and like most men in the latter part of their working careers, the 49-year-old believes he can still be productive. Unlike a lot of men, however, Mickelson is talking less and doing more to make the 2019-2020 PGA season a successful one.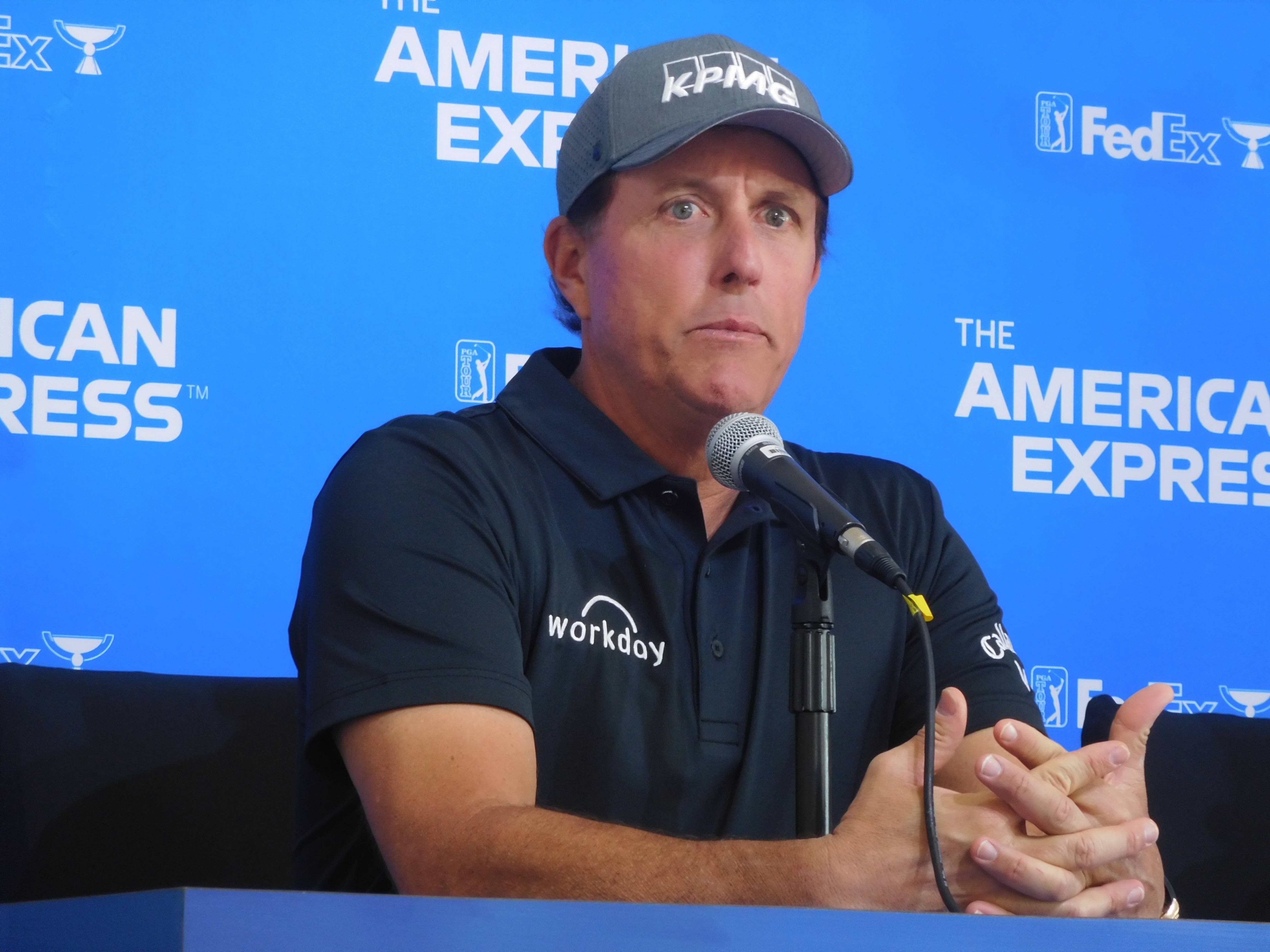 The famous, left-handed golfer who has 44 PGA Tour victories, would like to earn No. 45 this week at The American Express. It's an event he has won twice before. Oddsmakers have him at 40/1 to win, which is comparable to the odds he's received in the four other events he's played this season. He finished second in this event last year.
Doing well at PGA West might be an early barometer on Mickelson's future. He is six months away from turning 50 and being eligible for the PGA Tour Champions. He told reporters on Wednesday that he wants to play on the PGA Tour, rather than the senior circuit.
"I haven't thought too much about it, and I won't until I see how the first six months of this year go," Mickelson said. "Because I've had this, I've had kind of a lot of great things happen that lead me to be encouraged about the year, and I'm curious to see how the first six months go. It's nice to have the option to move over to another tour, but it's also nice to have the challenge of competing out here."
Mickelson Hoping Changes Pay Off
Last year was a down year for Mickelson. He won the Pebble Beach Pro-Am, but floundered for the rest of the season after that. In 16 events, his highest finish was a tie for 18th. It was his only finish in the top 20. He also missed seven cuts.
"So I did not have a great year," Mickelson said. "After I won at Pebble last year, it was a rough few months. I had a great off-season, I'm excited to start the year, I'm curious as probably anybody is to see how well I play.
Mickelson knew he had to do something, so he worked on getting fitter, and fixing some of the flaws in his game.
"I think I've tried to address a lot of weaknesses or areas that needed to improve, and my motivation is back," Mickelson said. "This is the best I've felt in years, maybe even decades. There's no reason that would hold me back from being able to play and practice as hard as I can. So now it's on me. Can I get the best out of me again? I believe I can."
Early Results Promising
Mickelson played in four events in the early part of the new season. His first was in September at the Safeway Open. He missed the cut. The second was a week later in Las Vegas, where he finished tied for 61st. Three weeks later, he traveled overseas to South Korea to play in the CJ Cup, and finished tied for 31st. He was in China two weeks after that for the World Golf Championships-HSBC Champions, and finished tied for 28th.
Improving his standing in every event has encouraged Mickelson. Now, he's just hoping he can get back in the winner's circle.
"Physically there's nothing holding me back from playing some of my best golf," Mickelson said. "So if I'm able to have good focus on the course and address some of the issues that have kind of plagued me in the past, I think it's going to be a great year."