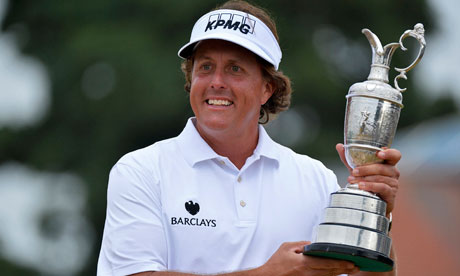 Phil Mickelson will try and complete the career Grand Slam next week at Oakmont Country Club when the 116th United States Open commences outside of Pittsburgh, Pennsylvania. This week, however, Mickelson is in Memphis, Tennessee, for the FedEx St. Jude Classic where the 42-time PGA Tour winner is fielding questions about his purported ties to illegal offshore sports betting and insider trading schemes.
Following a criminal court case that lasted months, Mickelson pal Gregory Silveira was sentenced to a year plus one day in prison on June 6 by a judge in the California Central District Court. Silveira, who also must pay an $18,000 fine, admitted to funneling $2.75 million to an offshore sportsbook on behalf of a "client."
That client is suspected to be Mickelson, though the golfer has not been charged with any crime.
Silveira's Not-So Silver Lining
The Silveira story comes on the heels of last month's news that Mickelson was turning over roughly $1 million after federal investigators brought charges against Billy Walters, another Mickelson friend who allegedly shared inside information on a public company with the golfer. Per the US Securities and Exchange Commission, Mickelson bought 240,000 shares of Dean Foods in 2012, which turned him a $931,000 profit in just weeks once the company announced stronger-than-expected earnings.
The SEC says Mickelson committed no wrongdoing that it can prove, and says the five-time major winner simply benefited from the tip supplied by Walters.
"I'm disappointed to have been a part of that whole thing," Mickelson said recently. "I'm glad it's over . . . Ready to move on."
Day, Spieth, McIlroy Favored
There is no tournament in the world Mickelson so desperately wants to win more than the US Open.
He's won The Open, the PGA Championship, and the Masters three times, but the USGA's marque event has eluded Mickelson's grasp. He's finished runner-up a record six times.
A win would put Mickelson alongside Jack Nicklaus, Tiger Woods, Ben Hogan, Gary Player, and Gene Sarazen as the only players to win all four modern majors at least once in their careers.
Unfortunately for Mickelson fans, Vegas doesn't think it's going to happen in 2016.
World number one Jason Day is the odds-on favorite at the sportsbooks in Nevada, Bovada listing the Australian at +600 and VegasInsider.com posting 15/2. Jordan Spieth and Rory McIlroy, Day's closest two rivals, are next on the books with both at 17/2.
Mickelson's odds are much longer for hoisting the US Open Championship Trophy. Mickelson, who is currently ranked #20 in the world, is listed at +3300 and 35/1.
The famed Oakmont track in western Pennsylvania has hosted the US Open eight previous times including in 2007 when Mickelson missed the cut. For what it's worth, Mickelson was battling a wrist injury that week.
"I hate to say this because I've been saying this for a while, I think (my game) is close," Mickelson explained in early June. "I feel like I'm playing some good golf . . . I'm trying to take a step back from the expectations or the result and let the way I believe I'm playing just kind of come out."