Patrik Laine, right winger for the Winnipeg Jets (13-7-2), put on a scoring clinic against the St. Louis Blues (8-11-3) with a dazzling five-goal performance.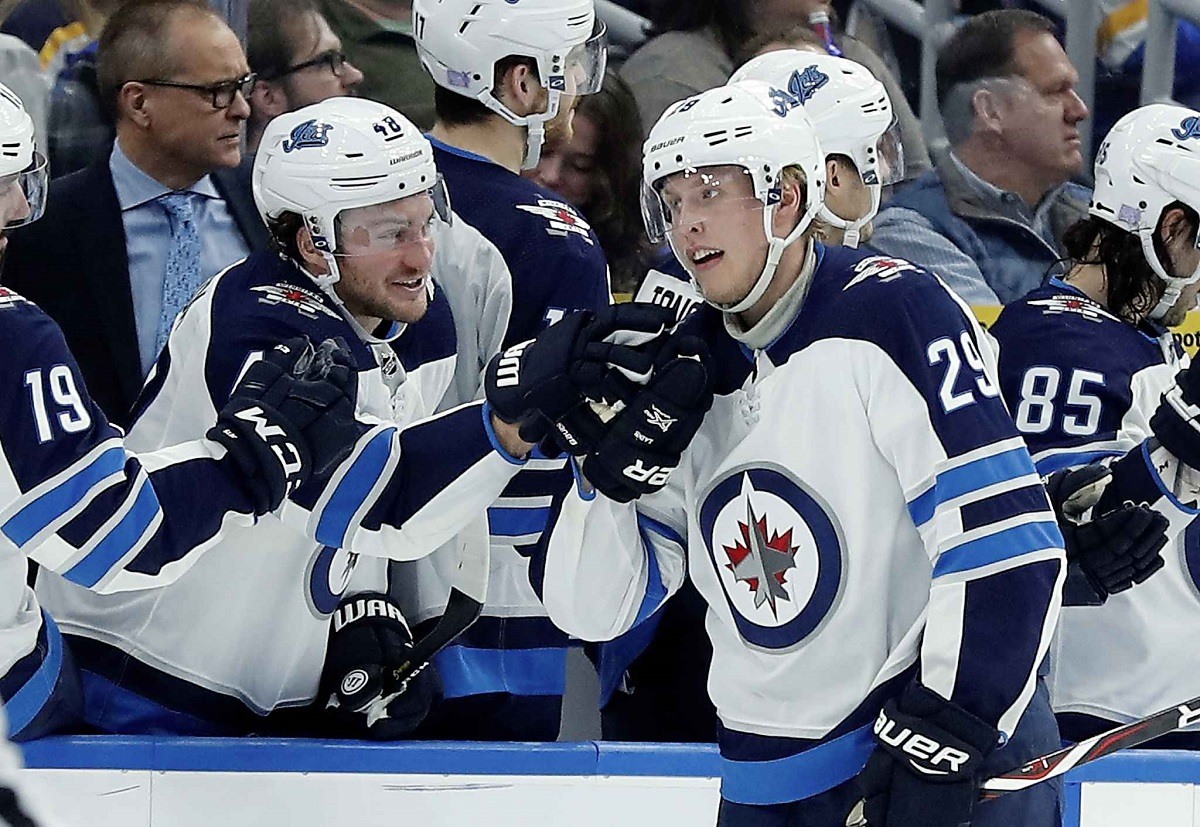 Laine's five goals were the most scored in the NHL since 2011, when Johan Franzen from the Detroit Red Wings scored five times. Remarkably, Laine scored five goals on only five shots. Currently, Laine leads the NHL in scoring with 19 goals.
Shooting Star from Finland
Patrik Laine is a 20-year old player from Finland. The Winnipeg Jets drafted the 6-foot-5 winger with the second pick in the 2016 draft.
In a short time, Laine has taken the NHL by storm. As a rookie playing in his first-ever pro game with the Jets, Laine scored a goal and added an assist.
Less than a week after his debut, Laine scored three goals against the Toronto Maple Leafs and recorded his first hat trick. At 18 years and 183 days old, Laine became the youngest player born outside of North America to score at least two goals in a game.
During his first year as a pro, Laine broke a franchise record for most goals by a rookie. By the end of the season, Laine tallied 36 goals and 28 assists.
In his second season, Laine scored a hat trick against the New York Rangers and became only the third teenager in NHL history to tally four hat tricks before their 20th birthday. Last season, Laine finished the season with the third-most goals scored. The Jets won the first round of the Stanley Cup playoffs, but were bounced by the Nashville Predators in the second round.
Five Goaler, Eh
The struggling St. Louis Blues hosted the Winnipeg Jets in a game broadcast on Hockey Night in Canada. What started out as a typical Saturday night hockey game turned into a masterpiece. Laine terrorized Blues goalie Chad Johnson and beat Johnson on five shots.
With the game tied at 1-1 with 3:34 remaining in the opening period, Laine drilled a one-timer past Johnson to put the Jets ahead 2-1.
For his second goal of the night, Laine connected during a power play that broke a 2-2 tie.
Laine tallied a hat trick with 7:07 remaining in the second period courtesy of a 3-on-2 breakaway. Laine's third goal of the game put the Jets ahead 5-2. It marked his third hat trick in the month of November.
"Seems like every time he shoots the puck, it goes in," said an astonished Blues announcer.
With under 4:20 remaining in the second period, Laine struck again with his fourth goal of the night.
The third period was less than two minutes old before Laine found the back of the net for a fifth time. Laine finished up his historic night with five goals, the first five-goaler since 2011.
Hat Trick of Hat Tricks
The Jets were involved in an old-fashioned hockey fight when a line brawl erupted against the Nashville Predators. Despite a slow start to the season, Laine quickly heated up in November. Laine scored only three goals during 12 games in October. Once November started, Laine played like his old self.
On the first of November, Laine busted out of his scoring slump with a hat trick. That set off a flurry of scoring. In only ten games in November, Laine scored goals in seven of those. Lain scored 16 goals in only 10 games.
Five games ago, Jets head coach Paul Maurice moved Laine onto a line with Bryan Little and Kyle Connor. The young Finn has been unstoppable ever since. Connor and Little added four assists each during Laine's five-goal explosion.
The NHL season is approximately a quarter complete. The Jets played 22 games old, yet Laine recorded three hat tricks thus far. All in the same month. In three NHL seasons, Laine recorded seven career hat tricks.
Laine's first hat trick of the season occurred on November 1 with three goals against the Florida Panthers.
For his second three-goal game of the year, Laine scored three goals in a 6-3 win over the Vancouver Canucks.
Fan Wins $1 Million
Party at Chris Haley's house! A fan from Winnipeg won a cool million dollars because Laine scored five goals. Canadian supermarket chain Sobeys/Safeway currently runs a popular "Score & Win" promotion. A specific fan will win $1 million if any player from Vancouver, Calgary, Edmonton or Winnipeg scores five goals in a single game.
Patrik Laine's five goals have won this man $1 million in the Safeway/Sobeys Score and Win contest, according to https://t.co/DbthsWzS1R. He'll get $50,000 per year for 20 years. pic.twitter.com/fQdMo61rjn

— Frank Seravalli (@frank_seravalli) November 25, 2018
Christopher Haley from Winnipeg, Manitoba, Canada is one million bucks richer thanks to Laine's goal-scoring prowess. According to the terms of the promotion, Haley will be paid out $50,000 a year for the next 20 years.
It's been a busy week in the NHL. Ken Hitchcock came out of retirement to coach his hometown Edmonton Oilers.