In an effort to control the rampaging coronavirus among jockeys, the New York Racing Association took an unprecedented step for its crown-jewel Saratoga meet on Tuesday, closing the meet to out-of-town jockeys.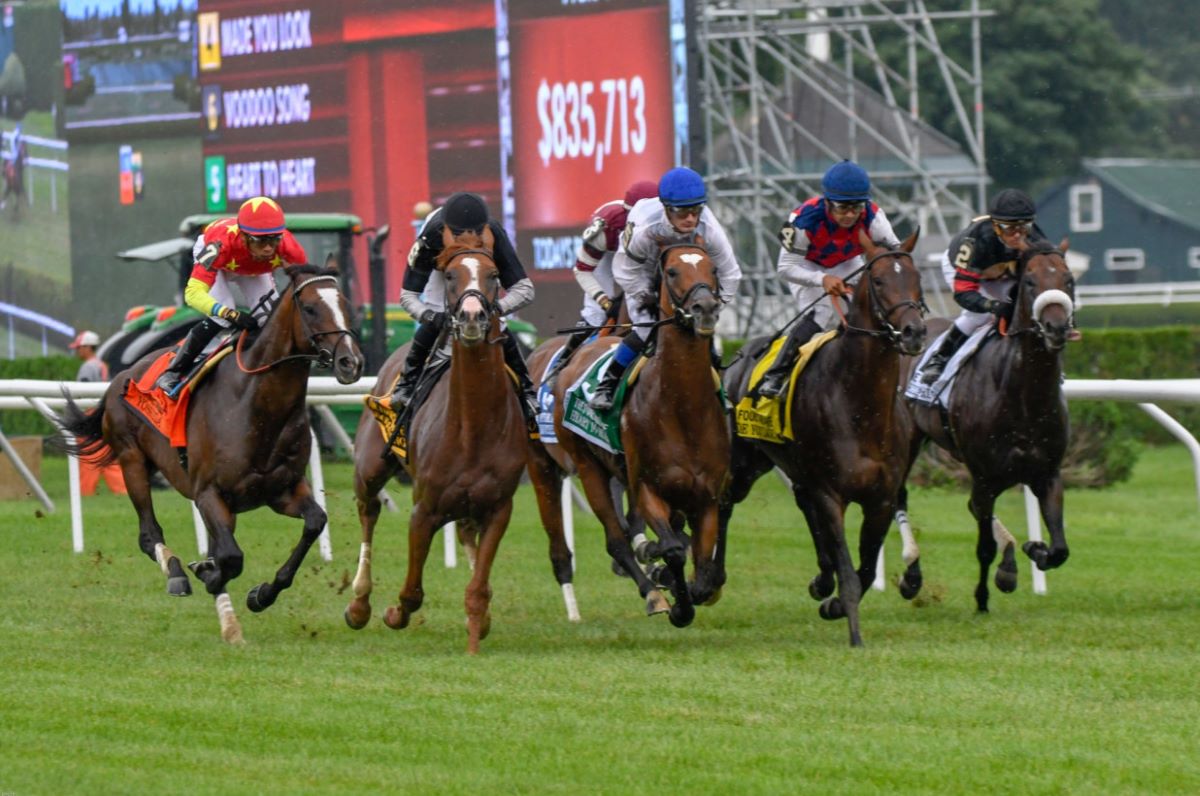 That means only members of the NYRA jockey colony, which currently consists of 22 regular jockeys and three apprentice jockeys, can ride in the prestigious and lucrative meet. NYRA did, however, leave wiggle room for out-of-town jockeys. They can be included, provided they don't ride at another racetrack after Thursday – Saratoga's opening day.
The ban extends to NYRA jockeys who leave Saratoga to ride elsewhere. They aren't permitted to return.
"These measures prioritize the health and safety of the jockeys competing in New York, and are designed to combat the spread of COVID-19," said NYRA President and CEO Dave O'Rourke in a statement. "Unfortunately, the restrictive travel policies implemented today have become necessary as cases continue to rise in states across the country."
Recent Events With Jockeys Force NYRA's Hand
They are rising precipitously among the country's jockeys, hence NYRA's draconian measures. The restrictive measures come in response to the COVID-19 outbreak, which has sidelined some of the country's most prominent jockeys. Over the last week, no fewer than six jockeys have tested positive for the coronavirus.
Three of those jockeys, Martin Garcia, Luis Saez, and Flavien Prat, raced in at least two states within a week. In Garcia's case, he raced in four states over a 10-day period in late June/early July.
While traveling from track to track – especially in the closely packed Midwest and Mid-Atlantic tracks — is part and parcel of a jockey's life, it's now problematic to dangerous. Four jockeys, Garcia, Saez, Prat, and Victor Espinoza, all tested positive after riding July 4 at Los Alamitos. Immediately following, Garcia and Saez flew East to ride in Iowa and Kentucky.
Florent Geroux, who announced his positive test Tuesday on Twitter, rode with Saez at Indiana Grand on July 8 and at Keeneland on July 9. After Saez tested positive on July 10, Geroux rode at Keeneland on July 9, 10, and 12. On the 11th, he hopped to New York to ride at Belmont Park before returning to Kentucky the next day.
Jockeys' Guild Rides in with Support
This explains why Terry Meyocks, the Jockeys' Guild President and CEO, is all-in on the restrictions, even as it cuts into his clientele's earning power. Jockeys are, after all, independent contractors.
"Under these circumstances, this is a common-sense approach to add a layer of protection for jockeys and ensure a safe and successful meet here in Saratoga," Meyocks said in a statement. "Our membership stands in full support of these new travel protocols, and we will continue to work closely with NYRA as this situation continues to evolve and change."
With an eye to flattening the suddenly ascending COVID-19 curve, NYRA sealed off jockey access. Outside personnel may not enter jockey areas, and the Saratoga jockey quarters were reconfigured to emphasize social distancing. Those quarters undergo disinfecting numerous times a day.
No Jockeys Allowed in Barns
In addition, NYRA closed the barn area to jockeys and their valets. Only trainers and their staff have access to the barns. Morning workouts for jockeys mean they meet the horse at the paddock, then take them to Saratoga's main track.
NYRA's anti-coronavirus measures don't stop there. All Saratoga Race Course personnel – jockeys, NYRA employees, trainers, staff, and credentialed media – must produce a negative COVID-19 test to enter the premises.
Saratoga's meet will run spectator-free beginning with Thursday's opening day. The summer meet will proceed as scheduled through Labor Day, Sept. 7, creating another issue: the Kentucky Oaks is scheduled for Sept. 4, and the Kentucky Derby for Sept. 5.
This figures to clean Saratoga's jockey colony of its high-profile riders for the last week or so of the meet, as riders with Derby and/or Oaks mounts head to Churchill Downs.