Despite a spike in coronavirus, NFL Week 6 soldiers on with ten close games that oddsmakers initially set lines between 2.5 and 3.5 points. Green Bay Packers (4-0), Pittsburgh Steelers (4-0), Tennessee Titans (4-0) are the only undefeated teams remaining and all three seek to continue their perfect seasons. The trio of terrible winless 0-5 teams – Atlanta Falcons, New York Giants, and the LOL Jets – continue their desperate attempt to win their first game of the season while fading a 0-16 season.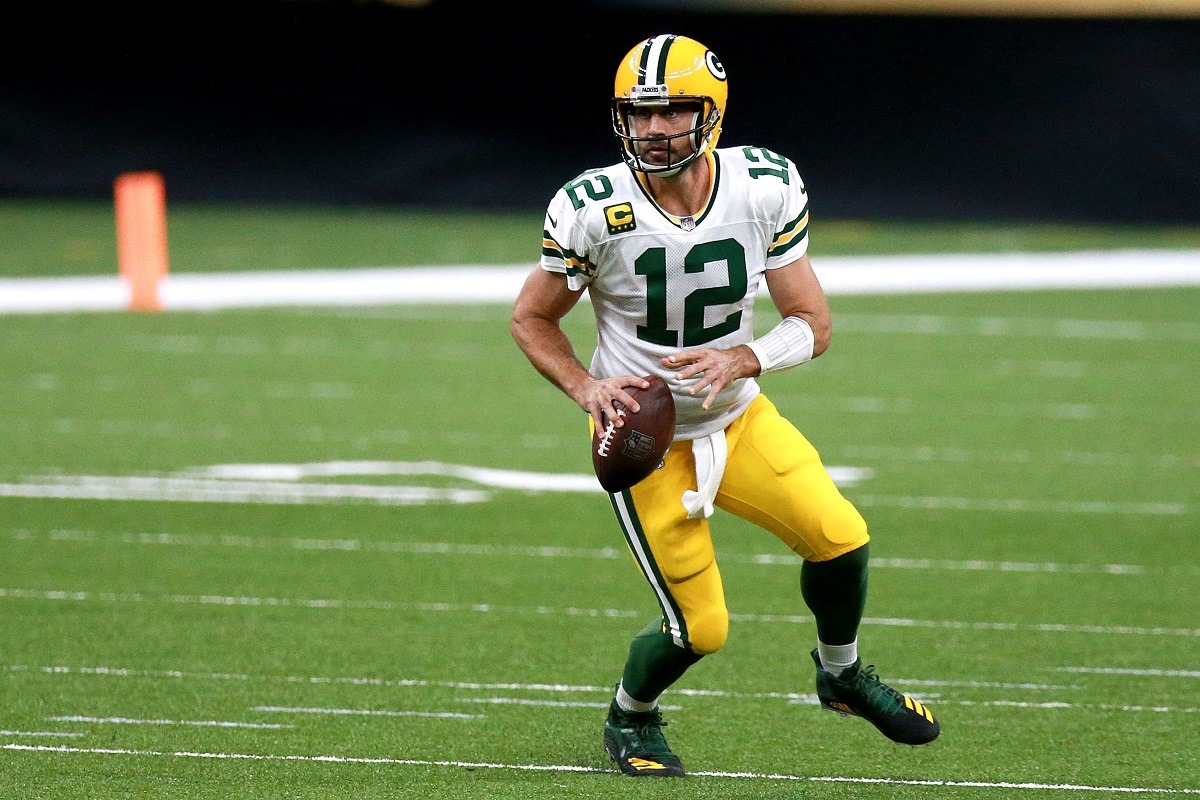 COVID-19 positive tests continue to hamper the NFL season with the Atlanta Falcons and Jacksonville both fighting to contain outbreaks within their respective teams.
Week 6 features the postponed Denver/New England game that the NFL originally scheduled in Week 5. Monday Night Football fans are also rewarded with two MNF games.
Here's a quickie NFL betting rundown of all 14 games during Week 6…
Perfecto
Green Bay Packers (4-0) at Tampa Bay Bucs (3-2)… Aaron Rodgers vs. Tom Brady. Green Bay's top-ranked offense (38 ppg) perfect season runs through Tampa Bay. Rodgers is fresh off a bye week, while Old Man Brady continues to provide meme fodder after his senior moment at the end of a loss to the Chicago Bears on TNF. LINE: GB -1
Cleveland Browns (4-1) at Pittsburgh Steelers (4-0)… Smashmouth AFC North football! The Browns are off to their best start since 1994, but an undefeated Pittsburgh team stands in their way. On the flip side, if the Steelers want to improve to 5-0, they have to fend off the run-happy Browns. ODB missed practice this week with an undisclosed illness, but he'll play. LINE: Pittsburgh -3.5
Houston Texans (1-4) at Tennessee Titans (4-0)… The Titans won the first ever Tuesday Night Football game in the history of the NFL last week, but now they play five days later in Week 6. At least they get to host the disastrous Texans. And yes, good luck to any member of the Texans defense that has to tackle Derrick Henry in the open field. LINE: Tennessee -3.5
KING HENRY IS A BEAST 🤯 @KingHenry_2 @Titans pic.twitter.com/TVggzkCMYo

— The Checkdown (@thecheckdown) October 14, 2020
Pats Post-COVID, Birds Battle
Denver Broncos (1-3) at New England Patriots (2-2)… Bill Belichick had an extra week to prepare for Vic Fangio and the listless Denver Donkeys. With or without Cam Newton, he'll crush Denver's souls before they even step onto the field at Foxboro. Drew Lock is expected to return for Denver after missing a couple of starts with a shoulder injury. LINE: NE -8
Baltimore Ravens (4-1) at Philadelphia Eagles (1-2-1)… Philly will be a +9.5 home dog, but the Ravens boast the top defense in the NFL that allows 15.2 points per game. The Eagles struggle to score with the #10 worst offense in the NFL (22.6 ppg). Baltimore's offense is a bit shaky so consider the total (47.5 o/u) in this one. LINE: Baltimore -9.5
Cat Teams
Cincinnati Bengals (1-3-1) at Indianapolis Colts (3-2)… Rookie Joe Burrow has been steadily improving each week, but the team has plenty of other problems on offense (ranked #4 worst offense with 20.4 ppg). Note that bookies took this game off the board at press time on Friday morning. The previous line had the Bengals as an underdog by more than a touchdown. LINE: Indy -7.5
Detroit Lions (1-3) at Jacksonville Jaguars (1-4)… Call this one the Kitten Bowl. The Lions should win this one on paper, but don't count out Gardner Minshew and the Jaguars when they're home dogs. The big question in the Big D looms… if the Jags beat the Lions, with Detroit finally fire Matt Patricia? LINE: Detroit -3
Chicago Bears (4-1) at Carolina Panthers (3-2)… Da Bears are 4-1 and a slim underdog heading into Carolina. This will be a good test for Chicago to see if they are legit playoff contenders or a fugazi team. Panthers backup RB Mike Davis did a kick-ass job replacing Christian McCaffrey. Davis scored a touchdown in each of the last three games. LINE: Carolina -1
Bigus Mala: Dirty Birds, LOL Jets, Little Giants
Atlanta Falcons (0-5) at Minnesota Vikings (1-4)… This week's battle of futility includes the winless Falcons visiting the one-win Vikings. Running back Dalvin Cook is out with a hamstring injury, but his replacement Alexander Mattison is no slouch. LINE: Minnesota -4
New York Jets (0-5) at Miami Dolphins (2-3)… FitzMagic and the Fish gets a chance to light up his old team. Those LOL Jets were humiliated this week twice: 1) cutting Le'Veon Bell, then 2) Bell signing with the Super Bowl champs KC. The Jets have a point differential in excess of 17 points. You could add 10 points to the current line and we'd still bet against the winless Jets. We've been Fading the LOLO Jets all season until they finally fire inept head coach Adam Gase. The atrocious Jets are 0-5 ATS because the team gave up on their coaching staff, which makes us 5-0 betting against them. LINE: Miami -9
Washington (1-4) at New York Giants (0-5)… The Giants smell blood in the water. If they win a game this season, this is it! Alex Smith made a triumphant return to the field last week when he came off the bench to complete his comeback. It would be a shame if the sketchy turf at MetLife Field claimed another victim, especially Smith. LINE: NYG -2.5
NFL Week 6 – TV Games
SNF: LA Rams (4-1) at San Francisco 49ers (2-3)… The Niners are on a similar trajectory as the 2019 Rams; from Super Bowl runner up to the playoff bubble. The Niners are a hot mess, while the Rams are a well-oiled machine. The Niners are actually a SNF home dog, which will draw plenty of action from "wiseguys" and "sharps", but don't over think this one. The Rams are clearly the better team and have their eyes on regaining the NFC West crown. LINE: LA Rams -3
MNF: Arizona Cardinals (3-2) at Dallas Cowboys (2-3)… The Cowboys are still reeling after losing QB Dak Prescott to a horrific ankle injury. But not to worry, Andy Dalton is ready to step in as the next man up. Arizona faces the worst defense in the NFL with the Cowboys allowing 36 points per game. LINE: Arizona -1.5
MNF: Kansas City Chiefs (4-1) at Buffalo Bills (4-1)… Both teams were 4-0 heading into Week 6 but suffered their first loss of the season. This will be a bounce back game for one team, while the other must lick their wounds after back-to-back losses. LINE: KC -4.5