The NFL Week 4 highlights had it all on Sunday. There was a wide receiver pass for a touchdown, a quarterback who looked like a tight end blocking, and an animated pick-six interception on a legend of the game.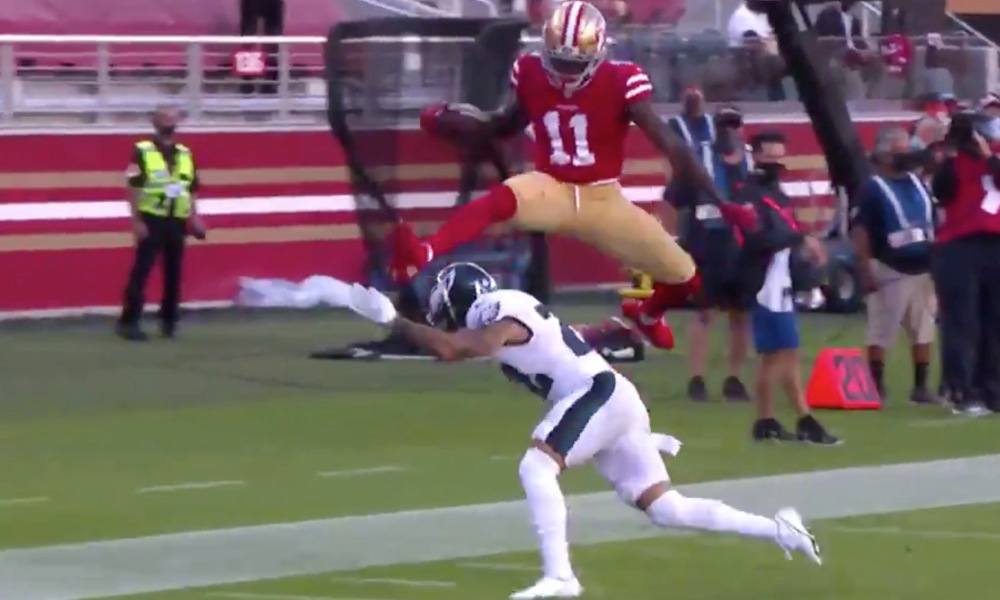 There was also Indianapolis quarterback Philip Rivers trash-talking an opponent, and Chicago quarterback Nick Foles playing a who lot like the guy he replaced.
Landry Throws a Rope
We love razzle-dazzle in the NFL. The Dallas Cowboys knew Cleveland's Jarvis Landry was a great receiver, but he showed them he's a pretty good quarterback as well.
JARVIS LANDRY TO ODELL BECKHAM JR.❗️

📺: @foxsports pic.twitter.com/79gnFPgL99

— Cleveland Browns (@Browns) October 4, 2020
How cool was that play? Landry threw a tight 40-yard-plus spiral to Odell Beckham Jr. for the first touchdown of the game. This is exactly the kind of play NFL teams need to run more often.
Trash-Talking Hall of Famer
What do we like more than a trick play? Trash-talking, and lots of it. Indianapolis quarterback Philip Rivers is one of the best.
Never a dull moment with Philip Rivers😂

(🎥 via @thecheckdown) pic.twitter.com/gaEVRg65gl

— PointsBet Sportsbook (@PointsBetUSA) October 4, 2020
Here he goes at it with Chicago linebacker Roquan Smith. Is it wise to get mouthy with a guy who can put you in concussion protocol? Rivers seems to be OK with it.
Um, You're No. 1?
Los Angeles Chargers defensive back Michael Davis wanted to show the fans at Raymond James Stadium how much he enjoyed his interception of Tampa Bay's Tom Brady. Davis intercepted a Brady pass and ran it back 78 yards for the score.
Tom Brady throws a pick-6 to give the Chargers (+7.5) a 14-7 lead over the Bucs!

Live odds:
Los Angeles-C +130
Tampa Bay -160 (-2.5)#LACvsTB pic.twitter.com/luuN0cnWGI

— SportsBettingDime (@SBD) October 4, 2020
After the score, Davis gave a one-finger salute to the fans on that end of the field. Fortunately, it was his index finger and not the digit next to it, but it takes looking at the clip a couple of times to make sure.
Hurdle of the Week
It appears hurdling over defenders is becoming standard practice in the NFL. There's at least one a week, or so it seems.
BRANDON AIYUK'S GOT BUNNIES 🐰 @THE2ERA pic.twitter.com/jVUzXKW302

— The Checkdown (@thecheckdown) October 5, 2020
This one by San Francisco wide receiver Brandon Aiyuk is special because he scored, and he completely cleared Marcus Epps. That's impressive vertical.
Look What I Found
It was a rough day for Chicago quarterback Nick Foles, who lost to Indianapolis, 19-11. He had an interception on the day, but in all honesty, it wasn't really his fault.
Nick Foles' tough day continues with INT in Colts (-3) territory!

Foles is just 18/34 with 159 yards today.

Live odds:
Colts -5000 (-13.5)
Bears +1500#INDvsCHI #ForTheShoe pic.twitter.com/5bO4MSWkzd

— SportsBettingDime (@SBD) October 4, 2020
That's a catchable pass, it just slipped through hands of Anthony Miller into the somewhat surprised Julian Blackmon.
Hey, Hello, I'm Open
The Cleveland Browns defense decided they didn't need to cover Dallas wide receiver CeeDee Lamb, and the rookie made them pay for it.
CeeDee Lamb had his invisibility cloak on

— Bovada (@BovadaOfficial) October 4, 2020
Lamb went from kind of open to totally open in the matter of five yards. It was one of the few highlights for Dallas as the Cowboys were beaten by Cleveland, 49-38.
Let's Get Physical
Anytime a quarterback makes a block, we're a fan of it. Philadelphia's Carson Wentz showed some good form in locking up his man on this play. Wentz blocked 49ers cornerback Dontae Jackson, and kept blocking even after the whistle.
Wentz showing off the blocking ability 👀 @cj_wentz pic.twitter.com/FDs7CTt3CG

— The Checkdown (@thecheckdown) October 5, 2020
That will earn you some huge points with your teammates.
You make the call
Buffalo wide receiver John Brown made an incredible catch near the end zone. He thought he scored. The refs disagreed. What say you, OG Nation?
This was ruled as no touchdown AFTER replay.

How?pic.twitter.com/0b82bW7xVd

— BetOnline.ag (@betonline_ag) October 4, 2020
We thought the ball crossed the line, but hey, what do we know?
I'll Just Move That
When the playing days of Philadelphia defensive tackle Malik Jackson are over, he might have a career as a referee.
Lmaooooooo pic.twitter.com/f8Ageh9nuw

— Christopher Powers (@CPowers14) October 5, 2020
Pretty sly move. It didn't help, though, as San Francisco scored.