The San Francisco 49ers, Dallas Cowboys, Indianapolis Colts, and Houston Texans all lost in the opening week and they all want to avoid falling into an 0-2 hole during Week 2 of the NFL season.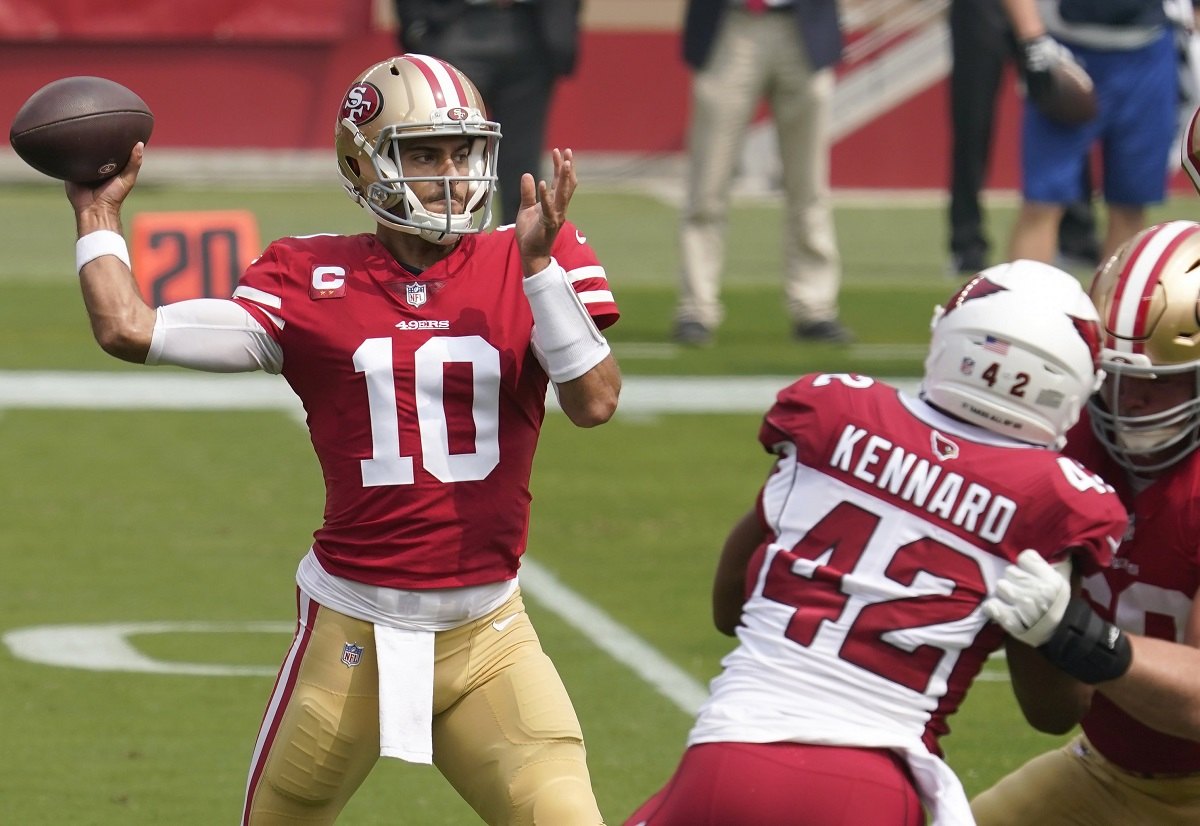 The worst thing you can do when it comes to NFL betting is over-react to the previous week. That rings especially true during the first week of the season.
Without preseason games this season due to coronavirus concerns and prevention, many teams are using September as their preseason to work out issues that they'd typically address in training camp and during exhibition games.
That's good news if your team lost in Week 1 and didn't look so hot. Unless you're a Jets fan, then you're just screwed, mate.
The NFL schedule for Week 2 includes 10 early games on Sunday, and only three late games. If you've been too busy with life stuff, here's a quickie rundown of NFL Week 2 to get you up to speed.
New Coaches Avoid 0-2
Atlanta Falcons (0-1) at Dallas Cowboys (0-1) … Todd Gurley rushed for 56 yards and scored a touchdown in his debut with the Dirty Birds. Matty Ice threw for 450 yards and two TDs, but got his arse handed to him by Russell Wilson (four TDs). The Dallas Cowboys scored just three points in the second half and were upended by LA Rams on Monday Night Football. Mike McCarthy is still seeking his first win with his new team, but the Cowboys offense looked uninspiring as per usual. Line: Dallas -4.5.
NY Giants (0-1) at Chicago Bears (1-0) … The Joe Judge era started off on the wrong foot with a loss to the Pittsburgh Steelers on Monday Night Football. Daniel Jones (aka Danny Dimes) threw two touchdowns, but also threw two interceptions. He rushed for more yards than Saquon Barkley. The Steelers stuffed the run and held Barkley to six yards on 15 carries. Mitch Trubisky looked like an All-Pro QB with a surprise win over the Detroit Lions. Mitchy tossed three touchdowns in the fourth quarter, and the defense pitched a shutout in the 4Q. Line: Chicago -5.5.
Carolina Panthers (0-1) at Tampa Bay Bucs (0-1) … Tom Brady got a taste of what it's like living on the other side of the fence. Tommy Boy and the Bucs started the season 0-1 after a tough loss to Drew Brees and the New Orleans Saints in the first meeting of the Old Bowl. Now it's Week 2, and Tommy Boy and Gronk are actual home dogs. That almost never happened in New England. Teddy Bridgewater made his debut with the Carolina Panthers, but lost. Christian McCaffrey made fantasy football owners somewhat happy with 135 combined yards and 2 TDs. Line: Tampa Bay -8.5.
Janoris Jenkins jumps in front for the pick-6! #Saints

📺: #TBvsNO on FOX
📱: NFL app // Yahoo Sports app: https://t.co/5o8cWoN1yf pic.twitter.com/59dxseKWNC

— NFL (@NFL) September 13, 2020
Battle of Undefeated Teams
Kansas City Chiefs (1-0) at LA Chargers (1-0) … The LA Chargers beat a rookie QB making his debut with the Cincy Bengals. They get to play a real team in Week 2 with a date against the Super Bowl Champions. The Chiefs still look like the best team in the NFL. Andy Reid put his new weapon, rookie RB Clyde Edwards-Helaire, to good use. He scored one touchdown and rushed for 138 in his NFL debut. Line: KC -8.5.
Washington (1-0) at Arizona Cardinals (1-0) … Who woulda thunk these first-place teams would be meeting for a shot at starting the season 2-0? Washington stole a victory against the lackluster Eagles. Arizona's offense looked in peak form to start the season. DeAndre Hopkins made a career-high 14 catches with his new team for 151 yards. Line: Arizona -7.
A career-high 14 catches for @DeandreHopkins in his @AZCardinals debut. #AZCardinals

📺: #AZvsSF on FOX
📱: NFL app // Yahoo Sports app: https://t.co/5o8cWoN1yf pic.twitter.com/zh3QAsAL5f

— NFL (@NFL) September 13, 2020
NFL Conundrum: 2-0 or 0-2 in Week 2?
Baltimore Ravens (1-0) at Houston Texans (0-1) … The Ravens started their season by dismantling the Cleveland Browns. Lamar Jackson threw three TDs in the win. Now he gets to pick apart the porous Houston secondary. The Texans have one of the hardest schedules in the NFL this season. After losing to the KC Chiefs on Thursday Night Football, they get extra rest to prepare for L-Jax and the Ravens. Line: Baltimore -7.
Minnesota Vikings (0-1) at Indianapolis Colts (0-1) … The Vikes lost a 43-34 shootout against the Packers in the opener. Philip Rivers and the Colts went cold in the second half against the Jags. The Colts lost Marlon Mack, so rookie Jonathan Taylor gets the start with Nyheim Hines moving up on the depth chart. Line: Indy -3.
Denver Broncos (0-1) at Pittsburgh Steelers (1-0) … The Steelers had a cakewalk against the Giants. JuJu Smith-Schuster scored twice, Big Ben threw three touchdowns, and Benny Snell rushed for 113 yards when James Conner went down with an injury. The Broncos lost to the Titans on Monday Night Football in a game they blew thanks to Vic Fangio's last-minute brain fart. Fangio opted for the Andy Reid School of Clock Management and squandered a chance to beat the Titans. Line: Pittsburgh -7.5.
LA Rams (1-0) at Philadelphia Eagles (0-1) … Sean McVay is back! The LA Rams looked more like the team that went to the Super Bowl than last year's squad that looked stiff. Malcolm Brown set a career-high 79 rushing yards, 110 combined yards, and two TDs. The Eagles lost to the Washington Football Team during a collapse in which they gave up 20 points in the second half. Line: LA Rams +1.
A Tale of Two Cat Teams
Jacksonville Jaguars (1-0) at Tennessee Titans (1-0) … Gardner Minshew Mania returns to Jacksonville. The Jags upset the Indianapolis Colts in Week 1 thanks to three touchdowns from Minshew. Everyone expected the Jags would be trash this season, but they looked a lot better than those LOL Jets. The kicking woes continue for the Titans. Stephen Gostowski used to be automatic money in New England, but he missed several kicks for the Titans in their MNF matchup against the Denver Broncos. Mike Vrbael gave Gostowski a chance to redeem himself late in the game, and the kicker got the monkey off his back with a game-winning FG. Line: Tennessee -8.5
Detroit Lions (0-1) at Green Bay Packers (1-0) … Green Bay won a shootout in Week 1 against divisional foe the Minnesota Vikings. Everyone was down on the Packers last season, and they're still dismissing them again this season. Until the Packers prove otherwise, they're the team to beat in the NFC North. The Lions choked last week against Mitch Trubisky. Same old ugliness in the Big D. Line: Green Bay -6.5
.@AaronRodgers12 going DEEP to @MVS__11 for the TOUCHDOWN!#GBvsMIN | #GoPackGo

📺 FOX
📱 https://t.co/2UxGSiVlvn pic.twitter.com/XvrNUQyJaz

— Green Bay Packers (@packers) September 13, 2020
Home Dog Alert: LOL Jets, FitzMagic and the Fish
San Francisco 49ers (0-1) at NY Jets (0-1) … The Jets are always a home dog and on the perpetual "Home Dog Alert." After an ugly Week 1 loss to the Buffalo Bills, the Jets play the Super Bowl runner-up. We will be fading the Jets every week this season. The 49ers spot the Jets, who are missing their starting RB and top WR to injuries, a touchdown. The Niners were shocked by an Arizona Cardinals squad on the rise. The Niners' D coughed up two touchdowns in the fourth quarter. Raheem Mostert generated 151 yards of offense in the loss. Line: SF -7.
Buffalo Bills (1-0) at Miami Dolphins (0-1) … Ryan Fitzpatrick has yet to unveil FitzMagic in Miami this season. The Fish started 0-1 after losing to the Cam Newton-led New England Patriots. FitzMagic threw three interceptions and no touchdowns. Ouch. The Bills beat the Jets, which isn't saying much. Next up, shooting fish in a barrel in South Beach. Line: Buffalo -6.