Chris Long, two-time Super Bowl winning linebacker, is one of the many NFL players who prefer marijuana over painkillers.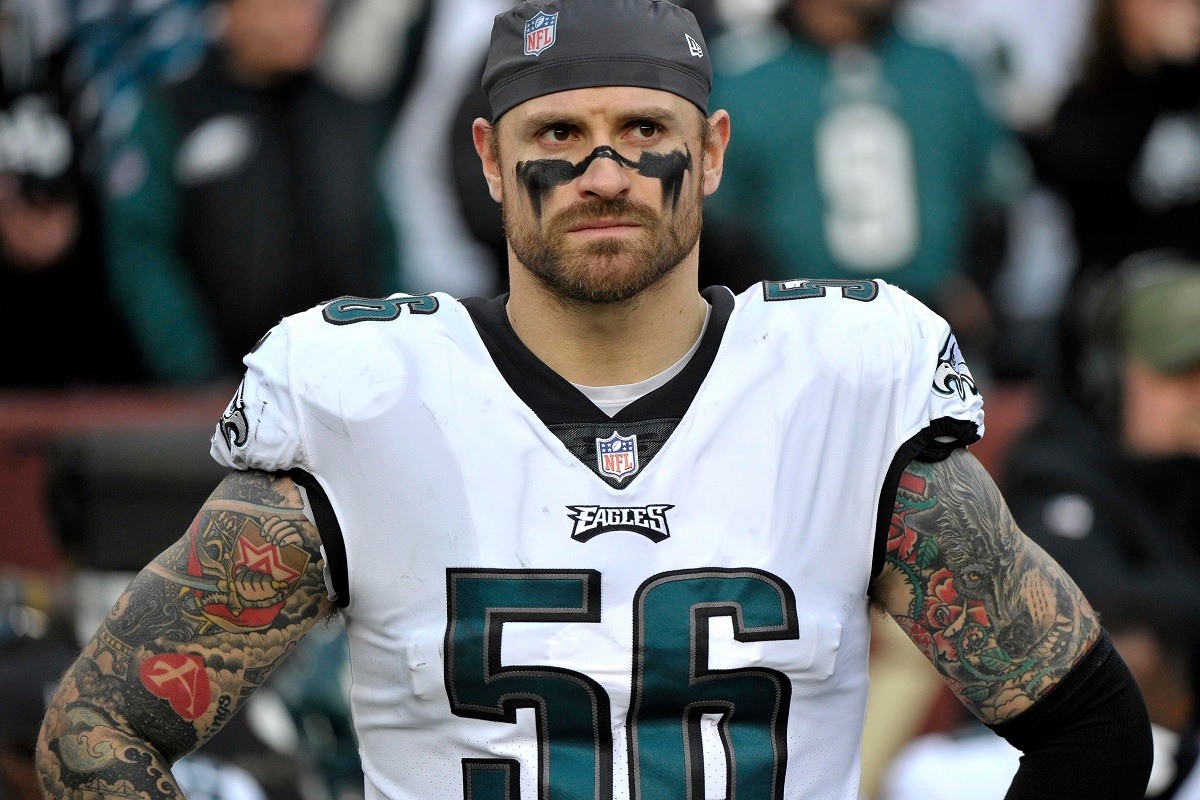 Long, 34, retired a couple of days ago and the former member of the Philadelphia Eagles and New England Patriots  player revealed his usage of recreational marijuana to help deal with the recovery process o being a pro football player.
Long, the son of Hall of Fame lineman Howie Long from the Oakland Raiders, played in the NFL the last 11 seasons. He spent eight years with the St. Louis Rams before signing with the New England Patriots for one season in 2016.
Long won his first championship with Tom Brady and the Pats in Super Bowl LI. He finished his career with two seasons with the Philadelphia Eagles. Long won his second Super Bowl with a victory for the Eagles over his ex-team the Patriots in Super Bowl LII.
Long preferred marijuana to help him sleep and relieve pain instead of turning to pharmaceutical drugs like sleeping pills and painkillers. He thinks the NFL should soften their stance on marijuana because it helps players cope with the wear and tear of a brutal 17-week season plus the playoffs.
High-Flying Eagle
Chris Long appeared on the Dan Patrick Show as a marijuana advocate.
"We should be headed to a place where we allow players to enjoy what I would not even call a drug," said Long. "it's far less dangerous than guzzling a fifth of alcohol and going out after a game."
Players staying at home smoking weed seems like a safer alternative to getting drunk in bars and clubs, where things can escalate between players and the public.
"From a standpoint of what's safer for people and the player, certainly people in the spotlight, (marijuana) is far less harmful than alcohol," said Long. "It is far less harmful than tobacco, and at various points in the league's history, they have engaged in partnerships on different levels with those respective industries."
Beer companies are popular sponsors on NFL broadcasts, while teams have individual deals with beer sponsors.
"I'm not a dry snitch," said Long. "And not going to put a percentage on how much the league smokes, but I certainly enjoyed my fair share on a regular basis through my career. I'm able to say it more explicitly now: Listen, if not for that, I'm not as capable of coping with the stresses of day-to-day NFL life. A lot of guys get a lot of pain management out of it."
Toradol has proven to cause long-term damage in NFL players, but it's a drug that players often take to help dull the pain and remain on the field. NFL players are known for lining up a couple of hours before kickoff to get a shot of Toradol from the team doctor.
Smoking Tough
Marijuana tends to stay in your system significantly longer than harder drugs like cocaine and heroin. Powdery drugs tend to exit the bloodstream in less than a few days. You could smoke one hit off a joint a month ago, yet still get flagged.
Meanwhile, someone could have been doing lines of cocaine on Friday before a urine test on Monday and still come out clean.
Most NFL players know the date of their mandatory drug testing in advance. Everyone cleans up in the weeks leading up to their test. For pot smokers, that meant at least a month of prohibition.
"In that month or two that you stop, you're going to reach for the sleeping pills, you're going to reach for the pain-killers and you're going to reach for the bottle a little bit more," said Long. "If you're serious about players not using, you'd be testing more often. I hope they go the opposite direction and just kind of realize how arbitrary that one test is."
Josh Gordon, wide receiver for the New England Patriots, stepped away from the team in midseason when he learned he failed a drug test. Gordon, who has a well-known affinity for marijuana, indulged in a little herb tokage during the Patriots bye week. The NFL suspended Josh Gordon indefinitely.
Obviously, the players' union wants the NFL to amend their stance on marijuana to reflect America's shift in their overall attitude to marijuana consumption. After all, 20 percent of the country offers recreational marijuana.
Legalize It
Recreational marijuana is legal in ten states in America. Meanwhile, marijuana is still illegal in ten states. There's a grey area in the other 30 states that have some sort of decriminalization or medicinal laws on the books.
Only three states with illegal marijuana have NFL franchises: Wisconsin, New Orleans, and Tennessee.
While the NFL has been slow to address its problems with head injuries and addiction to painkillers, players will continue to seek out alternative means to heal themselves. And as Chris Long explained, utilizing marijuana, THC, and CBD is going on in the NFL during the offseason and regular season.
Heavier opiates like Vicodin and Oxycontin are dangerous due to their addictive quality. Once you get hooked, it's tough to stop. Hall of Fame quarterback Brett Favre has spoken openly about his addiction to Vicodin, which included popping up to 14 at a time.