According to the latest trade rumors and rumblings coming out of the Big Apple, the New York Knicks will try to trade Julius Randle if they can pull off a huge deal to acquire Donovan "Spida" Mitchell from the Utah Jazz.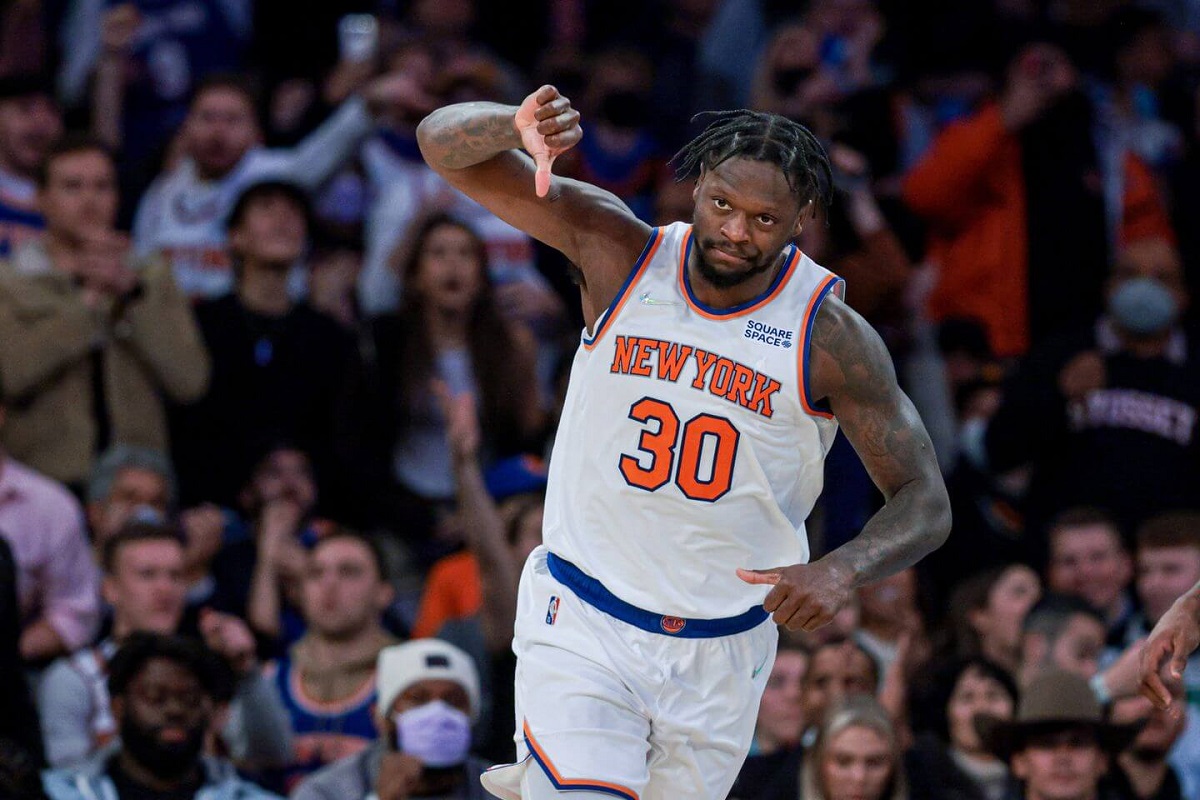 The Knicks would love to trade Randle to the Jazz in any deal involving Mitchell, but Jazz president Danny Ainge prefers draft picks and doesn't want veterans like Randle with a huge multiyear contract.
According to numerous reports, Ainge asked the Knicks for six first-round draft picks plus a couple of up-and-coming players in exchange for Mitchell. After Ainge robbed the Minnesota Timberwolves in the Rudy Gobert trade for four draft picks and five players, it set a ridiculous market for future trades. The Knicks stockpiled draft picks this offseason and hoped four would be sufficient to lure Mitchell away from the Jazz. Six first-rounders seems absurd.
The Knicks are the only team in a position to overpay the Jazz for Mitchell, which puts the Miami Heat out of contention.
Perhaps Knicks General Manager Leon Rose can work out a deal with Ainge and give him the six draft picks he wants, so long as the Jazz take Randle in the trade. Otherwise, Rose and the Knicks will have to work out a separate trade for Randle, who won't be a good fit with Mitchell on the court at the same time.
Who wants Julius Randle?
The Knicks missed a chance to trade Randle last summer when his stock was at a 52-week high. Randle had an MVP-like season in 2020-21, leading the Knicks from the basement to the #4 seed in the Eastern Conference. However, this past season was an utter disappointment with the Knicks failing to qualify for the Play-In Tournament.
Randle struggled shooting-wise, especially from 3-point range last season. Randle's frustrations were magnified during his sub-par season when disgruntled fans stopped chanting "M-V-P!" at MSG, and responded with a chorus of boos instead. The already rocky relationship with Randle and fans reached a low point when he gave the boo birds a thumbs down. At that point, it didn't matter if you worked on Wall Street or delivered pizzas because the legion of Knicks fans wanted Randle out of town.
The problem is that Randle earns too much money. His extension — where he averaged $26 million over the next our seasons — is about to kick in this season, which makes it even more difficult to move him to a team willing to overpay for an average player who had one amazing season before reverting back to his old ways.
The Knicks are seeking a couple of first-round picks for Randle to replenish what they'll eventually have to give up for Mitchell. Teams aren't willing to take on that much salary, so there's a non-existent trade market for Randle. That won't stop the Knicks from making calls, though. Would the Detroit Pistons or Portland Trail Blazers be interested in a Randle trade?
Spida and Brunson won't mesh with Randle
There's only one basketball, which is problematic when a team has a ball-hog or runs an antiquated isolation-heavy or post-up offense. Randle is old-school and likes to run ISO plays where he dribbles a lot and then takes an off-balance jump shot while four teammates stand around watching him. That tactic worked two seasons ago, but it was disastrous last season.
There's no denying that Jalen Brunson is a talented point guard who can drop 40 on any given night, and that the Knicks signed the best point guard prospect they had in two decades. However, Brunson wants the opportunity to shine in a free-flowing offense. He left the Dallas Mavericks because he grew weary of playing with Luka Doncic. Yet, it seems like Brunson will face the same situation with Randle.
Doncic — aka the Slovenian Wunderkind — is one of the most exciting ball players in the league, but the Mavs' offense ran through him. It's frustrating waiting for Doncic to pass out of a double- or triple-team with time expiring on the shot clock, leaving teammates with no option but to rush a poor shot. If Brunson loathed the heliocentric offense with Doncic in Dallas, just wait until Randle tilts him on a nightly basis.
If the Knicks add a voluminous scorer like Mitchell in a trade, that means Brunson will see even less of the ball. Plus, the Knicks also have a slasher like RJ Barrett in the starting lineup. As such, it makes sense to ditch Randle in a trade, which would give the Knicks an opportunity to have a free-flowing, guard-heavy offense.
Check out more NBA trade rumors.