To Bob Baffert, Saturday's Grade 1 Met Mile at Belmont Park is more than one of the top older-horse races on Belmont Park's summer calendar. To the Hall of Fame trainer, watching McKinzie seek history in one of the most historic races on the East Coast means more than another trip to the winner's circle.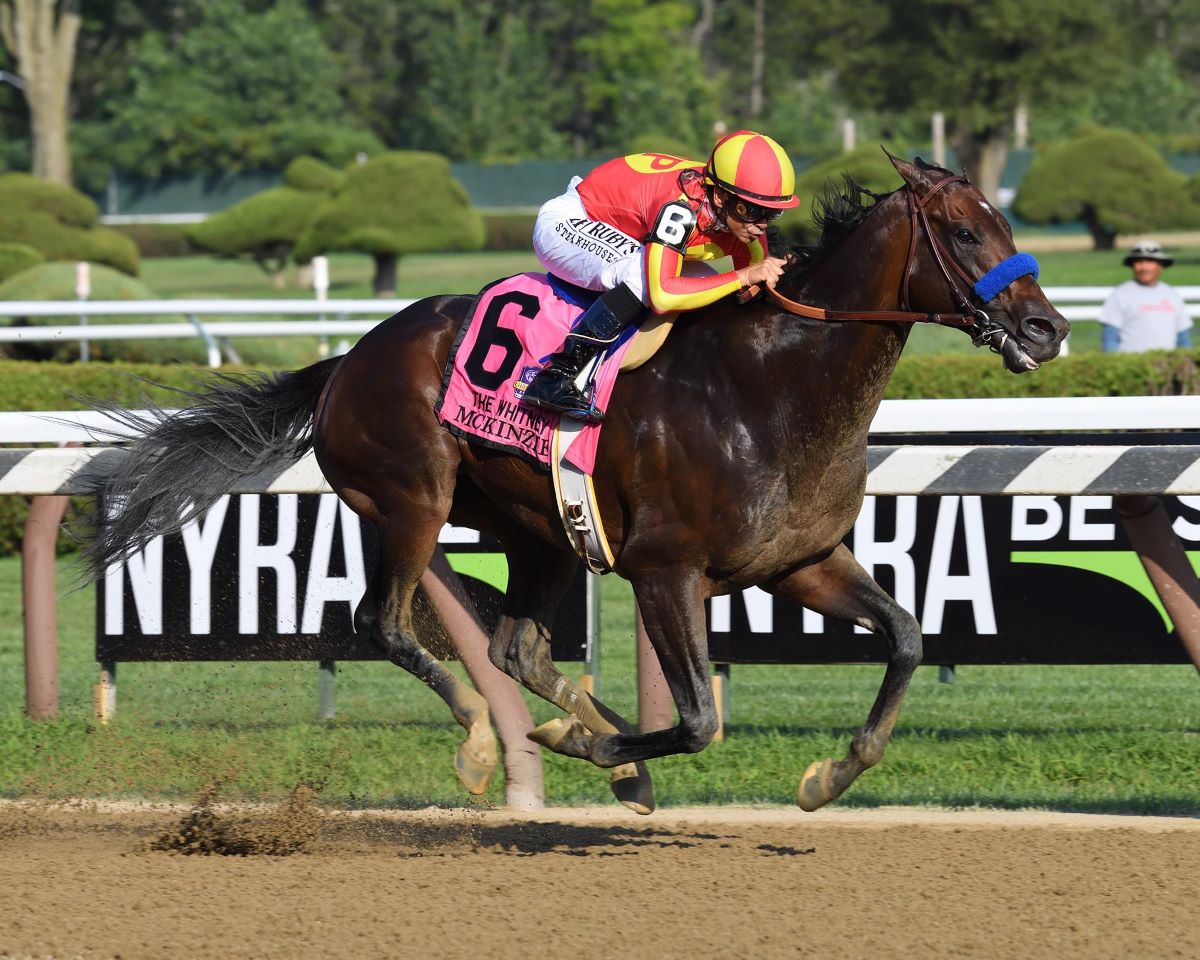 Put aside for a moment that McKinzie could make North American Thoroughbred history in the Met Mile. Should McKinzie conquer a loaded field of older males that includes two-time Grade 1 winner Code of Honor, he'll become the first North American male to win a Grade 1 race at ages 2, 3, 4 and 5.
"I think any time you win a Grade 1 on the East Coast, it's pretty important, especially at Belmont and Saratoga," Baffert told NYRA's Ryan Martin. "It's like hitting a home run in Yankee Stadium. It means something."
To Baffert, anything McKinzie accomplishes means something. Perhaps more than any other horse, the 5-year-old stallion-in-waiting is Baffert's "baby." McKinzie bears the name of Baffert's late close friend, Brad McKinzie. The racetrack executive, who was the primary architect of Los Alamitos getting Thoroughbred racing after Hollywood Park's 2013 closure, died of renal carcinoma at 62 in 2017.
"It's exciting having such a good horse named after our dear friend Brad McKinzie. His mother is still alive and so it keeps her going," Baffert said. "She loves watching him run and it brings a tear to her eye when he runs. There's a little added pressure when he runs. … Like his namesake, the horse has a great personality and when he performs, we're always thinking of Brad."
Baffert Takes McKinzie's Losses Harder Than Anyone
McKinzie means so much to Baffert that it takes a piece out of him when he loses. He told former Louisville Courier-Journal turf writer and current publicist Jennie Rees, "Every time he gets beat, it's very frustrating because I think of Brad."
That being the case, Baffert relaxes half the time McKinzie runs. The Street Sense progeny owns eight victories in his 16 career starts. That includes four Grade 1s: the Los Alamitos Futurity (at age 2), the Pennsylvania Derby and Malibu Stakes (at 3) and the Whitney (4). In that latter race at Saratoga last summer, McKinzie rolled up career-best speed figures of 111 (Beyer) and 121 (Equibase).
McKinzie warmed up for the Met Mile by romping to victory in the Grade 2 Triple Bend Stakes a month ago at Santa Anita. Even against a weak field, that marked the 14th time in 16 races McKinzie finished either first or second. He's racked up 10 triple-digit Beyer Speed Figures. All of which explains his $3.43 million in career earnings.
After Last Year's Near Miss, This Met Mile Means More
It also partially explains why this race means even more to Baffert. In last year's Met Mile, McKinzie finished second by three-quarters of a length to standout sprinter Mitole. Considering McKinzie was boxed in for most of the stretch before wriggling loose and simply running out of track, Baffert's frustration was off the charts.
"To me, I think we're all living through this horse, thinking about Brad," Baffert told Rees. "He's got a lot of fans. I feel a little extra pressure on me when this horse runs, because I know we're all thinking about him. I'm just glad we named a really good horse after him. It would have been horrible if I'd have had to geld this horse."