Floyd Mayweather might want to add "Big" in front of his "Money" nickname after boasting he is expecting at least $300 million from his fight with Conor McGregor on August 26, at T-Mobile Arena in Las Vegas.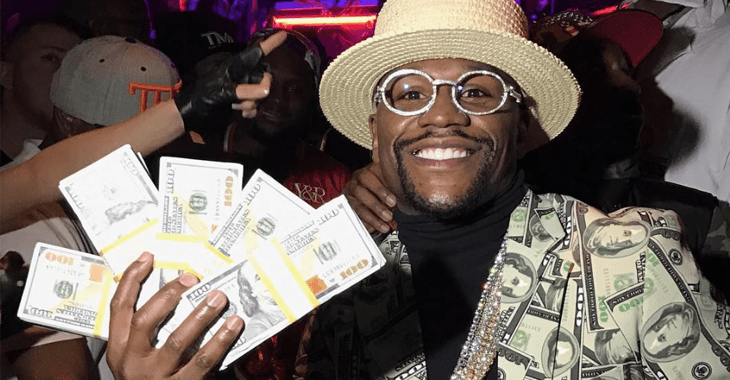 Rumors of a big payday for the undefeated boxer, who is considered the best pound-for-pound fighter of all time, had been swirling since news of the fight was announced June 14.
Mayweather has been his best promoter, selling himself as one of the most elite athletes. He was on Showtime's "All Access: Mayweather v. McGregor" and boasted about his skills.
"I mean, am I the highest-paid athlete out there? And just coming back? We not talking about no contract," Mayweather said. "We not talking about no contract for no four years, or no contract for no five years. I can do it in 36 minutes. $300 (million) or better. In 36 minutes."
If the fight goes the distance Mayweather will make a staggering $8 million per minute. McGregor is expected to make $100 million for the contest.
Mayweather's last fight was in September 2015 and afterword he announced his retirement with a 49-0 record. He did say he would return to the ring to take on the 29 year-old.
Costly Pay Per View
The closed circuit tickets for the bout are priced at select MGM properties in Las Vegas. The Aria, Bellagio, MGM Grand, Mandalay Bay, The Mirage, Monte Carlo, New York-New York, Luxor and Excalibur are priced at $150.
For those wanting to watch at home, the price is $89.95 plus $10 more for high definition.
The last Mayweather contest, when he fought Manny Pacquiao in 2015, critics panned the cost of the fight. Steven Espinosa, Showtime Sports Executive Vice President, justified the price of the pay per view, saying it was a once in a lifetime event with boxing's greatest and an MMA legend.
"There's a public sentiment we have got to pay attention to, but we also got to recognize this is a premium level event and a once in a lifetime event," Espinoza said. "I think our goal is to produce an event that will make people feel satisfied at the price point."
Others have said it is a travesty. Legendary boxing promoter Bob Arum has said McGregor has no chance.
"Conor McGregor is not a boxer, so if they box under boxing rules with the regular gloves and so forth, a novice will beat him," Arum said.. "Because he has no experience as a boxer. On the other hand, if they did the cage thing, Floyd wouldn't have a chance. So, it's just talk and it's absolute nonsense for these guys to fight each other."
Odds Trending Down
Sportsbooks agreed with Arum and made McGregor a huge underdog. The odds back in March were plus-1100 for a victory by the Irishman. They have started to go lower, however.
Two months ago, the price on the challenger had dropped to plus-700. Less than a month before the contest he has been priced as low as 4-1. Betting on Mayweather will give a gambler 1-5 odds, with some online sites at 1-7.