Islam Makhachev is riding a seven-fight winning streak and has positioned himself as the heir apparent to Khabib Nurmagomedov's line of Russian lightweight champions. But Thiago Moises will try to slow down his ascent on Saturday when the two face off in the main event of UFC on ESPN 26.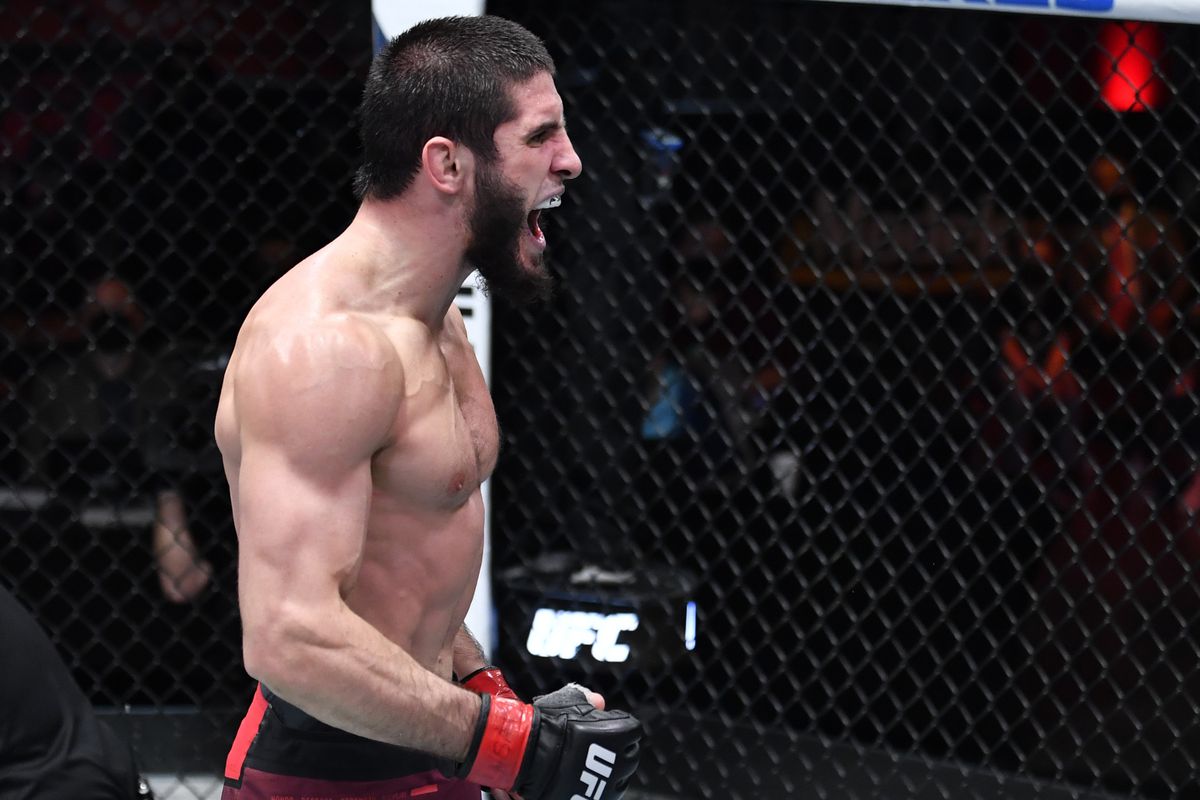 Makhachev (19-1) trained with Nurmagomedov for years, and the two remain friends to this day.
Nurmagomedov anoints his successor
Nurmagomedov has pegged Makhachev as a future champion. If anything, Nurmagomedov has said that Makhachev has been slow to rise in the ranks, as he sits at only No. 9 in the UFC lightweight division.
"This Saturday, you have to prove yourself," Nurmagomedov said, via ESPN. "Show the world who is Islam Makhachev. Not only Khabib's brother. No. He has to be his own. Islam Makhachev … this guy has to fight for the title not because he is my brother or friend or something like this. He is very good."
Makhachev hasn't hidden his title aspirations; he's talked about future bouts against Rafael dos Anjos, who he planned to fight last year, and says he's just one or two wins away from a shot at the belt. But he's not arrogant enough to overlook Moises in the meantime.
"He has good skills," Makhachev told reporters. "He's good everywhere. Because my last opponent had a very good striking game and everybody knows about his wrestling, grappling, but this guy has good striking, good grappling."
Moises: Makhachev is no Khabib
Moises (15-4) sits in the No. 14 spot in the UFC lightweight rankings and comes into this fight as a decisive underdog. DraftKings Sportsbook lists Makhachev as an overwhelming -720 favorite to get past Moises (+500) and continue his relentless climb to the top.
But Moises says he's not intimidated, and that Makhachev can't be compared to Nurmagomedov.
"For me, Khabib is the best lightweight of all time," Moises told reporters. "Nobody's like Khabib, and Islam is definitely not like Khabib."
Moises is right to say that Nurmagomedov fought at a faster pace than Makhachev, and the former champion's accomplishments dwarf those of nearly any other fighter. But Makhachev does possess world-class wrestling skills that allow him to control fights. He's technically proficient, but lacks the knockout power to finish elite opponents.
That should serve him well against the well-rounded Moises, who doesn't appear to have a singular weapon that can overwhelm the Russian. Moises typically prefers to counter his opponent in the striking game, and that may not work against Makhachev, who can always rely on his grappling to slow things down and largely avoid the danger of a potential knockout loss.
That suggests that Makhachev will probably win via a decision, but the Russian says he's looking for more.
"I have to finish him, but you know, five rounds, this is my first five rounds," Makhachev said. "If I go with all rounds, maybe it is going to be good for me, too, because this is a big experience."