Super Bowl 53 might have been the lowest scoring game in history, but for some lucky prop bettors it provided some big payouts. Several of the defensive prop bets hit, a couple with nice odds in the 13-3 victory by New England over Los Angeles.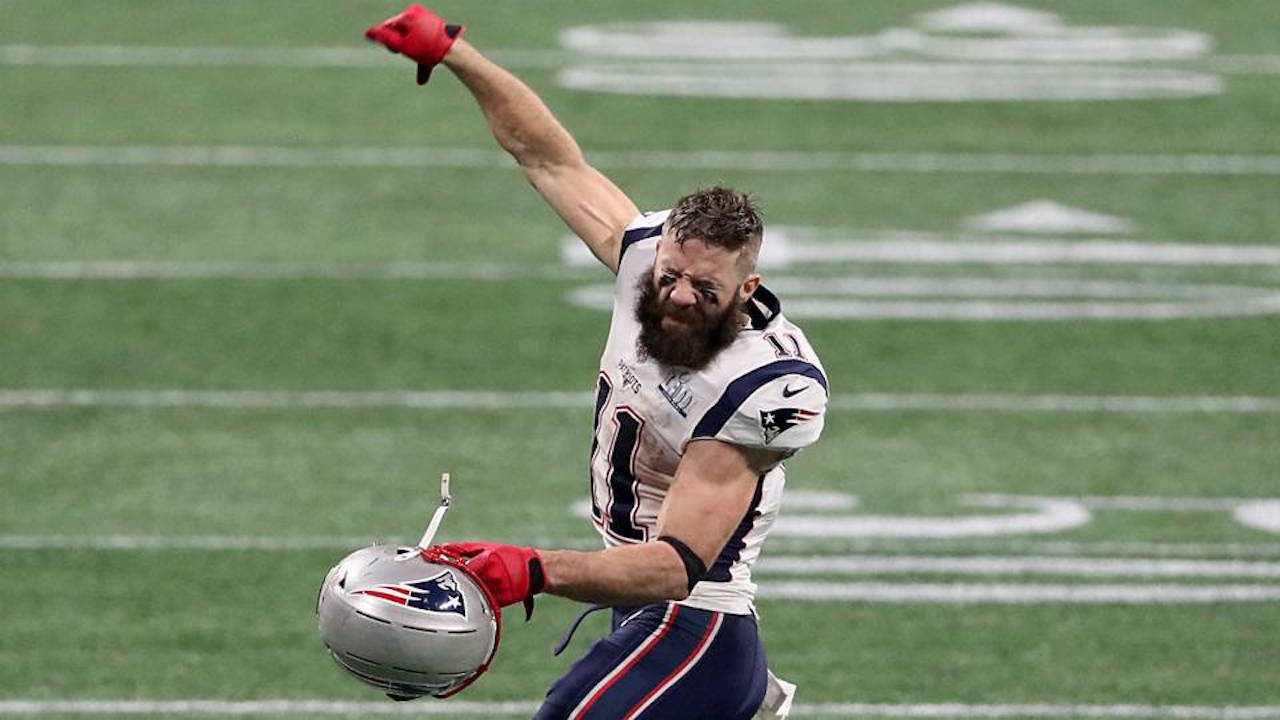 The first big payday hit on the sixth play of the game. Tom Brady's first pass was intercepted by the Rams' Cory Littleton, and it cashed in several ways. The biggest was 50/1 odds that his first pass would be an interception. A daring bet that few no doubt had.
The second was Brady's first pass would be complete (-220) or incomplete +180. The last one that paid on the interception was would Brady thrown an interception at -110.
Brady became the third quarterback to throw a pick on his first pass in the big game. The others were Buffalo's Jim Kelly and Philadelphia's Ron Jaworski. Both of those signal callers lost. Brady said the defense carried the team in this victory, his sixth.
"I wish we'd played a little bit better on offense, but we won," Brady said. "I can't believe it."
Other Plays, Players with Big Odds
It was because of Brady's off game, that it opened the door for another Patriot to win the MVP. Brady has four of them, losing out to wide receiver Deion Branch in Super Bowl 39.
This year another pass catcher won the MVP, and he also swept the overs on his prop bets. Julian Edelman began as a 30/1 pick for the best player in the game. He was bet down to about 20/1 at several places, but it still made for a nice wager.
He also easily covered the over on three other bets. He had 10 catches, 141 yards receiving and had a catch that went for 27 yards. He was listed at 6.5 catches, 79.5 total yards, and 21.5 for his longest reception.
The one touchdown that was scored in the game was by running back Sony Michel. He was the favorite, but still at 6/1 made bettors happy.
Since that touchdown was scored in the fourth quarter, neither team not getting seven points cashed a 100/1 prop on no touchdown scored in the first half.
No TD Bettors Hopes Sink
The biggest payout was dashed when Michel plunged in from 2 yards. There were a handful of people holding a ticket at 500/1 if no one scored a TD, and William Hill had set the odds at 750/1.
Some of the same bettors hopefully had one scoreless quarter, because that came in at 4/1 when the first quarter failed to produce even a field goal. That bet was in danger when Steven Gostkowski lined up for a 46-yarder. He had been 34 of 34 in Mercedes Benz Stadium, but broke his streak when he pulled the kick to the right.
Bad Beat of the Game
Gladys Knight had the under on the National Anthem nailed, but when she got to the end she added a little more vocals that pushed it to the over. Twitter users were up in arms over her performance.
"At the end of the first 'brave; the time was 1:49 – one second under the listed total of 1:50," BetOnline.ag Sports Book Brand Manager Dave Mason told USA Today Sports. "After Ms. Knight's second and third brave, the time went over 2:00. Even though the under was the official cover due to our listed rules, we decided to pay out over bettors as well due to some being confused."
Winning Prop Bet Highlights

Will Patriots convert first third down?                          Yes +135

Will first kick by Greg Zuerlein be a touchback?         No +240

First score not a touchdown                                        FG +170

Will Rams score TD in second quarter?                     No +190

Will Rams score TD in fourth quarter?                       No +160

Will Game be decided by exactly 10 points               Yes +900

Maroon 5's First Song? (Harder to Breathe)              +900

Will Stephen Gilmore have an interception?             Yes +500

Rams player to score first touchdown?                     None +4000

Total points scored in SB 53?                                    8-14 +50000