After explaining all the concrete reasons he's running Happy Jack in the 147th Preakness Stakes, Doug O'Neill threw this little aside out as the cherry on top.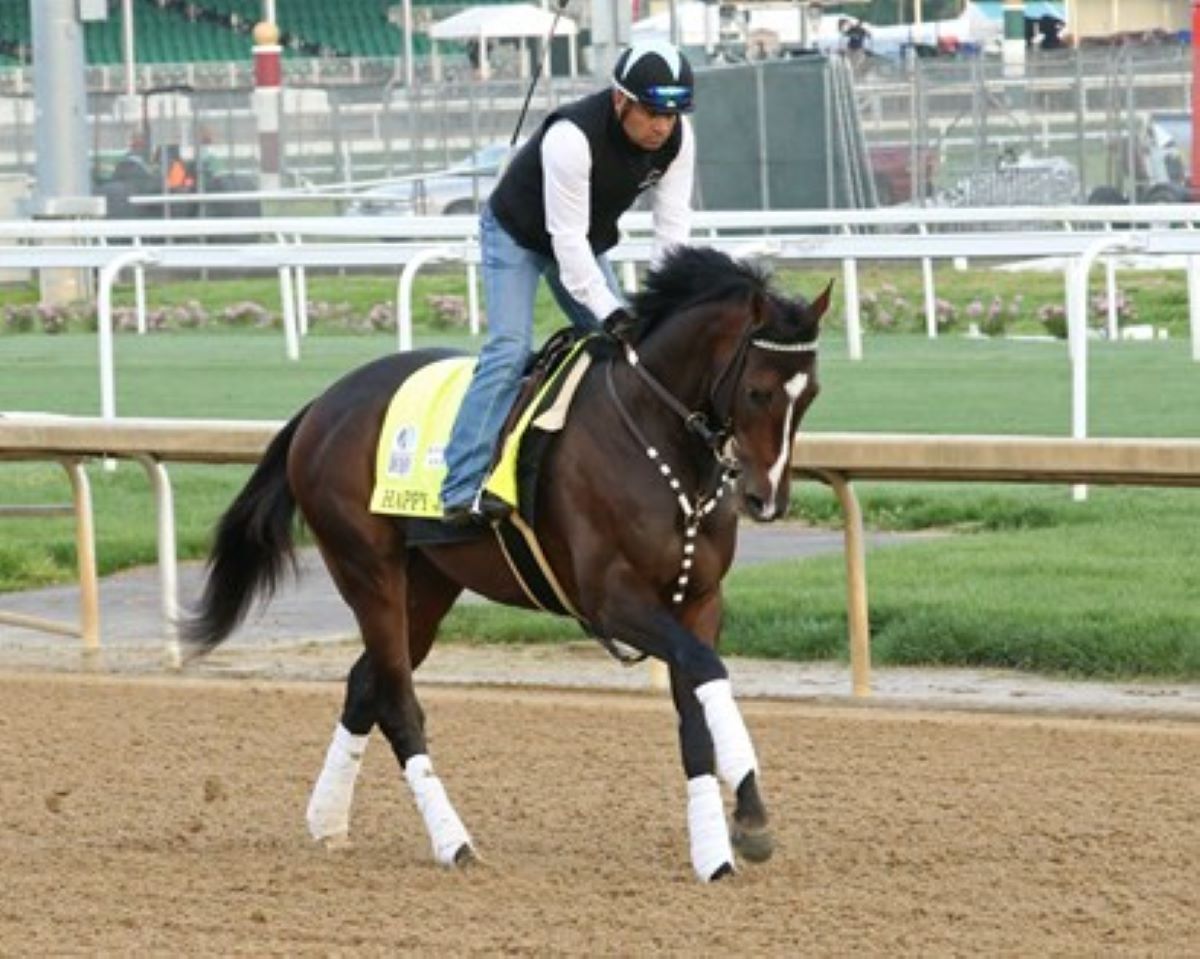 "Oh, by the way, his sire, Oxbow, won this race and that is kind of a cool thing," O'Neill told Santa Anita Park's Ed Golden.
It was a cool thing when Oxbow won the 2013 Preakness at 15/1. And O'Neill thinks Happy Jack can duplicate his sire's finish in this year's Preakness at Pimlico Race Course.
"We did a bunch of diagnostics on him, pulled blood. He is checking all the boxes of a horse that exited his recent race in good shape," O'Neill said. "We like the Preakness distance and we like a shorter field than the 20 horses in the Derby."
Happy Jack caught in Derby traffic
Happy Jack finished 14th in that Derby at 23/1. He didn't have the front-end speed to contend in a Derby free-for-all, but O'Neill saw enough to send Happy Jack to the middle jewel of the Triple Crown.
That observation came after O'Neill's discussion with Calumet Farm owner Brad Kelley, who owned Oxbow. The storied Kentucky breeding farm owns Happy Jack and Kelley is one of those owners who has no problem taking calculated risks with his horses.
"He has a lot of skin in the game," O'Neill said. "He loves his horses and takes no shortcuts and surrounds them with the best people he can find. If a horse is doing well and showing they can get in and compete against the finest, he is game that way. I love it. No guts, no glory."
Plenty of moxie
If there's one thing Happy Jack has, it's guts. He may not have a lot of speed – as his speed figures illustrate – but he's got guts. After breaking his maiden by 1 ¼ lengths, Happy Jack went to the Robert B. Lewis – where he lost by 27 ¼ lengths to Messier.
O'Neill sent him to the Grade 2 San Felipe, where he finished third to Forbidden Kingdom by 10 ½ lengths. Unfazed, O'Neill moved up the class food chain to the Grade 1 Santa Anita Derby. And Happy Jack finished third to Taiba and Messier – by 12 ¼ lengths.
Yet, O'Neill sees something with his practiced eye, the same eye that watched his I'll Have Another win the Preakness 10 years ago. That surprising colt defeated favored Bodemeister in both the Preakness and the Derby.
Yes, he's the only California horse in the Preakness
"In the mornings, Happy Jack has shown us some pretty special stuff," O'Neill said. "To win his debut the way he did, we know there is definitely talent there. I could see him jumping up and winning a big race like this."
Toward that end, O'Neill will put the blinkers back on and put Tyler Gaffalione on the colt's back. Happy Jack ran with blinkers in three of his first four starts. As for Gaffalione, he replaces Rafael Bejarano, who O'Neill said wasn't riding on Pimlico's Preakness Day card.
Happy Jack remained at Churchill Downs after the Derby. O'Neill said he will likely ship to Pimlico on Tuesday.
And as another aside, when he does, Happy Jack will be the only California horse in the Preakness. The forgotten California horse seeks to be more than an aside on May 21.