Philadelphia 76ers center, Joel Embiid, will be sidelined indefinitely while he recovers from surgery to repair torn ligaments on his left hand after he suffered a dislocated ring finger injury against the Oklahoma City Thunder.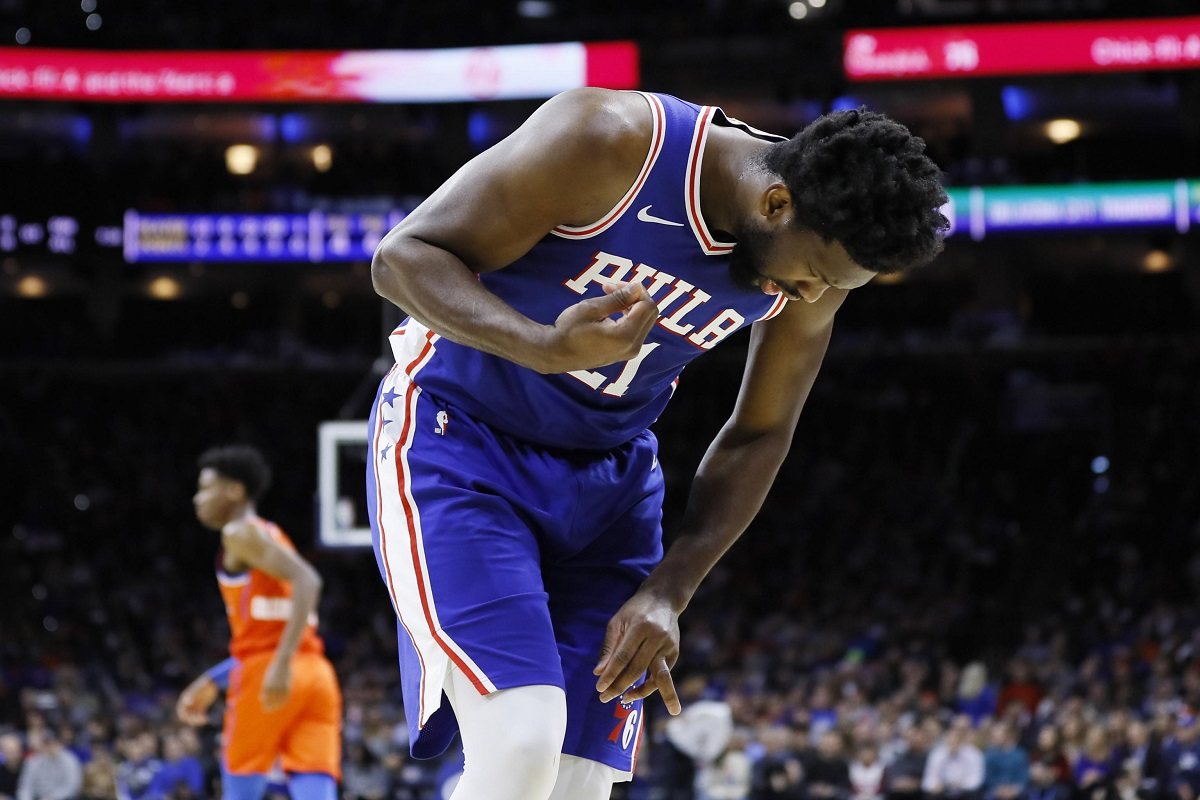 On Thursday, team officials announced Embiid would be out indefinitely. ESPN reported Embiid will be undergoing surgery on Friday. Team doctors will re-evaluate Embiid in two weeks.
The Sixers (24-12) stopped a four-game losing streak with an impressive 120-113 victory over the Oklahoma City Thunder (20-16) on Monday evening. During the game, Embiid dislocated a finger on his left hand.
"Felt it snapping, and I thought I fractured it," said Embiid about the initial injury.
The training staff popped it back in and Embiid returned to the game with two fingers taped together.
"For him to go back in and come back out and play, I was shocked Joel was able to come back out and play," said head coach Brett Brown. "That is a tough return to the court. That is a competitive statement. I appreciate him. I respect that. We needed to play well here at home."
I feel like Joel Embiid's finger probably shouldn't look like this pic.twitter.com/BaNde7t7Nh

— Dave Loughran (@Loughy_D) January 7, 2020
Even though Embiid completed the game with the injury, he claimed he had problems gripping and rebounding the ball with his left hand. He finished with 18 points, 9 rebounds, and 8 assists in a much-needed slump-ender victory.
Embiid Down, Next Man Up?
Embiid faded in last year's playoffs. He battled a sore knee and stomach problems, while the rest of the team struggled to score and shoot well on the perimeter. Embiid was on a mission to prove all his haters wrong, but the ring finger injury is an unfortunate setback.
"I basically could only play with one hand," said Embiid about the OKC game. "It was really bad. But in the midst of the losing streak, I just wanted to make sure that I do everything possible to get us a win, and I was glad to get us a win."
"Yeah, I nearly threw up when I saw that," said teammate Ben Simmons. "But I'm glad he came back out. We needed him. He's a big part of this team. We were glad to have him back out there."
"It looked pretty bad," said teammate Al Horford. "I was relieved once I saw him come in so quickly and be able to go for the start of the second quarter."
Horford and Embiid had been playing together at the same time, but Horford will step into the big man's role for now. Horford is averaging 12.3 points and 6.5 rebounds this season, but that's less than half the output that Embiid has been producing. Embiid averages 23.4 points, 12.3 rebounds, and 1.4 blocks per game.
On Deck: Celtics, Mavericks, Pacers
The Sixers recently slipped to third place in the NBA Atlantic division, behind first-place Boston (25-10) and second-place Toronto (25-13).
The Sixers host Boston tonight with a chance to trim their overall lead. Then they hit the road for two tough games against playoff squads. On Saturday, Luka Doncic and the Dallas Mavericks host the Embiid-less Sixers. On Monday, the Indiana Pacers host the Sixers.
If it were up to Embiid, he wouldn't miss any time, but the team shut him down.
"I want to play," said Embiid. "It's a big game. Last time we played them, we had great success, but at the end of the day, whatever they want me to do. Obviously, I'll try to fight it, but they care about me, so whatever they want to do."
With a 17-2 clip, the Sixers boasted one of the best home records in the NBA. According to William Hill, the Philadelphia Sixers are 8/1 odds to win the 2020 NBA Championship. The Sixers were one of the preseason favorites in the East due to their stellar starting five.
The Milwaukee Bucks, at 7/2 odds, are the only other team from the Eastern Conference that are higher up on the futures board. At press time, both the Los Angeles Lakers and LA Clippers are co-favorites to win the NBA title at 3/1 odds.